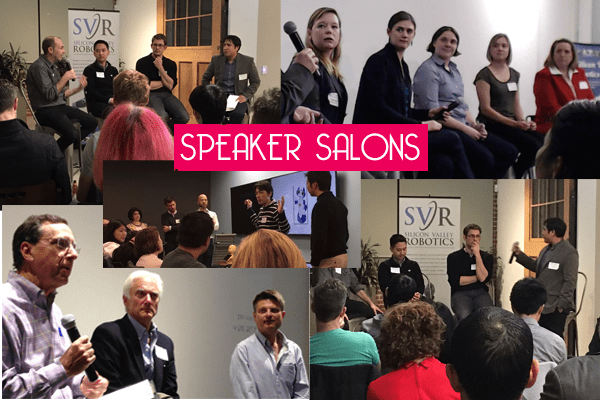 SVR Influencer Salon
Join us for a series of intimate discussions with leading robotics experts about future directions in robotics and the economic and social impacts of this emerging technology. These sell out salons are brought to you by Silicon Valley Robotics and event organizers: Andra Keay, Joanne Pransky, Cory Kidd and Tim Smith. Do you want to help organize our next salons?
NEXT EVENT NOVEMBER 30 2017…… details coming soon
PREVIOUS EVENTS INCLUDE:
Why Robotics Now with Jeremy Conrad from Lemnos
Robot Grasping with Prof Ken Goldberg
"Are Robots Advancing Agriculture?" with speakers: Jim Ostrowski, from Blue River Technologies, Prof David Slaughter, from UC Davis Agriculture Engineering Smart Farm, and Robert Morris, CEO TerrAvion.
"Social Robots" with speakers: Takashi Mikami, from Dr Ishiguro's lab, Kevin Takaoka, from Draper Nexus, Julian Seret, VP of Enterprise at SoftBank Robotics, and Cory Kidd, CEO Catalia Health.
"Self Driving Vehicle Technologies" with speakers: Wendy Ju, Center for Automotive Research Stanford, Aaron Nathan, Point One Navigation, Shahin Farshchi, Lux Capital, Daniel Reuter, Electric Movement, and moderator Saurabh Palan, Toyota Research Institute (ex Mighty Carma).
"Building the Robotics Toolkit" with speakers: Brian Gerkey, Open Source Robotics Foundation, Rosanna Myers, Carbon Robotics, Brad Bogolea, Simbe Robotics, Gareth Keane, Qualcomm Ventures.
"The Rise of Machine Learning" with speakers: Joshua Bloom, Wise.io Carol Reiley, Drive.ai and Quentin Hardy, New York Times as Moderator.
"The State of the Drone Industry" with speakers: Ryan Tong from DJI; Eddie Codel of FRiFF; and Nathan Schuett from PRENAV, with Jonathan Vanian from Fortune Magazine as moderator.
"Space Robotics" with speakers: Terry Fong, NASA; Joe Parrish, Mars Program; John Lymer, Space Systems Loral; Marco Pavone, Autonomous Systems Stanford; Kevin Peterson, Astrobotic.
Recap of the Salon – Space Robotics courtesy of Tekla Perry, IEEE Spectrum.
"Behavior Change with Robots" with speakers: Cory Kidd from Catalia Health, Leo Trottier from Cleverpet, JR Alouis from Eyeris Technologies and Alex Reben from Blabdroid.
"Future User Experience" with speakers: Dav Rauch (IDEO) and Victor Ng-Thow-Hing (Magic Leap) and moderator Rachel Metz from MIT Technology Review.
 "A Conversation with Jerry Kaplan, Martin Ford and John Markoff" 
"Women in Robotics" with speakers: Katherine Scott, Tempo Automation, Erin Rapacki, Suitable Technologies, Melonee Wise, Fetch Robotics, Steffi Paepcke, OSRF, Dale Bergman, Intuitive Surgical and moderator, Andra Keay, Silicon Valley Robotics,
Recaps from Steffi Paepcke from OSRF and Andra Keay of Silicon Valley Robotics.