Join Silicon Valley Robotics, the non-profit industry group supporting the innovation and commercialization of robotics technologies in Northern California.
Be part of the largest, most active robotics cluster in the world. We have membership levels and benefits for local robotics companies, OR individuals, affiliated industries and global robotics partners.
Are you a locally based robotics technology company? Do you have an office in Northern California? Do you conduct business in the Bay Area? You are eligible to be an SVR MEMBER, which allows you to nominate directors for Silicon Valley Robotics board. See below for a full list of other benefits.
If you are not local or are an individual, STEM organization or affiliated technology, you are eligible as an SVR AFFILIATE or GLOBAL PARTNER, with many of the same benefits as a full SVR MEMBER. See below for a full list of benefits.
Membership renewal forms are here.
Eligibility: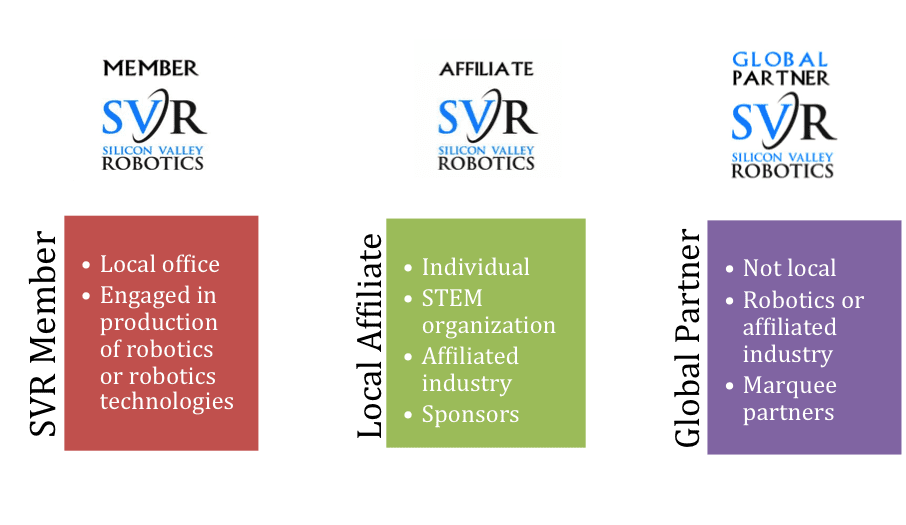 Benefits:
 
* indicates tiered benefit
Pricing:
SVR MEMBERS
Do you have a local office? Are you engaged in the production of robotics technologies?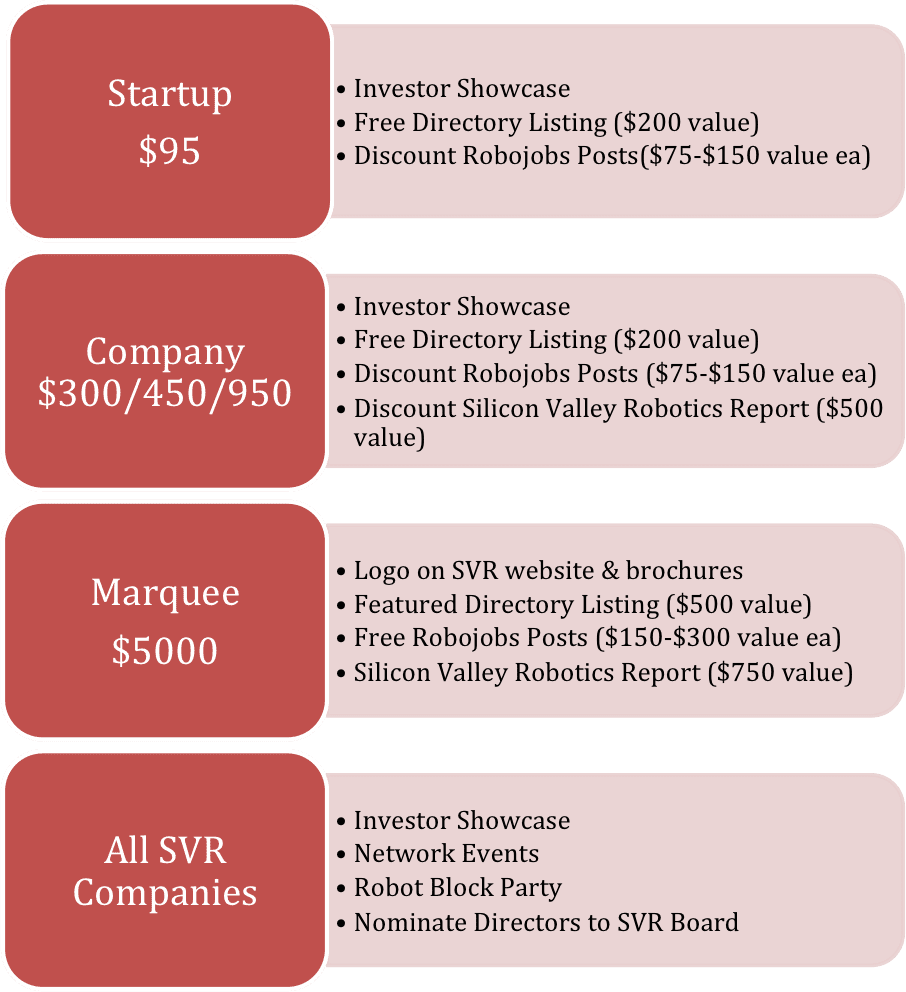 LOCAL AFFILIATES
Do you have a local office? Are you engaged in supporting robotics companies?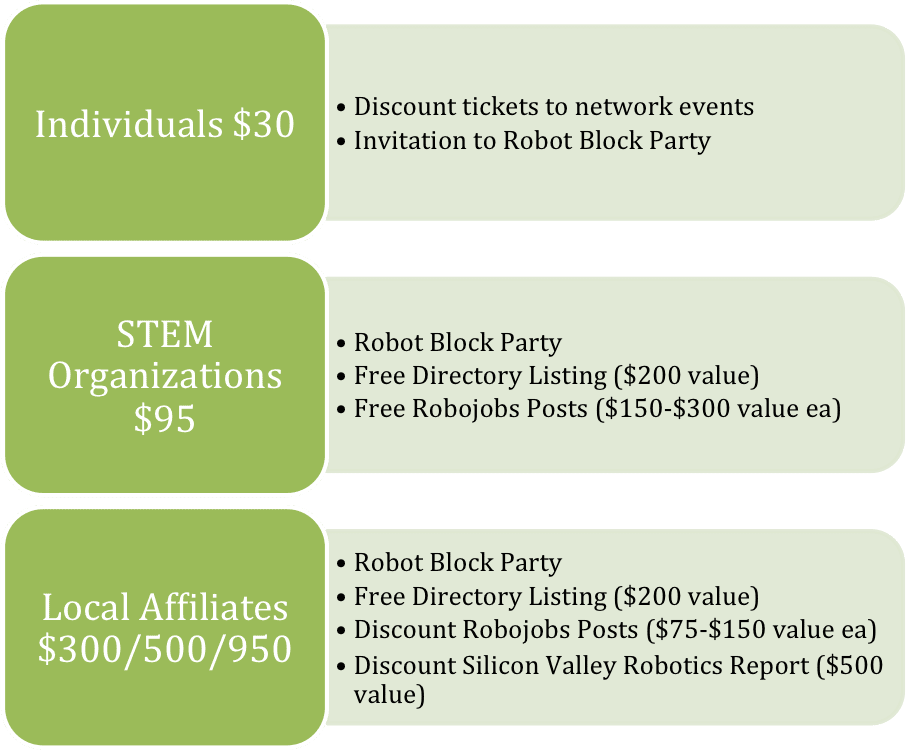 GLOBAL PARTNERS
Are you outside of Northern California? Global Affiliates are not local but engaged in the production of robotics technologies. Global Partners are organizations supporting robotics companies.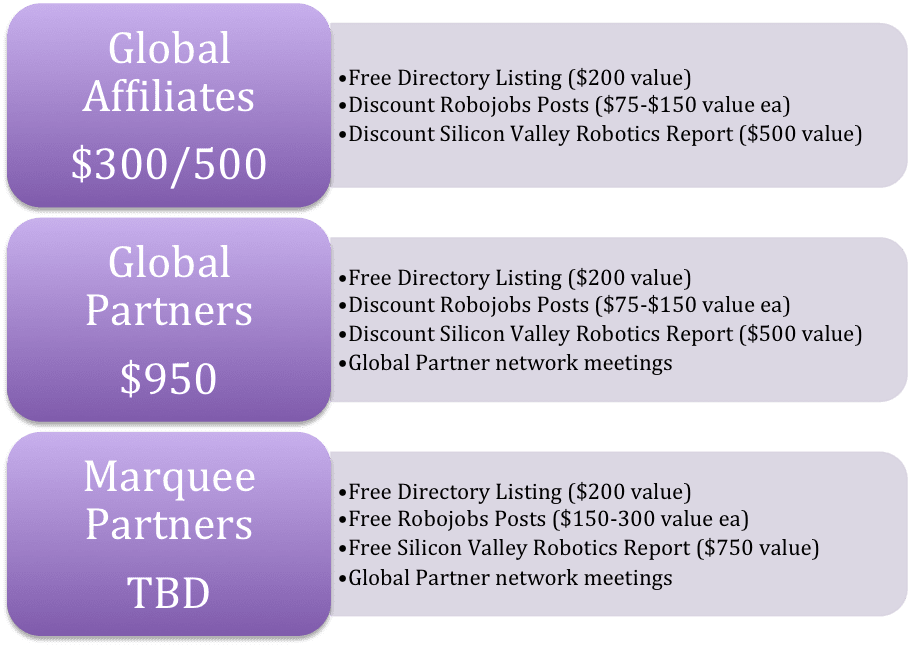 * sliding scale for organizations depending on their size
The Silicon Valley area is home to more than 80 robotics companies, 10 world class research facilities and many robotics professionals across a range of disciplines. Silicon Valley Robotics is a new non-profit organization representing the robotics industry in the Bay Area. Membership is now open to organizations and individuals who are directly engaged in robotics. We also welcome sponsors and affiliated companies, who support the goals of Silicon Valley Robotics but are not directly engaged in the production of robots or robotics R&D.
Situated within a rich ecosystem of component and infrastructure manufacturers, investment companies, cloud, internet and software industries, the Silicon Valley Robotics cluster is the largest in the world. Our founding members include companies like Adept, Bosch, SRI International, Willow Garage. Contact Andra for additional partner opportunities.
Our activities include the Silicon Valley Robot Block Party during National Robotics Week, network and speaker events for robotics professionals, robot company tours, and "investor breakfasts" for robot startups. We provide a central communication point for govt, media and public interest in robotics. We engage in establishing data points for robotics business strategies and public policy formation. We promote robotics education and information about robotics technologies and commercial opportunities. We provide a central directory of robotics companies, through our website and mail list. We rely on your support to speak for the robotics industry and to provide high quality information and events that promote and support innovation and commercialization in robotics.
Add a membership badge to your website or promotional materials
Memberships benefits = being part of the robotics community

Partnership benefits = being recognized as a robotics leader
Contact Andra to discuss partner opportunities.