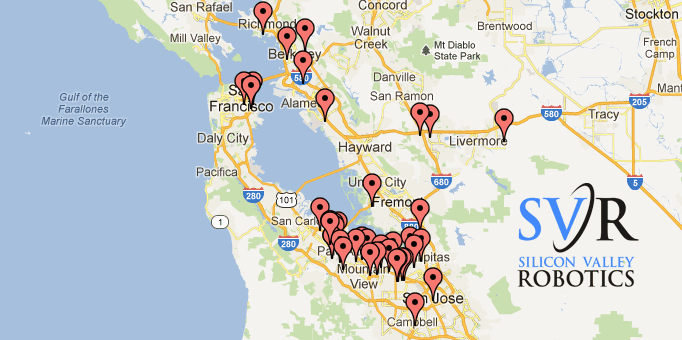 Silicon Valley Robotics is ground zero of the robotics revolution, helping startups get investment and grow into category creating industry leaders. We are a non-profit industry cluster encompassing almost 50% of global investment in robotics, more than 50 robotics research labs and more than 500 robotics startups from seed stage to billion dollar new unicorns. Silicon Valley Robotics is more than an industry cluster. We are a super connector / accelerator.
Our mission is to support the innovation and commercialization of robotics technologies. We hosted the famous Silicon Valley Robot Block Party, networking events, investor forums, a directory, jobs board and provide additional services and information for members, including an annual global robotics startup competition and reports on aspects of the emerging robotics industry. Next up we'll be announcing the 2020 Silicon Valley Robotics Industry Awards, then adding to the maps and database.
We are a not-for-profit 501(c)6 coalition of robotics companies and startups, representing the robotics cluster of northern California. Silicon Valley Robotics was launched in 2010 by a network of robotics companies in the greater Bay Area including current sponsoring members, Fetch Robotics, Festo, EandM Engineering, SICK Sensor Intelligence, SRI International, Cruise Automation and Harmonic Drive.
Melonee Wise, CEO of Fetch Robotics, is the President of the association and Andra Keay is the Managing Director, in charge of daily operation. The Directors of the SVR Board for 2020 are: Melonee Wise, Andrew Etherington, Peter Marcotullio, Cory Kidd, and Tessa Lau. Our Advisory Board Members include: Rich Mahoney, Steve Cousins, Charlie Duncheon, John Dulchinos, Sarah Osentoski, Kyle Vogt, our premium company members and invited guests. We hold regular meetings for our Advisory Board.
Membership in Silicon Valley Robotics is now open to organizations, startups and consultants who are directly engaged in robotics and support the aims of the organization. We also welcome Global Partners, who support SVR but are not directly engaged in the production of robots or robotic research and development in the Greater Bay Area. 
For more information: Info@svrobo.org