HRI 2020 is the 15th annual conference for basic and applied human-robot interaction research. Researchers from across the world present their best work to HRI to exchange ideas about the theory, technology, data, and science furthering the state-of-the-art in human-robot interaction. 
The HRI Conference is a highly selective showcase of the very best interdisciplinary and multidisciplinary research in human-robot interaction across communities including robotics, artificial intelligence, human-computer interaction, human factors, design and social and behavioral sciences.
Sadly due to the rapidly evolving COVID-2019 situation, we will no longer have what would have been a fantastic real world showcase of human-robot interaction in Cambridge UK. Instead our efforts will go towards putting on HRI2020 Online. Papers and research will still be published and we will develop a virtual and online events to facilitate interaction with other researchers.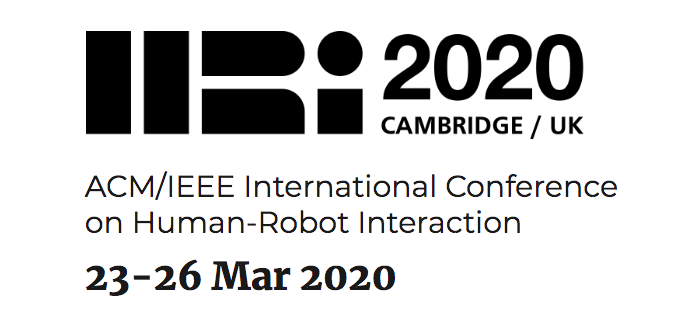 ONLINE PROGRAM
Proceedings of HRI2020 available through ACM digital library until 6/30/20 .
Playlists of papers, demos etc. will be posted here.
Discussions and Q&A with authors here: TBC
Audience Voting on demos here: coming soon
Workshops here: coming soon
Stay posted for more updates all week!
No posts found
We are particularly grateful to the sponsors who have remained with HRI2020 as we transition into virtual.
Silver Supporters