REGULAR ROOMS IN ROBOTS4SOCIETY CLUB:
Saturday 4pm Pacific (moving to 3.30pm Pacific):


20th Feb – Assistive Robots
27th Feb – Uncanny Valley
6th March – Social Robots & HRI 
13th March – (we actually all joined the brand new Robotics Arts Club room on Sat to talk to Simon Penny – robotics artist)
20th March – Maritime Robotics with Sampriti Battacharya

Mondays 1pm Pacific – HRI 2021 recap room
Mondays 8pm Pacific – Women in Robotics Room
Wednesday 10pm Pacific – Let's talk robotics! 

Reading list of papers suggested in the rooms coming soon!

Want to host a room on a particular topic? Or would you like to join us as a speaker?
Plus you can see or subscribe to our Google Calendar here
Contact: andra@robots4society.club



REGULAR ROOMS IN OTHER CLUBS:

Mondays at 10am Pacific – Seeing like a Rover – discussing Janet Verteesi book in Small Steps & Giant Leaps
Mondays

at 6pm Pacific –

Q&A with Investors for Robotics & Deep Tech Startups

– in Startup Club

Tuesdays at 3.15pm Pacific – One Day a Drone Might Save Your Life – in Talk Nerdy To Me Club

On land, in the air and under the oceans, drones and robots are helping us to measure and maintain our natural surroundings.

Tuesdays 

at 8pm Pacific – 

Sea, Sky, Space and Subterranean Robots

 – in Small Steps and Giant Leaps

Underwater, in the skies and in space robots are exploring extreme environments as proxies for people

Thursdays

at 7pm Pacific –

Fave Space and Sci-Fi Books

– in Science Fiction Talks

Share your favorite space and sci-fi books with us! Sometimes authors like Hank Green, 

or

Damien Walter

drop by. We're pining for Nnedi Okorafur and N.K. Jemisin too. Sometimes we have editors who can help your flow. It's like a rainy day in your favorite cafe. 

Here's our collective sci-fi book list so far!
WOMEN IN ROBOTICS CLUB:
We've just started the Women in Robotics Club and you're welcome to join or follow! Regular weekly room on Monday at 8pm Pacific and more coming.
WANT ME TO SPEAK IN YOUR ROOM?
Topics I talk about:
Robots startups, raising funds, finding product/market fit, investors etc.
Latest trends in the robotics industry. Are robots going to take all of our jobs? How to solve our global challenges with robots!
Ethical challenges and solutions for robotics and AI.
Being a boss woman in robotics and supporting other women in STEM.
Contact: andra@robots4society.club 
Some previous rooms on Clubhouse! (need an invite? iphone only sorry)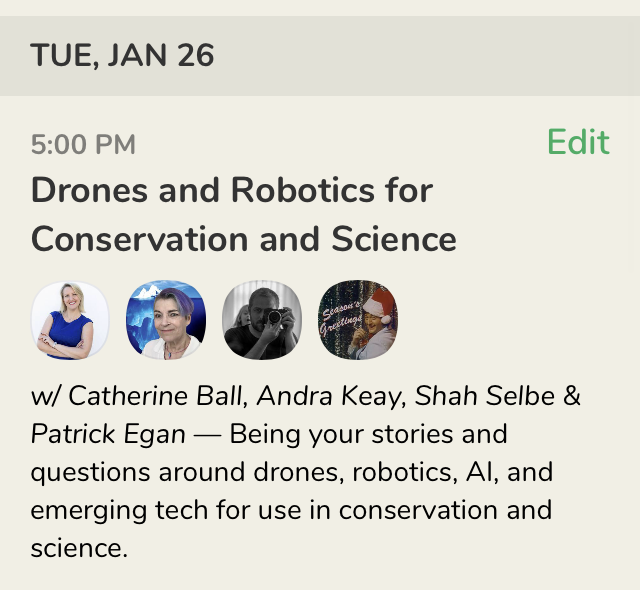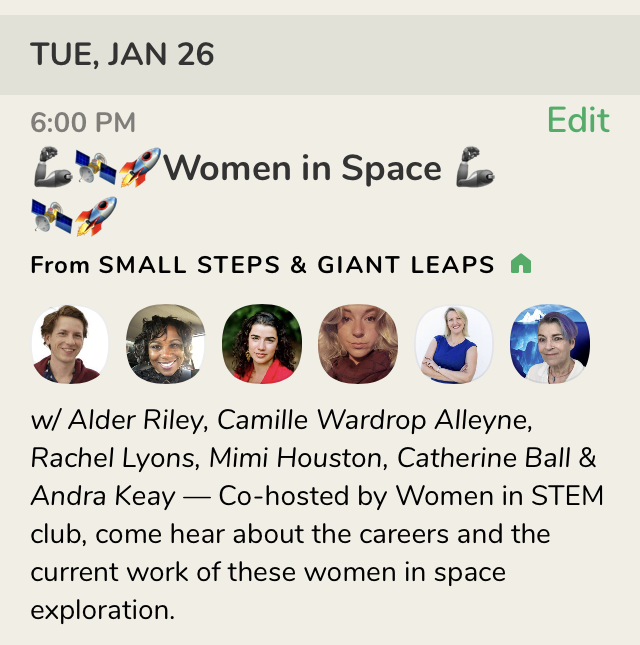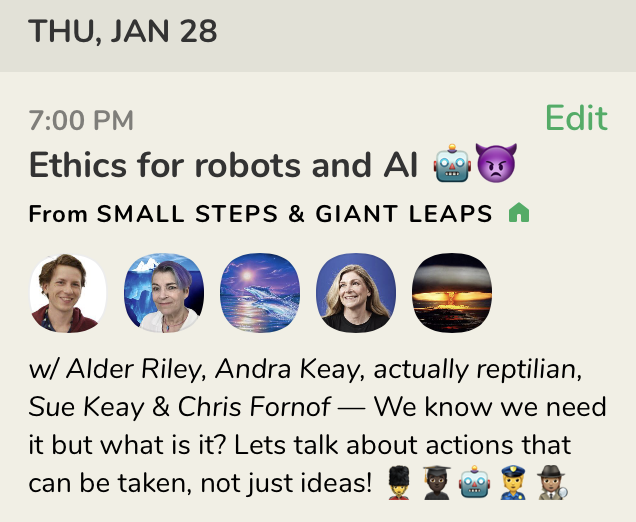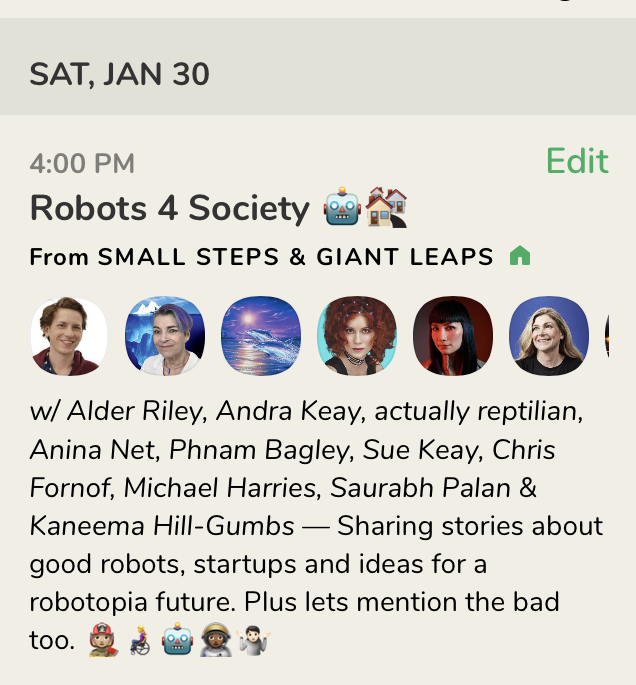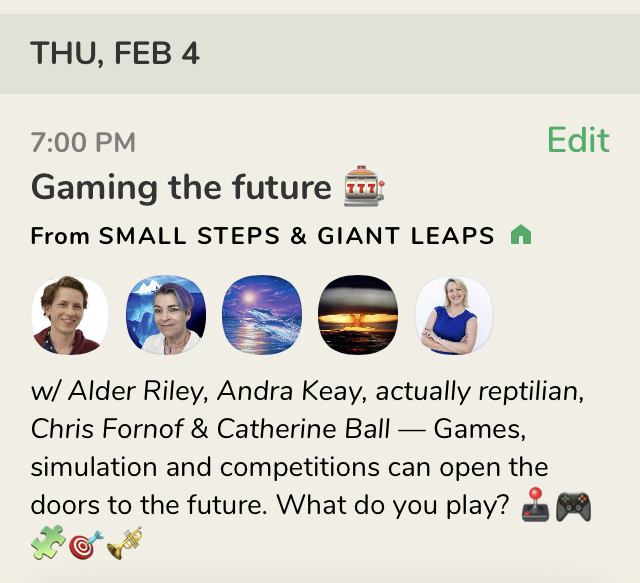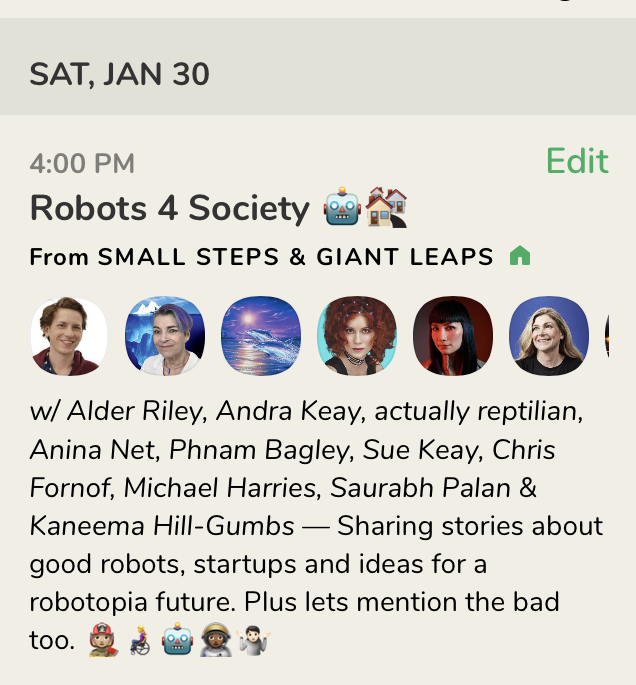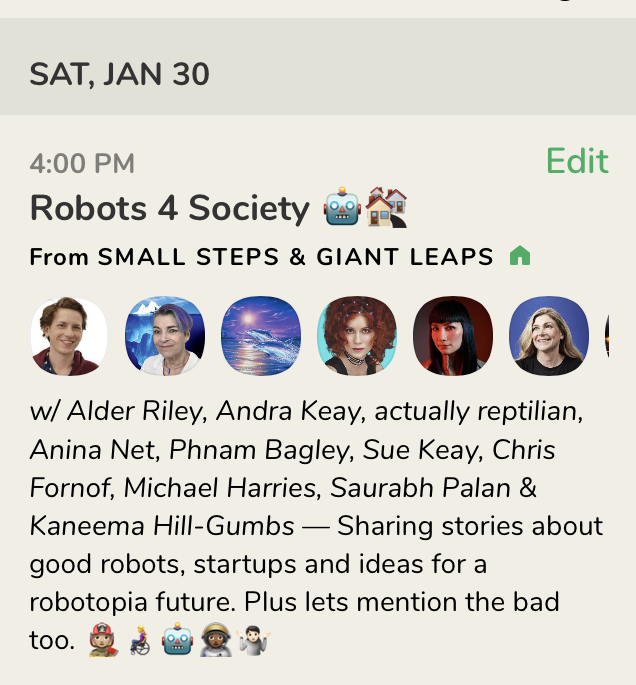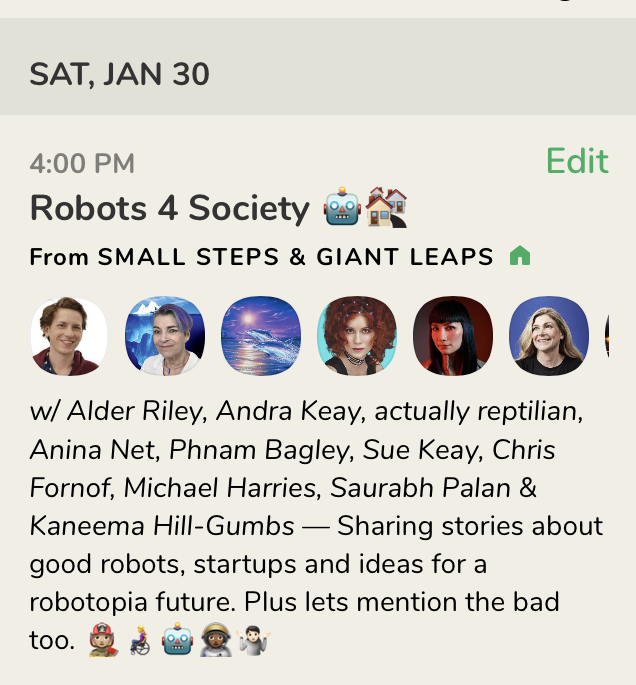 Scroll for coming up next!