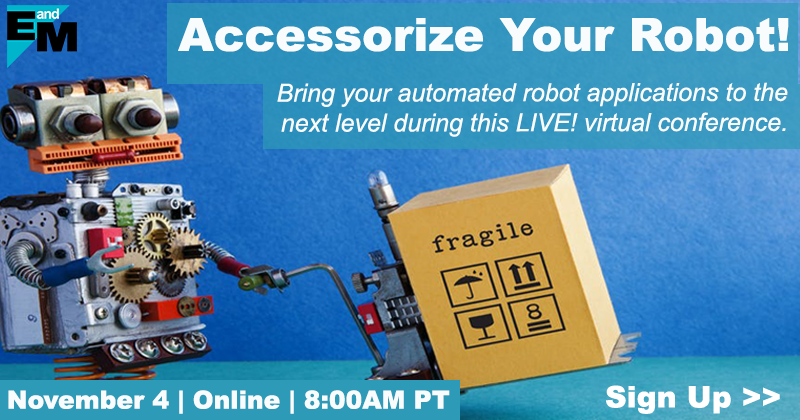 Bring your automated robot applications to the next level during this LIVE! online event hosted by EandM.
Wednesday, November 4, 2020
8:00am PT
Whether you're buying or building a robot, EandM will have a solution for you! Discover modular designs, accessories and other important components to bring your industrial application together.
Speaker topics include:
• Techman Robot Programming Software
• Robotic Grippers
• Cobotic Accessories Program
• Modular Automation Structures
• Hard Guarding using Safety Switches
• Safety Sensors
• 3D Belt Picking
• Wheel Drive Systems
• Edge Communication Devices
Register today by using this link: https://www.eandm.com/GetEducated/EducationDescription.aspx?EventID=803&EventName=Accessorize-Your-Robot
Presentations at a Glance!
View the detailed presentation schedule.
Future of Robotics
8:15AM-8:30AM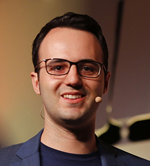 Introduction
Juan Aparicio
Siemens
What is the future of industrial robotics and where is it going next?
Hear the vision from Siemens about the next generation of flexible manufacturing, edge robotics and smart machines.
Buying a Robot
8:30AM-9:00AM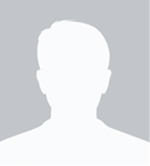 Techman Robot Programming Software
Kyle Loustaunau
Techman USA
How simple is your robot programming software?
See how easy it is to setup and program a Techman robot straight from the box using the Techman Flow programming software.
9:00AM-9:30AM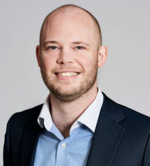 Robotic Grippers
Kristian Hulgard
OnRobot
A complete robot toolbox!
Discover all the new accessories from OnRobot that would be fitting for any robot toolset.
9:30AM-10:00AM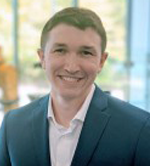 Cobotic Accessories Program
Mark Patterson
Schunk
A robotic gripper kit with a LEGO-like design.
Create your own robotic grippers – the way you want – with the Flex Grip Tools by Schunk. Learn about the customizable, modular gripper kits that are part of the CAP (Cobotic Accessories Program) portfolio.
10:00AM-10:30AM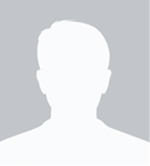 Modular Automation Structures
Henry Toal
Robotunits
Time-saving modular solutions.
Gain insights about clever modular mechanical automation structures for smart machines including extrusions, linear motion, conveyors and fences.
Building a Robot
10:30AM-11:00AM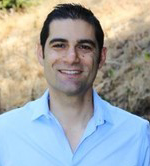 Hard Guarding using Safety Switches
Amir Mohtasham
IDEM
Need to secure the guarding around your robot?
View different styles of safety switches from IDEM including gate closures, interlocking systems and non-contact switches.
11:00AM-11:30AM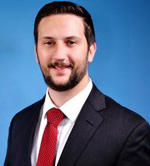 Safety Sensors
Tyler Glieden
SICK
The world's smallest safety scanner!
Save space with the nanoScan3 by SICK, a compact safety laser scanner that's highly precise and extremely robust.
11:30AM-12:00PM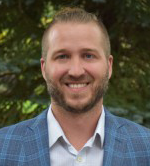 3D Belt Picking
Ryan Morris
SICK
Step up your belt picking applications.
See how 3D technology enables reliable detection and gentle handling based on the true shape of each object. Quick change-over to new products – without teach-in!
12:00PM-12:30PM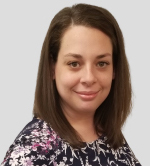 Wheel Drive Systems
Melissa Giramma
EandM
Simplify motion control with smart wheel drives.
Go on a tour and explore smart wheel drive servo systems for your mobile and industrial applications.
12:30PM-1:00PM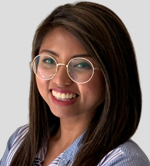 Edge Communication Devices
Alexa Balbuena
EandM
Don't forget about your communication devices!
Discover the ways of getting your machine and manufacturing data into the cloud using edge devices from HMS.