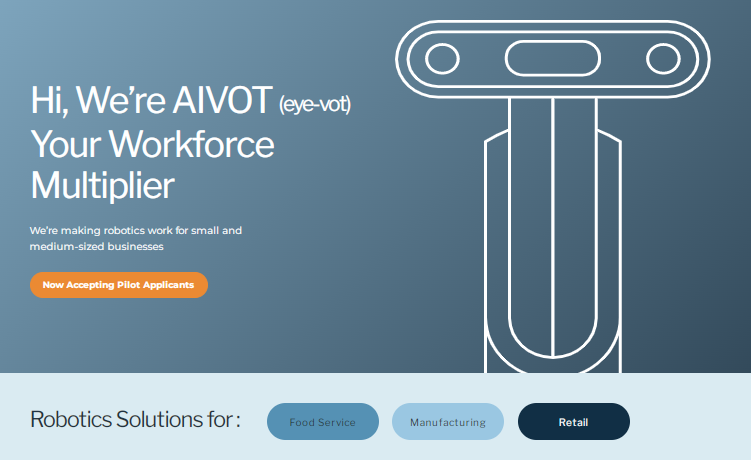 AIVOT: making robotics viable for small to medium businesses with fast-learning and low-cost humanoid robots
Aivot builds fast-learning and low-cost humanoid robots that act as workforce multipliers for SMBs. Aivot's end-to-end solution combines the latest AI and robotics technologies into an integrated platform that can perform a variety of open-ended tasks in existing unstructured environments and be operated by customers. The skill customization for new environments can be done using UI on the "no-code" platform with a skills library. Aivot is deployed in production at a customer site. More details are on our website – https://www.aivot.com.
THE SOLUTION
Our Technology
Making robotics a viable solution for small and medium-sized businesses means knowing that advanced technical resources are beyond budget.
AIVOT's end-to-end solution combines the latest artificial intelligence and robotics technologies into a single integrated platform able to perform a wide variety of open-ended tasks, take direction, and improve over time – with no technical background.


TESTIMONIALS
DEPLOYMENT STORY FROM GREEK WIRE:
http://geekwire.com/2023/robots-for-hire-dell-emc-vets-lead-seattle-startup-aiming-to-automate-monotonous-tasks/
CASE STUDY
Evergreen Restaurants
In June 2021, AIVOT began partnering with Evergreens to automate its workflow tasks
"The AIVOT team and the platform have really amazed me so far… Robotics takes out the simple tasks and allows us to focus on the excellence side of what humans can do."
Tom SmallPresident and COO, Evergreens
Contact Now
Interested in learning more about AIVOT, joining our pilot, becoming an investor, or joining our team?
AIVOT is an integrated robotics solution for small and medium sized businesses