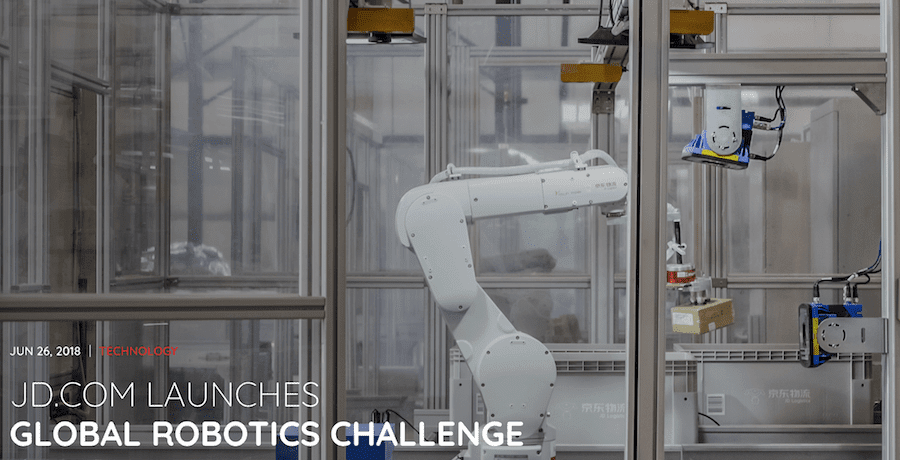 Deadline Approaches for New Robot Picking Challenge from JD.com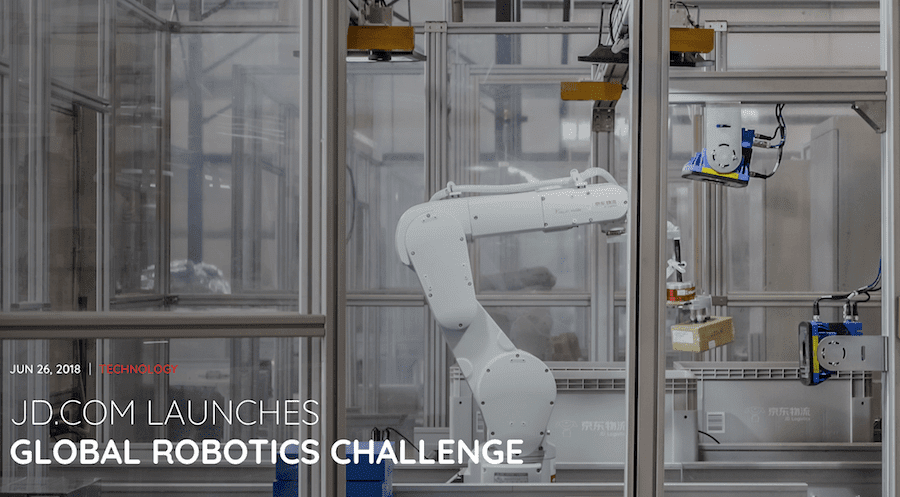 Jingdong, also known as JD.com, has recently launched a new robotics challenge, "to find talented roboticists who can help advance the development of global e-commerce and logistics technologies," according to the company.
Hosted by JD's robotics research arm, JD-X, the JD-X Robotics Challenge will ask contestants to design a 'picking' robot that can accurately pick selected product barcodes, or SKUs, from a pool within a limited amount of time. The contest will be judged by a panel of leading technologists and industry experts, including world-renowned roboticists. Judging will focus on the attributes of the robotic arm, computer vision, route planning, and ontology design in evaluating contestants' robots.
"We are confident the challenge will attract some of the best robotics talent in the world," said Jun Xiao, head of JD-X. "Building an efficient picking robot is a highly complex problem requiring advanced technology and creative design. It's a challenge that many robotics inventors are eager to tackle because it calls for the design of a practical robot that solves a real-world problem."
With the scale of e-commerce increasing sharply, especially on Chinese shopping festivals such as JD's 6.18 anniversary sale and Singles' Day, the logistics industry deals with trillions of packages every year. From robots to drones, unmanned delivery vehicles and fully automated warehouses, JD.com is increasing efficiency and redefining industry standards for delivery times.
For JD, which is China's largest retailer, online or offline, robots' contributions in automated warehouses are invaluable. The smart machines quickly, tirelessly and efficiently complete mundane and repetitive tasks, such as picking a product from shelf and placing it in a basket. But it's not easy. Picking things quickly, accurately and safely involves a complex system of computer perception, mechanical movement and manipulation, as well as AI decision making.
Designing robots that do this better is a priority for JD, and will be integral in the development of global commerce in the future. Worldwide sales of warehousing and logistics robots will reach $22.4 billion, while shipments of robots will reach 620,000 units per year, by 2021, as automation revolutionizes supply chains, according to Tractica Research.
The JD-X Robotics Challenge is open to university students and startups in China and overseas. The grand prize is RMB 500,000 (which is about $73,000 USD) with total available prizes worth RMB two million (or about $292,000 USD), and winners have the opportunity to apply for positions at JD.com, receive investment from JD in their startup and see their winning robot at work in a real-life logistics scenario.
According to the company, anyone who wants to participate in the Challenge can contact jrc@jd.com to register. The entry form can be downloaded here.
Reposted from Engineering.com
By Isaac Maw on August 2, 2018
https://www.engineering.com/AdvancedManufacturing/ArticleID/17398/Robotics-Picking-Challenge-for-Students-and-Startups-Launched-by-JDcom.aspx