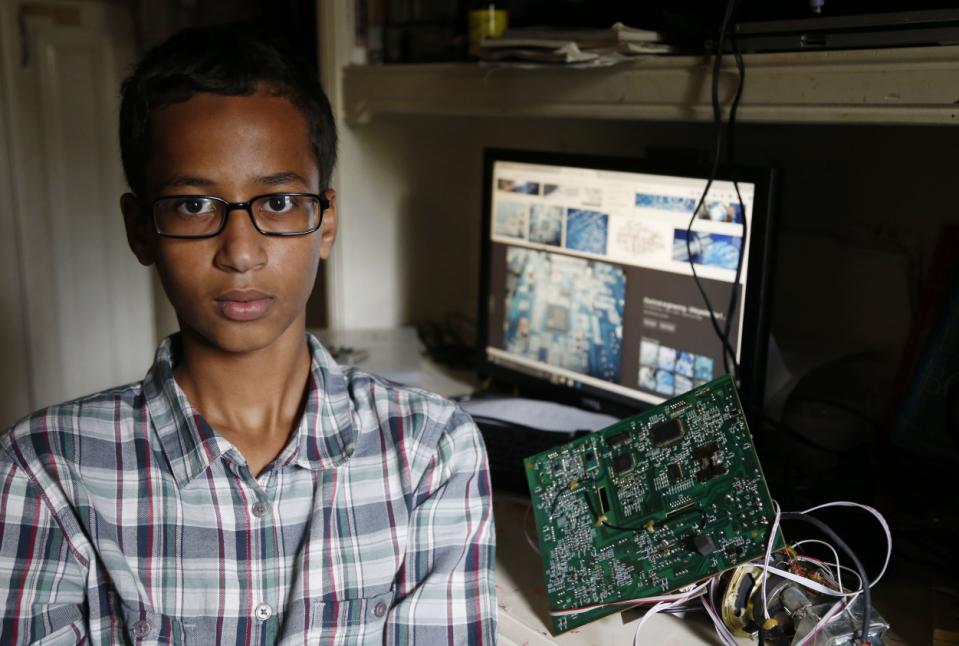 Diversity matters in robotics #IStandWithAhmed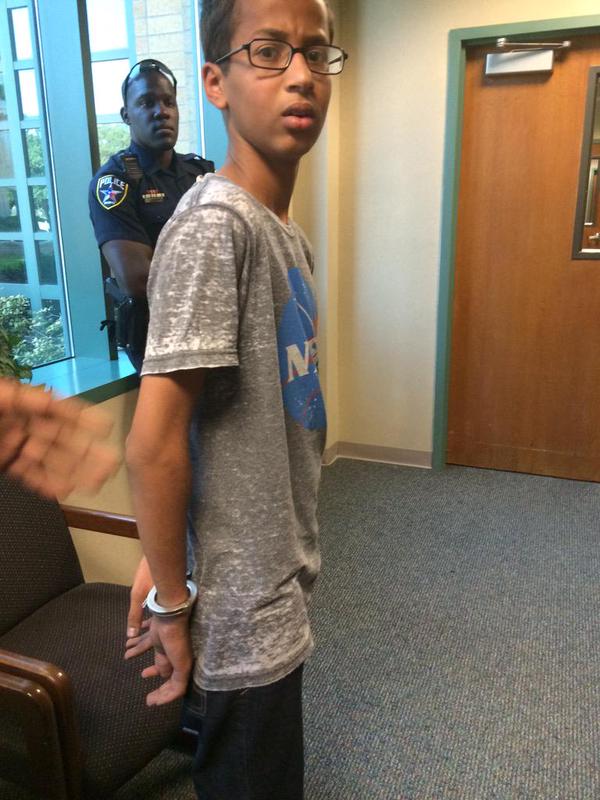 When a teenage inventor is arrested as a potential terrorist instead of being offered an internship, you know that our STEM skills shortage is only going to get worse. This photo of 14 yr old high school student Ahmed Mohamed being arrested for bringing his engineering project to school sent shockwaves all over the internet. Aren't we trying to promote STEM? Isn't there a skill shortage in technology? Doesn't diversity matter in tech? Would this have happened to a white kid from Cupertino? For crying out loud, the kid is wearing a NASA t-shirt as he is led away in handcuffs!
Since the story broke the twitter hashtag #IStandWithAhmed is trending and President Obama, NASA and pretty much the whole Maker movement have tried to make things right. We need more talented and enthusiastic engineers of all colors, creeds and genders. Here are some of the facts and figures.
Scientific American – Diversity in Science: Where are the data? (there's plenty more where this chart comes from!)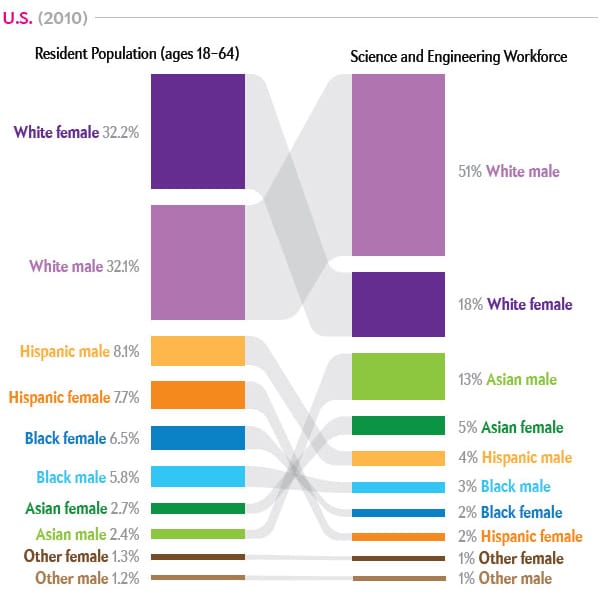 WIRED – 5 Numbers That Explain Why STEM Diversity Matters To All Of Us
-12
Percentage drop, since 1991, in the number of computer science degrees earned by women in the U.S. (Source: National Science Foundation)
In 1983—right before the dawn of the personal computer revolution—women earned 37 percent of all computer science degrees in the U.S. Today, despite the fact that women comprise more than half of the workforce, their STEM representation (as well as that of minorities) has gone in reverse. One potential cause? A striking lack of female leadership in the world's best universities. (Particularly egregious: The U.K., where just 17 percent of engineering and technology professors are women.) Though mentorship programs and scholarship opportunities are attempting to, um, stem the tide, time is (lost) money. By 2018, in the U.S. alone, it's projected that 92 percent of STEM jobs will require some level of related higher education.
NSF – National Science and Engineering Indicators 2014 (released every 2 years) and supporting policy companion papers.
"The United States remains the world's leader in science and technology," said Ray Bowen, NSB member and chairman of its Committee on Science and Engineering Indicators, which oversees development of the report. "But there are numerous indicators showing how rapidly the world is changing and how other nations are challenging our predominance. As other countries focus on increasing their innovation capacities, we can ill afford to stand still. We now face a competitive environment undreamed of just a generation ago," said Bowen, visiting distinguished professor, Rice University and president emeritus of Texas A&M University.
White House Science Fair 2015 – Obama announces $240 million new STEM initiatives
"The first decade of the 21st century continues a dramatic shift in the global scientific landscape," said NSB Chairman Dan Arvizu, who is also the director and chief executive of the National Renewable Energy Laboratory. "Emerging economies understand the role science and innovation play in the global marketplace and in economic competitiveness and have increasingly placed a priority on building their capacity in science and technology."
"We envision a future where the people who imagine and build technology mirror the people and societies they build it for."