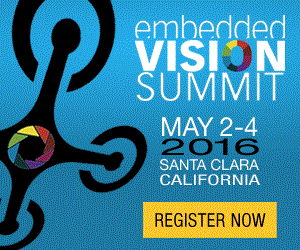 The event for innovators who want to bring visual intelligence into products. The Summit inspires participants to use embedded vision technology in new ways and to empower them with the know-how they need to integrate vision capabilities into products. It brings together more than 1000 industry innovators, business leaders, top technologists, and smart engineers – game‑changers from around the world who are designing 'machines that see.
Silicon Valley Robotics members get a 15% discount
on the Two-day Summit Package
with discount code SVR16.