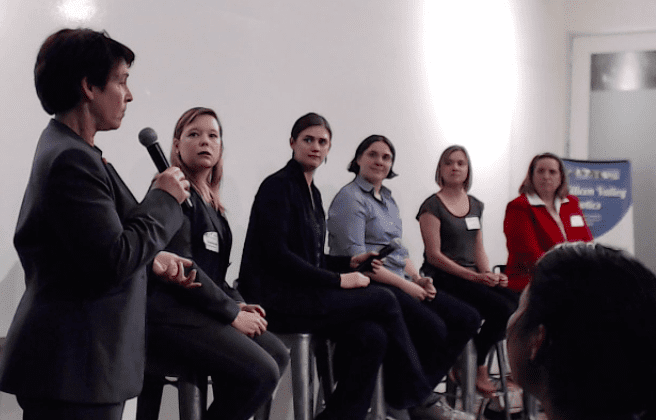 Everyone is hiring roboticists – women please apply!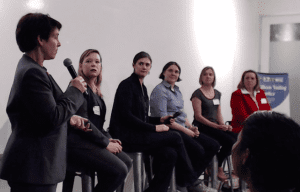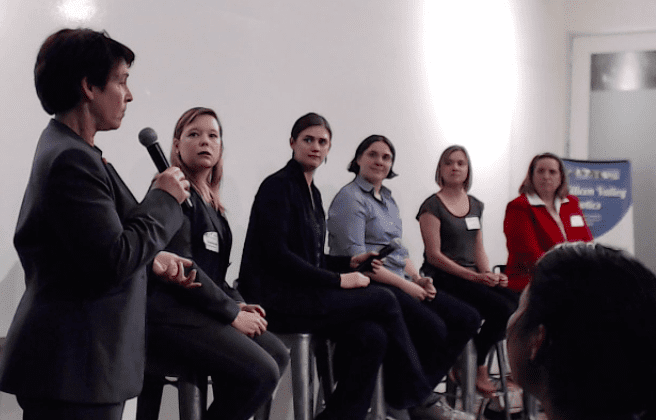 It's like Rosie the Riveter all over again. Robotics companies are hiring madly and the best startups are proactively looking for women. The first SVR Influencer event on April 29 at IDEO SF brought together 5 female robotics experts, Katherine Scott, Erin Rapacki, Melonee Wise, Steffi Paepcke and Dale Bergman, all sharing their opinions about the challenges and opportunities in Silicon Valley. The strongest message was "We're hiring!".
With Melonee Wise launching Fetch Robotics today it's no surprise that her thoughts are on hiring. Melonee managed to launch not just one but two logistics robots in a mere 8 month turn around from funding to Fetch and Freight. Fetch, a one armed picker and the mobile autonomous base unit, Freight. The mobile base unit can deliver picked goods much quicker than the full unit can, making the deployment of a combination of robots in several warehouse roles viable.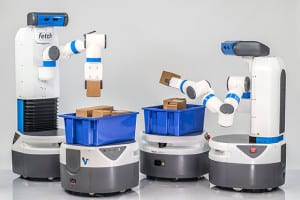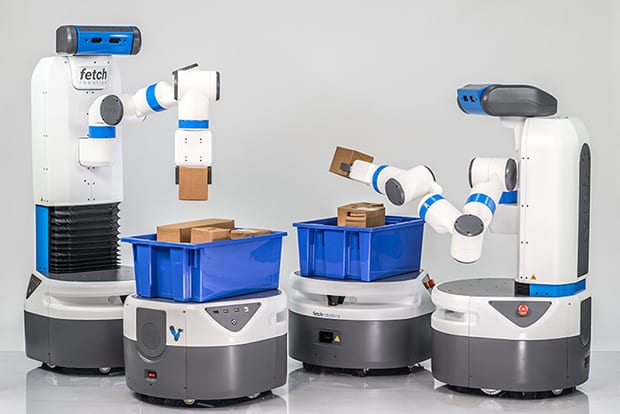 Says Wise, "We were got funding from Shasta Ventures and OATV about 8 months ago, and then we didn't really sleep or see other people for the next 4 months. Then we had the basic robots and have been working on pilot software, so that people can see them in operation, and see what they can do. They are designed to be logistics robots. There's a huge need for workers to do pick and pack. Basically, every time you order just one thing from Amazon… that's a huge problem! And demand is growing while companies' ability to meet the need is falling behind."
But it wasn't just the startups on the panel, Fetch Robotics, Tempo Automation. The more mature robotics companies, Suitable Technologies and Intuitive Surgical were also on the hunt, as were companies who proactively attended the #SVRInfluencer #WomenInRobotics event specifically to look for job candidates, ie. SRI International, Krtkl, Modbots, Pneubotics and others.
We didn't plan for the evening to focus almost entirely on employment but that's what was on everyone's mind. Many audience members brought resumes and peppered the panel with questions about how to apply, to pitch or what to put on their resume. Some of the comments made by the panel were:
Be passionate about what you do. Make it your life not your work
Research the job you want, so that you can show why you will be a good fit
Pick a company you want to work at then stalk them until they say no
Be an intern and give companies a trial until you know you want to work there
Search out mentors and role models (male or female) and ask for their advice
Most resumes received are badly written and uninformative (research the job and show relevant skills)
If you want to code then put your Github at the top of your resume (all we care about!)
If you want to build then show us something you've built (doesn't have to be big or sophisticated!)
There are lots of jobs for people who can translate between robotics and other fields ie. doctors
There are lots of jobs for UX and design
Sometimes roboticists (esp engineers) don't know what they need or what it's called – do the research and tell them why your skills will solve a problem they maybe didn't even know they had.
We are all hiring!
Now a plug – Silicon Valley Robotics and Robohub started the Robojobs.org site to help with this ongoing need to match great robotics people with cool robotics startups, companies and research jobs. It's still surprisingly difficult to make the connections and if robotics keeps growing, we're going to need a lot more roboticists.
PANEL VIDEO WILL GO HERE WHEN FINISHED