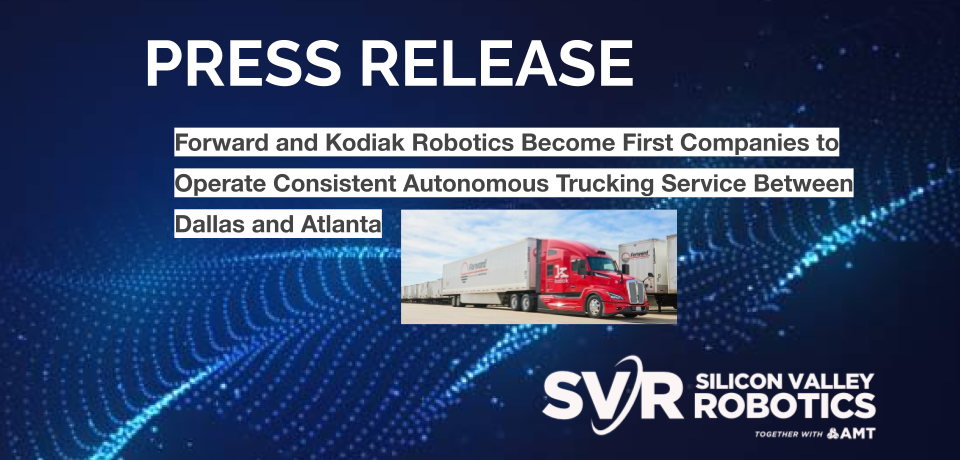 Forward and Kodiak Robotics Become First Companies to Operate Consistent Autonomous Trucking Service Between Dallas and Atlanta
MOUNTAIN VIEW, Calif. and GREENEVILLE, Tenn., March 16, 2023 /PRNewswire/ — Kodiak Robotics, Inc., a leading self-driving trucking company, today announced a dedicated agreement with Forward Air Corporation (NASDAQ: FWRD) ("Forward"), a leading asset-light provider of transportation services across the United States, Canada and Mexico. Through this agreement, Kodiak and Forward are operating autonomous freight service 24 hours per day, six days per week (24/6) between Dallas and Atlanta, making three round trips weekly.
Providing consistent, 24/6 service creates significant operational and technical complexities. Despite these challenges, Kodiak has maintained a perfect safety record and provided top-quality customer service to Forward. To date, Kodiak has delivered more than 100 loads and driven more than 100,000 miles since it began working with Forward in August 2022. In order to maintain the demanding schedule and abide by the hours-of-service regulations, Kodiak's self-driving truck operates with a safety driver team overseeing the autonomous system.
Tom Schmitt, Chairman, President and CEO of Forward said, "To serve our customers, we always need to be on the forefront of exploring emerging technologies. Kodiak has earned an outstanding reputation in safe autonomous trucking, and this collaboration allows us to explore potential benefits to our business. While we don't see autonomous trucks replacing independent contractor capacity, this could potentially be a scalable solution for certain lanes in our network."
Kodiak's ability to operate consistent 24-hour service across the nearly 800 mile freight lane between Dallas and Atlanta is largely attributable to the reliability and ruggedness of Kodiak's autonomous system and the unique flexibility and speed of its sparse mapping solution. This proprietary mapping approach speeds the process of introducing new autonomous lanes, and it enables Kodiak to issue real-time, fleet-wide mapping updates over-the-air.
"We are proving out our business model by moving time-sensitive freight across thousands of miles and multiple hours of service through our collaboration with Forward," said Don Burnette, Founder and CEO, Kodiak. "The tweener lane between Dallas and Atlanta is long and difficult to staff, so it perfectly illustrates how autonomous trucks can make the supply chain more efficient and resilient and supplement our customers' human driven fleets. At the same time, we are showcasing the reliability and ruggedness of our autonomous system, which is able to operate for six days straight without needing rest or recalibration—a significant achievement."
Kodiak's agreement with Forward is the latest in a growing series of fleet and carrier relationships the company has announced. Previously, the company announced partnerships with IKEA, Werner Enterprises, U.S. Xpress, 10 Roads Express and CEVA Logistics.
About Kodiak Robotics, Inc.
Kodiak Robotics, Inc. was founded in 2018 to develop autonomous technology that carries freight forward — so people, partners, and the planet thrive. The company is developing an industry-leading technology stack purpose-built specifically for long-haul trucks, making the freight industry safer and more efficient. Kodiak's unique modular hardware approach integrates sensors into a streamlined sensor-pod structure that optimizes for perception, scalability, and maintainability. The company delivers freight for its customers along six routes in Texas, Oklahoma, and the Southeast, operating autonomously on the highway portions of the routes. Learn more about Kodiak on the web at kodiak.ai, and on LinkedIn and Twitter. You can find the company press kit HERE.
About Forward Air Corporation
Forward Air is a leading asset-light provider of transportation services across the United States, Canada and Mexico. We provide expedited less-than-truckload services, including local pick-up and delivery, shipment consolidation/deconsolidation, warehousing, and customs brokerage by utilizing a comprehensive national network of terminals. In addition, we offer final mile services, including delivery of heavy-bulky freight, truckload brokerage services, including dedicated fleet services; and intermodal, first-and last-mile, high-value drayage services, both to and from seaports and railheads, dedicated contract and Container Freight Station warehouse and handling services. We are more than a transportation company. Forward is a single resource for your shipping needs. For more information, visit our website at www.forwardaircorp.com.
SOURCE Kodiak Robotics