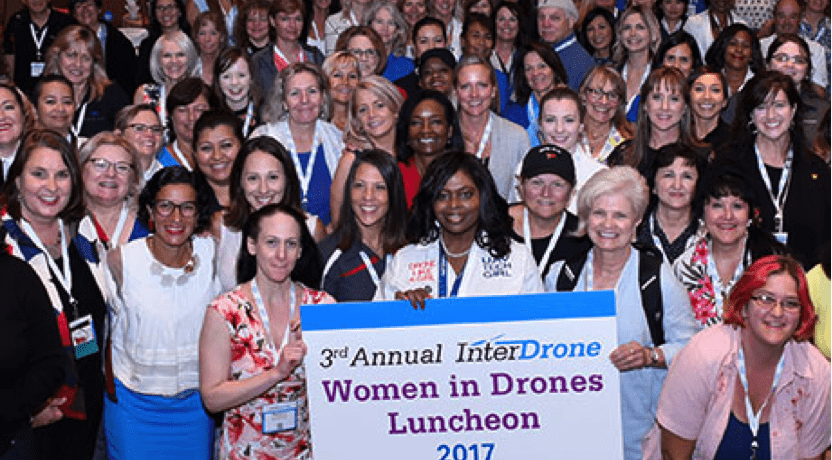 Fourth Annual Women in Drones Networking Event Planned for InterDrone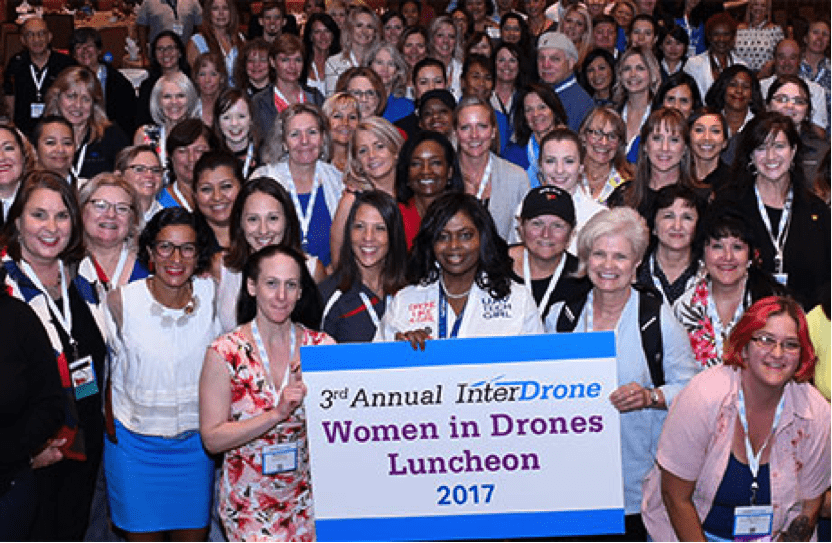 NEW YORK — July 10, 2018 — Emerald Expositions, the largest operator of business-to-business trade shows in the United States, announced plans today for InterDrone's fourth annual Women in Drones Luncheon, a special event it spearheaded in 2015 and has quickly grown into a model for networking in the commercial drone industry. InterDrone will take place at the Rio Hotel in Las Vegas, September 5 – 7. The luncheon will be on Thursday, September 6, from 12:15 pm – 1:30 pm.
Suzanne Lemieux, UAS Lead and Manager, API (American Petroleum Institute), will host the event. Other esteemed participants so far include Lia Reich, VP Marketing-Communications at PrecisionHawk, Sharon Rossmark, CEO and Founder of Women and Drones, and Mariah Scott, President of Skyward, A Verizon Company.
"This is an incredible time for women to enter into this emerging field, to participate in these new developments, and to pave a pathway for more girls to enter into STEM careers. I look forward to moderating the luncheon panel to help build networking opportunities for more women and girls," Lemieux said.
"The event this year is also particularly exciting since we are thrilled to announce a partnership with Women and Drones," said Katie Flash, Content Director, InterDrone, adding, "Our event strives to highlight all the amazing things women are doing in this space, and this partnership allows us to take that to the next level."
The collaboration with Woman and Drones, the largest online platform for women in the UAS industry, is to reveal the 2018 Women to Watch in UAS list of honorees during the luncheon.
"Women to Watch in UAS recognizes exceptional women in the industry from around the world. We received hundreds of nominations this year and are in the midst of a rigorous process, reviewing each submission and validating the information. The finalists will be selected by our judges very soon and the honorees will be announced at InterDrone," Rossmark said.
The show this year will feature more than 120 sessions, panel discussions, and keynotes conducted by renowned industry experts, covering numerous commercial drone applications. The Exhibit Hall will showcase the latest hardware, software, and drone accessories from leading manufacturers and innovators, including DJI Enterprise. Attendee registration is now open.
For information on exhibiting or event sponsorships, please contact Brian Scott at brian.scott@emeraldexpo.com or 646.668.3784.
About InterDrone
InterDrone, The International Drone Conference and Exposition, is where the commercial UAV industry comes together. InterDrone allows drone pilots and buyers to connect with other drone pilots, service providers, UAS engineers and developers, UAV manufacturers, videographers, and enterprise UAV end-users at the largest, commercially-dedicated UAV event. InterDrone boasts the most comprehensive conference program along with in-depth drone courses and special events, including the Enterprise After Hours and the Women in Drones Luncheon—which InterDrone spearheaded into an industry-acclaimed event—as well as meetups designed for networking and keeping drone pilots up to date on the latest in drone news and the industry.
InterDrone is owned by Emerald Expositions, the largest operator of business-to-business trade shows in the United States, with many shows dating back several decades. Emerald currently operate more than 50 trade shows, including 31 of the top 250 trade shows in the country as ranked by TSNN, as well as numerous other events, connecting over 500,000 global attendees and exhibitors and occupying more than 6.9 million NSF of exhibition space.
Website:          https://www.interdrone.com/
Facebook:        https://www.facebook.com/InterDroneExpo/
Twitter:           https://twitter.com/interdroneexpo