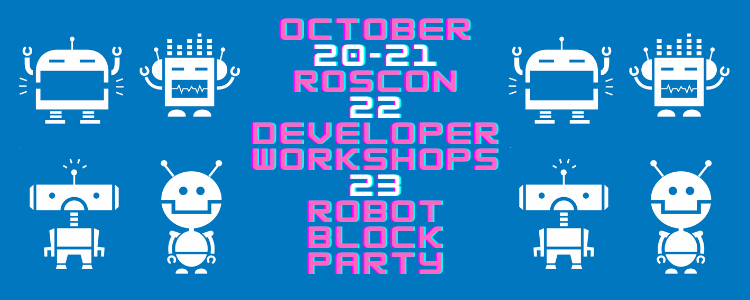 It's October Robot Fest! Developer Workshops, ROS World and Robot Block Party
Join us at Silicon Valley Robotics, MechLabs and Circuit Launch in Oakland for a week full of exciting robot activities OCT 20-23
On Wednesday Oct 20th and Thursday Oct 21st we're hosting a Viewing Party & Screening for ROSWorld 21 :

https://roscon21-viewing-party.eventbrite.com

Register for ROSCon '21 here : https://roscon.ros.org/world/2021

On Friday Oct 22nd we're hosting robot developers workshop day, with Foxglove Robotics, Haddington Dynamics, PickNik Robotics, Merklebot and Spot from Boston Dynamics (more TBC) :

https://robot-developer-day.eventbrite.com

All Circuit Launch events require masks inside




Are you coming to our

ROBOT FESTIVAL?

October 20-23

@CircuitLaunch

And on Saturday Oct 23rd we're hosting the Robot Block Party, with demos, speakers, job fair, robots, robots, more robots, fun, food trucks and fiesta!

https://robot-block-party.eventbrite.com

AGENDA (still improving!)

Robot Demos (upstairs, downstairs & outside – all day)

Tech Talks & Engineer Office Hours

Robots On Ice Teaser

Indoor DIY Robocar Racing Track Testing

Outdoor AgRobotics Rover Competition (details Oct 1)

Indy Autonomous Live Stream

Make Spot Dance Workshop

MechLabs Robot Building Workshops

Robojobs Job Wall & Community Notice Board

Women in Robotics Networking Event

Black in Robotics Networking Event

Bots & Beer Networking Event

Food & Ice Cream Trucks

CONTACT ANDRA@SVROBO.ORG IF YOU'D LIKE TO DEMO, OR SPEAK, OR SUBMIT JOBS, OR SPONSOR  ETC.
PROUDLY SUPPORTED BY:
SILICON VALLEY ROBOTICS
CIRCUIT LAUNCH
MECHLABS
CITRIS & THE BANATAO INSTITUTE's PEOPLE AND ROBOTS LAB