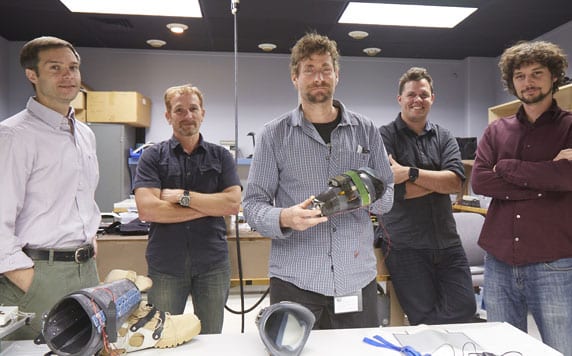 Leading the conversation on the future of robotics

Lately it seems that robotics is at the forefront of many conversations—about technology, jobs, startups, education, and more. At SRI, we're gearing up for National Robotics Week in April and partnering with Xconomy to bring together some of the industry's foremost thought leaders on April 10 at Robo Madness 2014. And, we'll be sharing our passion for robotics at an upcoming Nightlife at the California Academy of Sciences event in San Francisco. As the robotics revolution takes place all around us, SRI is advancing the robotics conversation and the research and technology development that will bring whole new robotics approaches to the market.
SRI Robotics' engineers in the lab
The multidisciplinary SRI Robotics team actively pursues projects where we can demonstrate immediate value for our clients, while working to make an impact with foundational research and world-changing innovations. Part of what makes our team unique is its mix of talented individuals with varied backgrounds. To invent, apply and commercialize technology in the robotics industry—and do it well—we are expanding beyond the traditional electromechanical form factor that has dominated robotics for so long. While our team includes people from traditional hard-core robotics disciplines such as mechanical engineers, computer scientists and electrical engineers, our program takes a much broader approach. Our capabilities are bolstered by staff with Ph.D.s in chemistry, physics and materials science. Together, we know how to invent fresh, new solutions. I like to say that we are redefining the design space for robotics!
Another distinct advantage is our focus on three core areas of business: government, commercial and ventures. We have a long-standing track record of conceiving, designing, building and deploying a wide range of leading-edge platforms under contracts from government agencies, including the Defense Advanced Research Projects Agency (DARPA). One of DARPA's goals is to maintain the United States' lead in robotics technology applications. Through our close work with DARPA, we've been on the leading edge of robotics innovation for decades. In fact, when people ask me what the next big advancement in robotics will be, I always say to look to DARPA, as its programs have seeded every major advance in the field. For example, DARPA originally funded SRI to work on the first telepresence surgery system for minimally invasive surgery, which eventually became the da Vinci surgical robot sold by Intuitive Surgical.
SRI Robotics' engineers at work
We also work with commercial clients to either develop new technologies to help solve a particular problem for which they don't have the resources, or to develop our own technologies further to help them bring new solutions to market.  Because our team sees the strategic business opportunities of our technologies, we can successfully transition innovations into the marketplace through spin-off companies. Most recently, our electroadhesion work over the last decade led to Grabit Inc., an SRI spin-off that offers robotics solutions for industrial automation and material handling.  As a co-founder of Silicon Valley Robotics, we are in the midst of the robust robotics activity in the San Francisco Bay Area and are nurturing a growing early-stage market of robotics companies.
There's no question that it's an exciting time to be in the midst of the robotics revolution, or "madness" as our friends at Xconomy have described it. In the coming weeks and months, SRI Robotics will share more innovations, including advancements in the areas of personal service robots, wearable robotics and micro-robots. And if you're in the San Francisco Bay Area, we welcome the opportunity to talk with you at any of these events.
– See more at: http://www.sri.com/blog/leading-conversation-future-robotics#sthash.wwmpm1Ng.dpuf