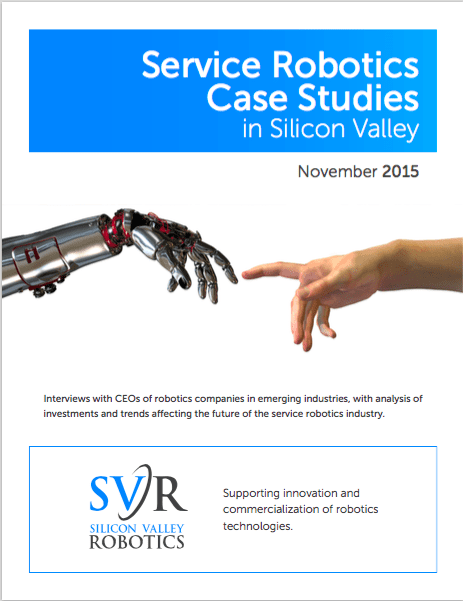 New Roles for Robots in Today's Economy
PRESS RELEASE: Silicon Valley Robotics Releases Service Robotics Case Study Showcasing New Roles for Robots in Today's Economy
(Silicon Valley, USA – November 18, 2015) – Silicon Valley Robotics today published the first in a series of case studies in service robotics showcasing the new ways in which robots can enrich our economy, creating new positions in the retail, logistics, health and hospitality industries. "Service Robotics Case Studies in Silicon Valley – November 2015" can be downloaded from the Silicon Valley Robotics website (svrobo.org).
Robots are starting to move out of the factory and into more common use as a service industry, where robots work alongside people in places that range from the warehouse to the supermarket. Along the way, we need to ask how do we integrate robotics into society. What roles can robots play?
"The service robotics industry is at such an early stage that we saw huge value in collecting the stories of leading edge robotics startups," says Silicon Valley Robotics Managing Director Andra Keay. "Companies like Savioke, Adept, Fetch Robotics and Fellow Robots are doing things that have never been done before."
"The lessons learned from these companies will help steer a new generation of robotics companies as they navigate the difficult passage from startup to service robotics. It is still early, but look to Silicon Valley to set the pace for that future." Says Dr Rich Mahoney, President of Silicon Valley Robotics and Director of Robotics at SRI International.
Fetch Robotics provides mobile robots and mobile manipulators for ecommerce warehouse facilities. Fellow Robots provides mobile retail assistants for hardware stores. Savioke provides a delivery robot for hotels and is working on eldercare opportunities. Adept provides a general-purpose mobile base that can be utilized in many settings, including one application as a restaurant server.
The report also includes some analysis of funding and trends in service robotics. The service robotics sector is currently worth US $3.7 billion, according to the International Federation of Robotics (IFR) and although that is only 1/10th of the size of the industrial robotics sector, at US $32 billion, the service robotics industry is demonstrating very high growth rates. Mobile platforms showed 150% increase in sales in 2014 and assistive technology 650% increase. Some areas are so new that statistics are only just being recorded, like for kiosk robots and retail assistants.
Report contributors Ekta Sahasi, Vice President, and Greg Lok, Business Strategy Lead, from Konica Minolta Business Innovation Center, found that investment into robotics is increasing, up 36% to US $341.3 million in 2014. This is in parallel with the overall rise of VC hardware investment, which has increased 30X over 2010-2014.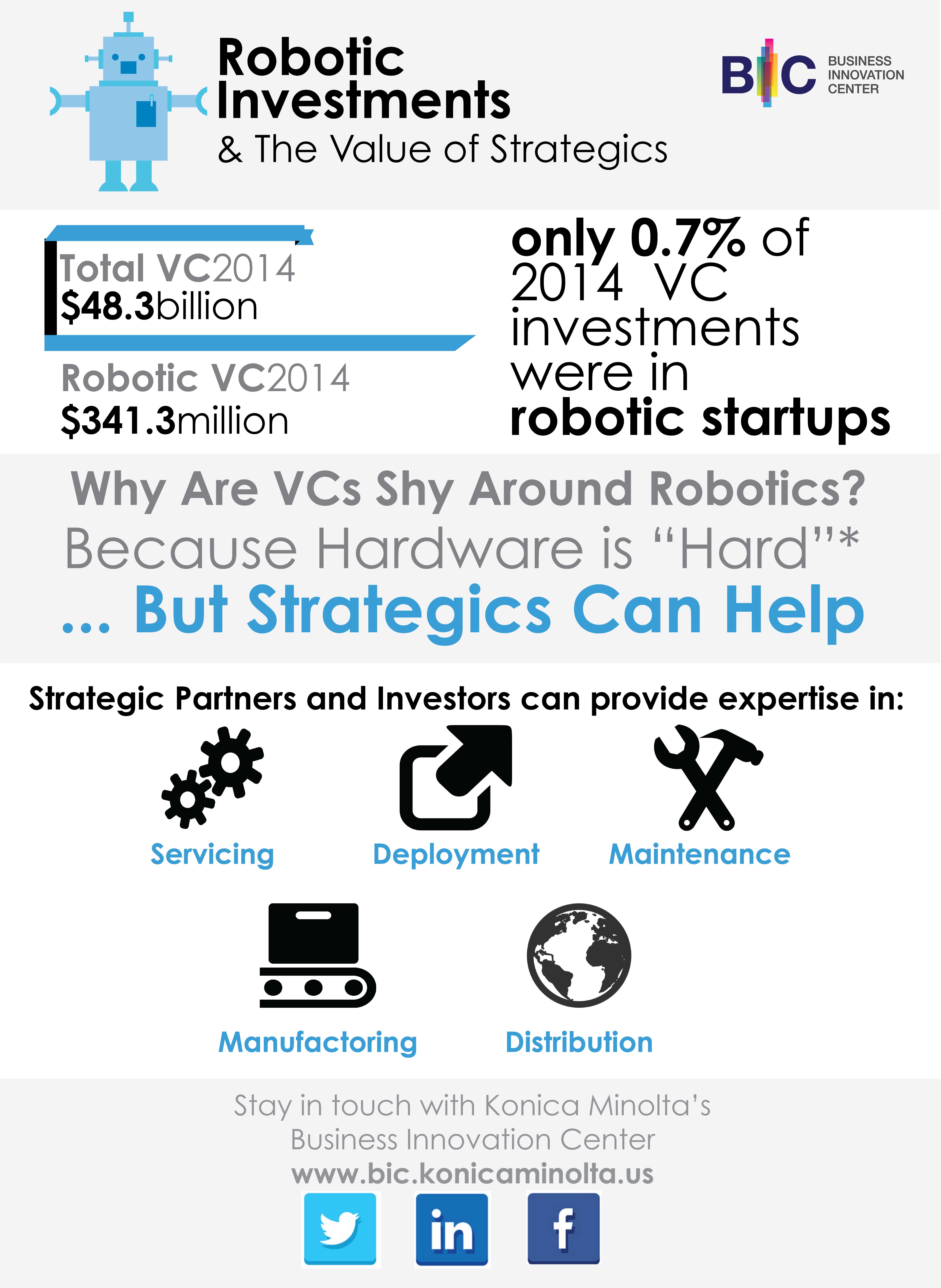 Roger Chen, Principal at OATV (O'Reilly AlphaTech Ventures) who have invested in startups like Fetch Robotics, 3D Robotics, Planet Labs, LittleBits, Misfit Wearables and Sight Machines, says they are looking ahead and investing before market categories emerge. Chen says that there has been a confluence of technological factors enabling new forms of robotics suitable for the service industry. At the same time, there is growing market pull from the 'on demand' economy.
"Take a look at e-commerce and what's happening with consumers. They want things faster, cheaper and personalized, and this just creates so much pressure on a lot of these manufacturing, supply chain and logistics companies." says Chen.
The nascent service robotics industry can also learn from the history of enterprise computing, says Dr Michael Harries, Chief Technologist of the Citrix Startup Accelerator, who is keeping a close eye on the fields of AI, machine learning, IoT and robotics.
"Cloud computing, Software as a Service, and mobile connectivity represent an important competitive opportunity for every robotics- focused company, and the future of the service robotics industry is inevitably one of Robotics as a Service. " says Harries.
Marco Mascorro, CEO of Fellow Robots who make the retail assistant robot at Orchard Supply Hardware Stores notes that "the idea is to rethink how retail
is done in terms of customer service and the experience you actually have when you go and purchase items in a store. We want to help businesses make the process as smooth as possible, so that their customers find everything they need, everything they're looking for, and have a great experience. That scenario is a win/ win for both the retailer and the customer."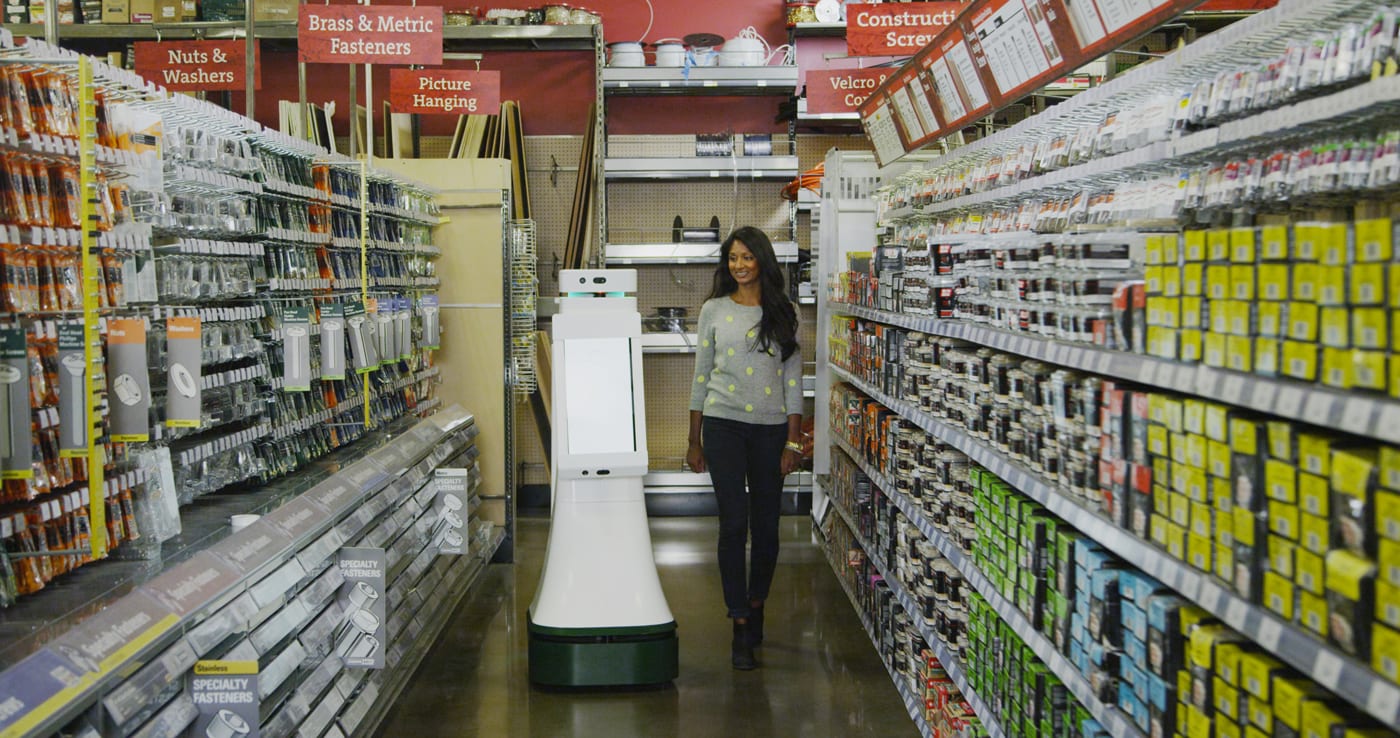 ***
See also the recent White Paper from the Association for Advancing Automation (A3) titled "Robots Fuel the Next Wave of U.S. Productivity and Job Growth".
***
About Silicon Valley Robotics
Silicon Valley Robotics (SVR) is the not-for-profit organization supporting innovation and commercialization of robotics technologies in Silicon Valley. SVR organizes investor and startup events, networking and a job board for robotics companies, and strategic reports on the robotics ecosystem.
Contact
Andra Keay
Managing Director Silicon Valley Robotics
Email: andra@svrobo.org
Skype: SVRobo
Cell: 925-344-5925