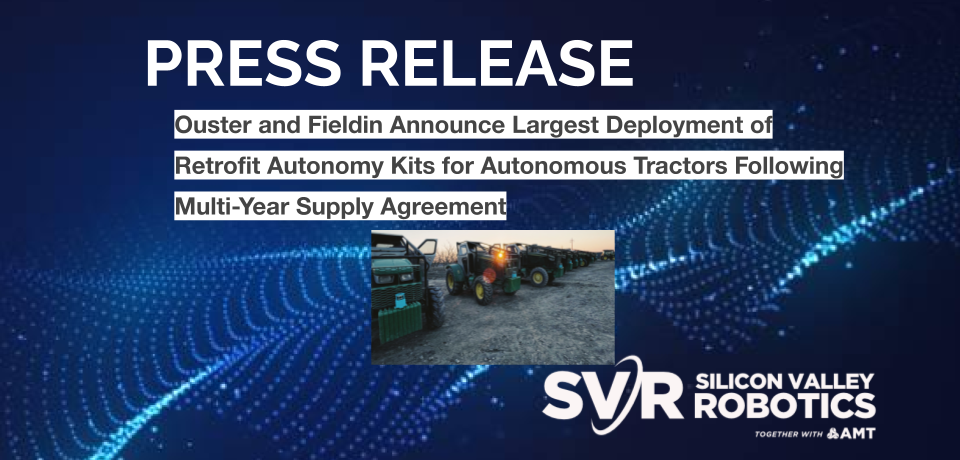 Ouster and Fieldin Announce Largest Deployment of Retrofit Autonomy Kits for Autonomous Tractors Following Multi-Year Supply Agreement
SAN FRANCISCO–(BUSINESS WIRE)–Ouster, Inc. (NYSE: OUST), a leading provider of high-performance lidar sensors, and Fieldin, a leading AgTech company with a smart farming platform and autonomous technology, announced the largest known deployment of retrofit autonomy kits for autonomous tractors in the agricultural industry1 following the signing of their multi-year supply agreement. Fieldin has already deployed dozens of kits at its customers' farms and plans to deploy over 100 autonomy retrofit kits on tractors, each equipped with an Ouster OS1, to major customers across the United States in 2023. Ouster shipped 100 sensors to Fieldin at the end of 2022 as part of its binding agreement, and expects to ship several hundred additional sensors through 20242.
Fieldin's deployment of 100 retrofit autonomy kits stands to make it the largest deployment of autonomous tractors in the industry to date. Fieldin's autonomy kits are part of its offering to digitize and transform today's farms into autonomous ones. The autonomy kit offers various levels of automation features that can be unlocked, including auto-steering and other driving assistance capabilities, autonomous spraying, and fully autonomous driver-out functionality in line with rapidly evolving local autonomous driving regulations. These features can drive improved operational efficiency and significant cost reductions, such as up to 87% in chemical savings for high-value crop growers.
Fieldin uses Ouster's OS1 sensors on tractors and other farm machinery for reliable vehicle localization, navigation, and object detection. Fieldin's autonomous solutions sit alongside their Smart Farming Operations platform, providing aggregated data and dashboards to create visibility in real-time and insight for key farm decision-makers, which can strengthen accountability, precision, operations and results. Together, Ouster and Fieldin aim to address common challenges facing the agricultural industry through innovative and scalable autonomous farming solutions.
"Agricultural equipment operates rain or shine, in fluctuating temperatures and dusty environments, and through narrow aisles of crops completing a variety of routine tasks from spraying and harvesting to mowing. Fieldin is modernizing agricultural management from beginning to end to optimize operations and reduce costs, while making a positive global contribution through better food, higher yields, and environmental impact management," said Fieldin Co-founder and Chief Autonomy Officer Yonatan Horovitz. "To achieve this at scale, we needed a lidar sensor for our autonomy kit that was robust, reliable, and cost-effective. Ouster delivers all of that and more with excellent customer support and product availability."
The market for autonomous farming equipment is expected to reach approximately $95 billion by 20273. In the U.S. alone, there are more than an estimated 4 million agricultural machines that can be retrofitted and automated.4 Fieldin has installed more than 10,000 IoT devices on agricultural machinery in the three largest markets for fruit, nuts, and vegetables, and aims to upgrade each of these installations with one of its autonomy kits.
FieldIn's CEO will present at The World Agri-Tech Innovation Summit in San Francisco, CA, on March 14, 2023 and Global AgInvestment in New York City on April 3, 2023.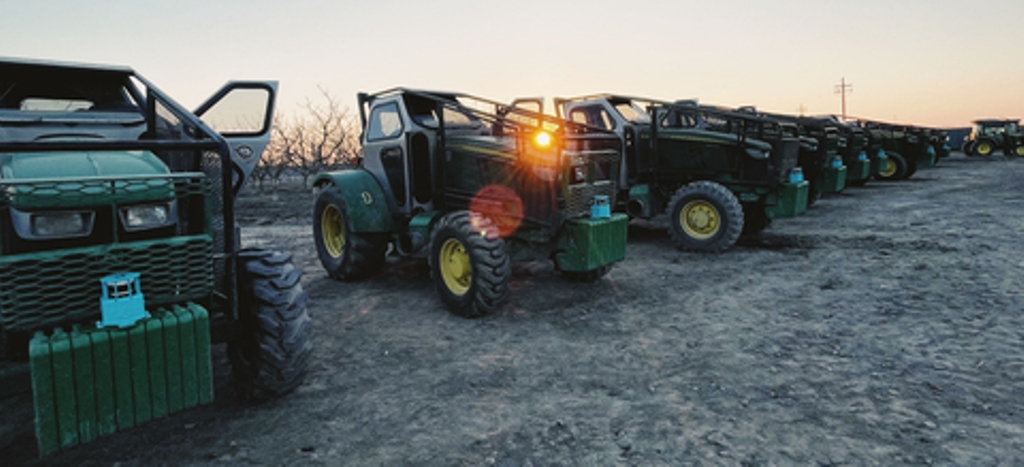 About Ouster
Ouster (NYSE: OUST) is a leading global provider of lidar for the automotive, industrial, robotics, and smart infrastructure industries. Ouster's products include high-resolution scanning and solid-state digital lidar sensors, Velodyne Lidar sensors, and software solutions. Ouster is on a mission to build a safer and more sustainable future by offering affordable, high-performance sensors that drive mass adoption across a wide variety of applications. With a global team and high-volume manufacturing, Ouster supports over 850 customers in over 50 countries. Ouster is headquartered in San Francisco, CA, with offices in the Americas, Europe, Asia-Pacific, and the Middle East. For more information, visit www.ouster.com, or connect with us on Twitter or LinkedIn.
About Fieldin
Fieldin is a leading AgTech company that developed a smart farm operation platform and autonomous technology. Fieldin is powering the autonomous, smart farm of the future through its data-driven, sensor-based farming platform combined with autonomous driving technologies that provides growers with real-time actionable insights into the day-to-day management of their farms with autonomous execution capabilities. Fieldin serves hundreds of agricultural enterprises around the world, including five of the 10 largest farms in California and its platform supports more than 20% of the global production of almonds and 30% of US-based lettuce crops. Since its inception, Fieldin has monitored 49 million tractor hours and 21 million acres, and digitized over 10,000 tractors and other machinery. Fieldin's headquarters are located in CA with additional offices in Israel, and Australia. For more information, visit www.fieldin.com.
Forward-Looking Statements
This press release contains forward-looking statements within the meaning of the Private Securities This press release contains forward-looking statements within the meaning of the Private Securities Litigation Reform Act of 1995. We intend such forward-looking statements to be covered by the safe harbor provisions for forward-looking statements contained in Section 27A of the Securities Act of 1933, as amended (the "Securities Act") and Section 21E of the Securities Exchange Act of 1934, as amended (the "Exchange Act"). Such statements are based upon current plans, estimates and expectations of management that are subject to various risks and uncertainties that could cause actual results to differ materially from such statements. The inclusion of forward-looking statements should not be regarded as a representation that such plans, estimates and expectations will be achieved. Words such as "anticipate," "expect," "project," "intend," "believe," "may," "will," "should," "plan," "could," "may," "continue," "target," "contemplate," "estimate," "forecast," "guidance," "predict," "possible," "potential," "pursue," "likely," and similar expressions are intended to identify forward-looking statements, though not all forward-looking statements use these words or expressions. All statements, other than historical facts, including statements regarding Ouster's anticipated cash position and cost savings; anticipated business partnerships and multi-year supply agreements and their potential impact on Ouster's revenue constitute forward-looking statements. All forward-looking statements are subject to risks and uncertainties that may cause actual results to differ materially from those that we expected, including but not limited to risks related to Ouster's limited operating history and history of losses; the negotiating power and product standards of its customers; fluctuations in its operating results; supply chain constraints and challenges; cancellation or postponement of contracts or unsuccessful implementations; the ability of its lidar technology roadmap and new software solutions to catalyze growth; the adoption of its products and the growth of the lidar market generally; Ouster's ability to grow its sales and marketing organization; substantial research and development costs needed to develop and commercialize new products; the competitive environment in which Ouster operates; selection of Ouster's products for inclusion in target markets; Ouster's future capital needs and ability to secure additional capital on favorable terms or at all; its ability to use tax attributes; Ouster's dependence on key third party suppliers, in particular Benchmark Electronics, Inc., Fabrinet USA Inc., and other suppliers; Ouster's ability to maintain inventory and the risk of inventory write-downs; inaccurate forecasts of market growth; Ouster's ability to manage growth; the creditworthiness of Ouster's customers; risks related to acquisitions; risks related to international operations; risks of product delivery problems or defects; costs associated with product warranties; Ouster's ability to maintain competitive average selling prices or high sales volumes or reduce product costs; conditions in its customers' industries; Ouster's ability to recruit and retain key personnel; Ouster's use of professional employer organizations; Ouster's ability to adequately protect and enforce its intellectual property rights; Ouster's ability to effectively respond to evolving regulations and standards; risks related to operating as a public company; risks related to the COVID-19 pandemic; risks related to certain of Ouster's warrants being accounted for as liabilities; and other important factors discussed in the Company's Annual Report on Form 10-K for the year ended December 31, 2021, as updated by the Company's most recent Quarterly Report on Form 10-Q and as may be further updated from time to time in the Company's other filings with the SEC. Readers are urged to consider these factors carefully and in the totality of circumstances when evaluating these forward-looking statements, and not to place undue reliance on any of them. Any such forward-looking statements represent management's reasonable estimates and beliefs as of the date of this press release. While Ouster may elect to update such forward-looking statements at some point in the future, it disclaims any obligation to do so, other than as may be required by law, even if subsequent events cause its views to change.
____________________
1Based on publicly available information (e.g., CNBC, October 2022).
2Non-binding forecast through 2024.
3Autonomous Farm Equipment Global Market Report 2023, February 2023.
4Agricultural Machinery, Tractors, United States, World Bank.