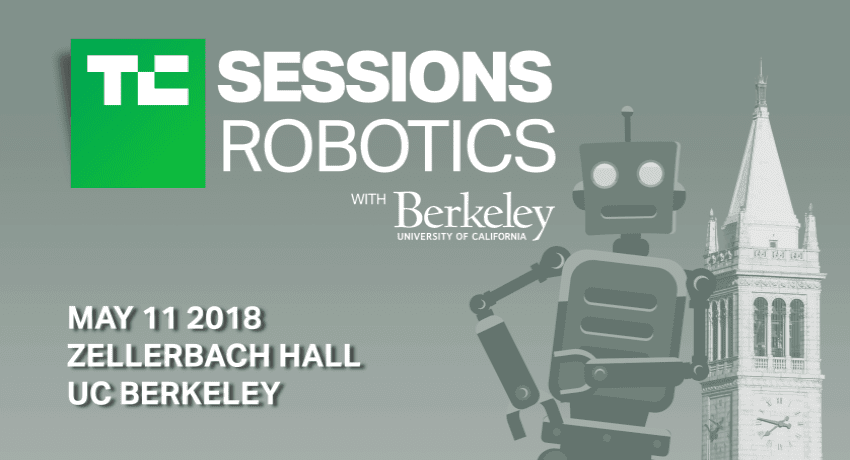 TechCrunch Robotics Sessions on May 11 at Berkeley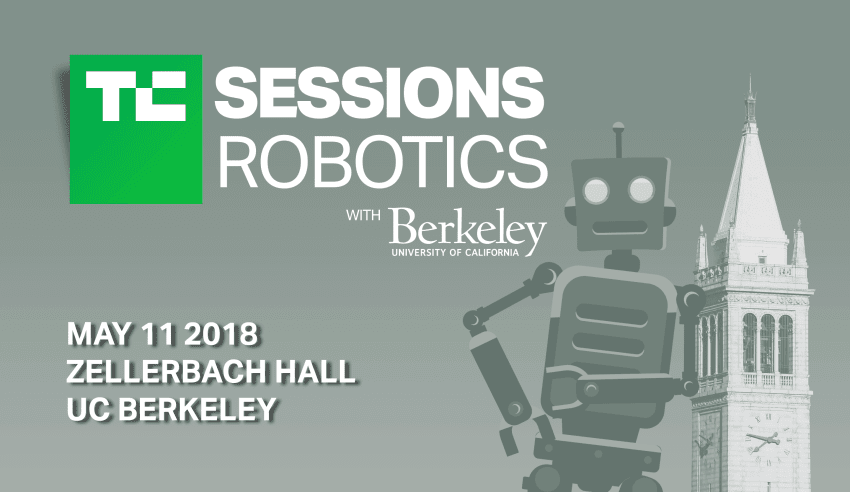 TechCrunch is partnering with UC Berkeley on May 11 to produce TC Sessions: Robotics, a one-day show focused on emerging robotics technologies and the startup scene.  Working on this agenda has been a blast for the editorial team because between the Bay area universities and the startup ecosystem there are far more robotics-riven technology projects and startups underway than most people appreciate. There is no question that the huge steps forward in AI, sensors and GPUs is quickly shifting robotics from the slow to the fast lane of the startups ecosystem.  Tickets are on sale now – buy your tickets here .
Agenda
TC Sessions: Robotics
Friday, May 11, 2018 @ Berkeley's Zellerbach Hall
9:00 AM – 9:05 AM
Opening Remarks with Matthew Panzarino (TechCrunch)
9:05 AM – 9:25 AM
Getting A Grip on Reality: Deep Learning and Robot Grasping
Building on 35 years of research, Professor Goldberg will discuss the  "New Wave" in robot grasping for e-commerce warehouse order fulfillment.
9:25 AM – 9:50 AM
The Future of the Robot Operating System (ROS)
Brian Gerkey (Open Robotics) and Morgan Quigley (Open Robotics).  Melonee Wise (Fetch Robotics)
The open ROS has been a boon to robot creators. Can ROS keep up with the dazzling array of new demands?  
9:50 AM – 10:10 AM
Eyes, Ears and Data: Robot Sensors and GPUs
Deepu Talla (NVIDIA)
NVIDIA is the market-leader in the development of the processors and sensors crucial to autonomous cars and drones as well as human safety.
10:10 AM – 10:30 AM
The Best Robots on Four Legs  
Marc Raibert (Boston Dynamics)
Boston Dynamics rocked the world with the DARPA-funded Big Dog, and founder Marc Raibert will show off its latest creation, SpotMini.
10:30 AM – 10:50 AM
Coffee Break
10:50 AM – 11:20 AM
Old McDonald Needs a Robot
Dan Steere (Abundant Robotics), Brandon Alexander (Iron Ox), Sebastian Boyer (Farmwise), and Willy Pell (Blue River Technology)
The future of agribusiness is robots, and these founders are already putting automated farm workers in the fields.
11:20 AM – 11:40 AM
Teaching Robots New Tricks with AI 
Pieter Abbeel (UC Berkeley, Embodied Intelligence)
The latest developments in AI can extend what robots do and make it possible for anyone to teach a robot new skills, without costly re-reprogramming. Professor Abbeel's Embodied Intelligence is taking that technology to market.
11:40 AM – 12:05 PM
Making Robots Less Robotic 
Ayanna Howard (Georgia Tech), Leila Takayama (UC Santa Cruz) and Patrick Sobalvarro (Veo Robotics)
Robots and humans are working and living together more than ever, and that means we have to watch out for one another — literally.
12:05 PM – 1:00 PM
Lunch and Workshops
WORKSHOP: DARPA and the Subterranean Challenge
A primer on how to work with DARPA and DARPA's latest robotics challenge.
1:00 PM – 1:20 PM
To be announced.
1:20 PM – 1:50 PM
Venture investing in Robotics
Renata Quintini (Lux Capital), Chrissy Meyer (Root Ventures) and Rob Coneybeer (Shasta Ventures), Chris Evdemon (Sinovation Ventures)
Has robotics become a mainstream investment focus for venture capitalists?
1:50 PM – 2:10 PM
Betting Big on Robotics
Andy Rubin (Playground Global)
The creator of the Android mobile operating system and former head of Google's robotics division, Andy Rubin wants Playground Global to invest in all things robotics.  
2:10 PM – 2:35 PM
From the Lab Bench to Term Sheet
Manish Kothari (SRI), Kaijen Hsiao (Mayfield Robotics) and additional speakers to be announced.
Researchers in AI and robotics are well positioned to launch startups, but what does that transition look like?
2:35 PM – 2:45 PM
Demo to be announced.
2:45 PM – 3:05 PM
Coffee Break
3:05 PM – 3:30 PM
Autonomous Systems
Raquel Urtasun (Uber), Alex Rodrigues (Embark Trucks)
How and when will autonomous vehicles (safely) take to the roads in in meaningful numbers? 
3:30 – 3:50 PM
What Robots Can Learn from Nature
When it comes to mobility, the animal world is full of elegance and adaptation as well as lessons for robotics. Professor Full has built those bio-inspired robots.
3:50 PM – 4:10 PM
The Future of Transportation
Many of the first generation self-driving cars will carry systems from Aurora, and Chris Urmson, former head of Google's self-driving car project, knows the technical challenges and promise.
4:10 PM – 4:40 PM
Session to be announced.
4:40 PM – 5:00 PM
Building Stronger Humans
Wearable robotics have already provided mobility to the paralyzed; they will do much more in the near future. Professor Kazerooni is one of the field's pioneers as well as leading entrepreneurs.
5:00 PM -7:00 PM
Reception  
Tickets are on sale now – buy your tickets here before it's all sold out!
Students can save 90% on tickets by booking here.
If you're interested in a sponsorship, contact us.