ViDi Systems wins Robot Launch 2016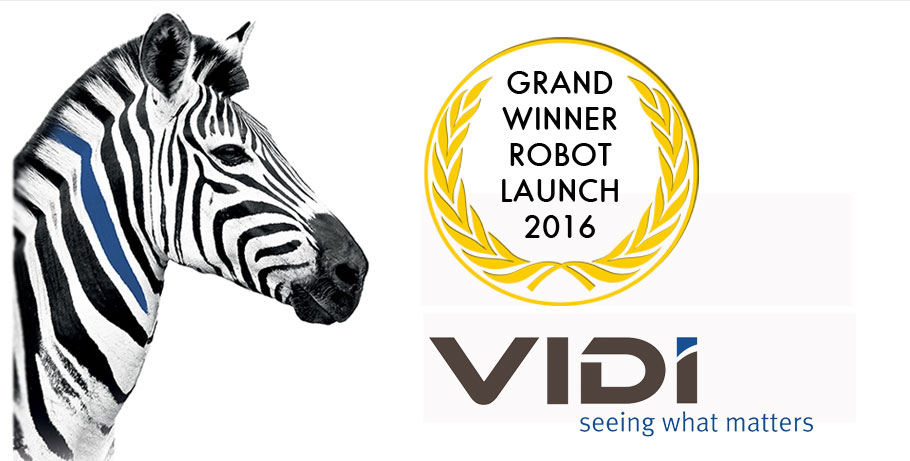 Vidi Systems from Switzerland is the overall Grand Winner of the 2016 Robot Launch global startup competition, beating out many US contestants in a field that included sensors, artificial intelligence, social robots, service robots and industrial solutions. Overall, the European robotics startups performed very strongly this year with 8 making The Shortlist for awards. Canada also had good representation with 3 entries, but the rest of The Shortlist were based in the USA, even if they had originated in Israel or Hong Kong.

Switzerland based ViDi Systems provides deep learning vision software dedicated to automated aesthetic inspection & classification for a wide range of applications in pharmaceutical, med-tech, watch Industry, automotive, logistics center, bottling industry, textile, printing, ceramics, photovoltaic etc.  Robot Launch judges said that they picked ViDi Systems for their "great early traction, impressive customers, strong team and large market potential", noting that while ViDi Systems were clearly one of the most mature startups in The Shortlist, that they had achieved a lot in a comparatively short period.
The Robot Launch Grand Winner receives mentorship from Silicon Valley Robotics, Odense Robotics, QUTbluebox and the Australian Center for Excellence in Robotic Vision, connections which, along with the feature on Robohub.org, will be very useful for a startup interested in global expansion.
In contrast, the next most highly ranked startups, Robolink and Franklin Robotics were very young, with Robolink shipping educational robotics from San Diego, drawing on a background growing the local maker community. And Franklin Robotics developing an affordable gardening robot based on team expertize gained as founders at iRobot and Harvest Automation.
Robohub president Sabine Hauert said, "Congrats to Andra and Silicon Valley Robotics for organising such a wonderful competition! There are so many wonderful startups striving to make robots a reality in our everyday lives. The least we can do at Robohub is provide them with the visibility they deserve, so they can reach the investors and users that will make their startups a success. I hope everyone will have a close look at all the contestants from this year's competition and spread the word, there is so much potential here!"
All of The Shortlist were evaluated by a team of investors and expert judges from venture capital firms and robotics clusters, including Intel Capital, Grishin Robotics, InnoSpring, PropelX, ElevenTwo Capital, Comet Labs, Root.vc, Singularity U's Explorers Fund and Sony Ventures. Behind the scenes, there are some term sheets being offered to select startups. We can't say more, but we can announce the rankings and other awards….
Odense Robotics and Invest in Odense are offering an incubation award for the Best European Startup team (2 persons) as follows: Travel to / housing in Odense, 1-month for 2 persons in Odense (travel/housing value 1500 USD), access to all Odense Robotics StartUp Hub facilities, Robot Innovation Hall, the other startups in the Hub, for one month (during May / June 2017), preparing for the JUNE PITCH SESSION –  for the board of Odense Robotic StartUp Hub where they might be selected as one of two StartUps to enter the Odense Robotic StartUp Hub (12 months).
ODENSE ROBOTICS AWARD for EUROPEAN STARTUP:
Robomotive
ViDi Systems
Halodi
Tactile Robots
bridgeOS
With special mention of the USA teams (perhaps a good time for a holiday in Denmark?):
Silicon Valley Robotics will offer a startup membership to all of The Shortlist, providing introductions to investors in Silicon Valley, access to network events and hosting in the new Robot Launchpad accelerator space. We are also coordinating demo opportunities at expos around the world. Although there were no shortlisted startups from the other regions, QUTbluebox and the Australian Center for Excellence in Robotic Vision will be offering mentorship and 'down under' connections to the Robot Launch winner.
The overall top scoring startups were:
ViDi Systems
Robolink
Franklin Robotics
Robomotive
MOTI: A Robot for Habits
Robotics Materials
TransRobotics
Kamigami Robotics
SD3D
Foldimate
Labs Cubed
Halodi
Ourobotics
Modular Science
Parihug
Startups that stood out from the shortlist were the bio robotics startups:
Labs Cubed, Ourobotics and Modular Science
The social robots:
MOTI, Parihug and nominee sciRobot
The service robots:
Franklin Robotics, Halodi and Foldimate
The robot sensors:
Robotics Materials and Transrobotics
The ROS robotics startups:
ViDi Systems, Robotics Materials, Halodi, Choitek, Semio, and bridgeOS
Competition organizer Andra Keay said that the range of startups was always a good indicator of the overall robotics industry growth areas. "I can't wait to see what next year brings. After all, this year we already new industrial applications, bio robotics and several new sensors. We also saw a strong showing from social and service robots, ranging from full humanoids to restaurant delivery robots, from smart devices to software helping robot developers build advanced behaviors."
Finally after last week's popular vote, did the Robohub Readers agree with the judges? Not at all. So, perhaps there are more hidden gems in The Shortlist: