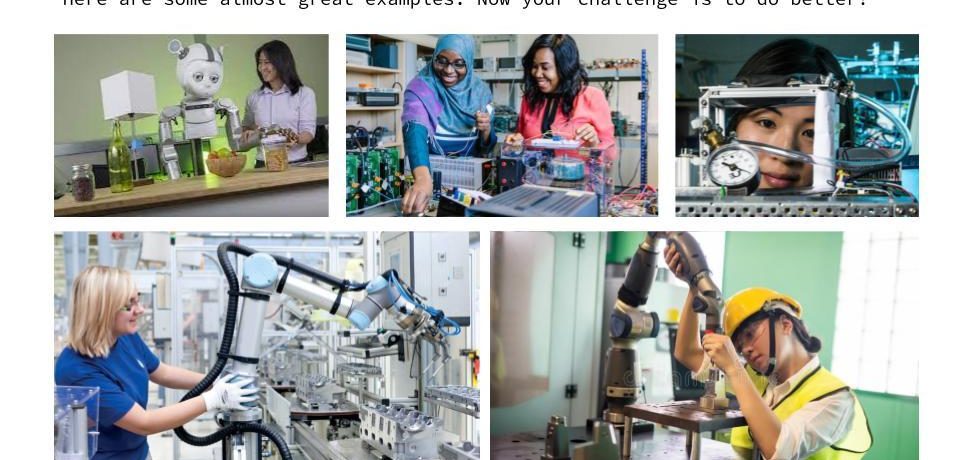 What Women in Robotics achieved in 2021 and what's coming next in 2022
It's been a hard year for women all over the world, and I'd like to thank everyone who has contributed to Women in Robotics in 2021, whether you've simply shared information about yourself in our community #intros channel, or organized an online event, or made yourself available as an advisor in our pilot mentoring program. Perhaps you've been furthering our mission in an 'unofficial' way simply by supporting other women, and non-binary people, who are working in robotics, or who are interested in working in robotics. 
We recognize and appreciate the community building work that women do, which is so often out of the spotlight, and on top of everything else. Women's work has rarely been given economic value as one of my heroes Marilyn Waring wrote in "Counting for Nothing". She founded feminist economics, now called triple bottom line accounting, and changed the way that the World Bank and other global organizations evaluate economies. 
The pandemic has forced women out of the workforce at twice the rate of men, leaving women's participation in the workforce lower than it's been for 30 years. And the pressure shows no sign of stopping. However, I believe that whenever women are forced to step backwards, we move forward again with renewed determination and focus. And so my inspiration is renewed to further the mission of Women in Robotics, to support women and non-binary people who work in robotics, and those who would like to work in robotics. We may all find it hard to find time, but small actions in the right time and place can move mountains. 
In 2021, our annual showcase featured not 25 or 30 but '50 women in robotics you need to know about' from 21 different countries, from industry, startups and academia, with particular mention of the women featured who have fought for the rights of refugees and persecuted women, especially the Afghanistan Women's Robotics Team. For other women, this recognition has helped to raise their profile within universities or companies, leading to increased opportunities.
Our annual list also means that there's no excuse for not including women in conferences, articles, policy making, job searches etc. In 2022, I'd love to see us create wikipedia pages for more women in robotics, and create a speaker database, and a citation list, similar to what Black in Robotics has done, and the work of 500 Women Scientists. 
The work of women in science is still less likely to be cited than that of men . Recent UNESCO research has found that citation bias is the start of career long lack of recognition for women, starting with women citing themselves less often than men do. In 2022, let's focus on improving citation rates, increasing the number of women in panels, journals and conferences, or holding organizers accountable. We can target increasing the number of women cited in robotics curricula, reading lists and coursework. As an organization we can reach out to universities, labs, conferences and journals in a way that individual women can not.
Another grassroots campaign that we started was the Women in Robotics Photo Challenge, which has already resulted in some great new photos of women building robots joining the image search results. Since then we've realized that ordinary google or wikipedia search steer you to Sophia or sex robots, rather than referencing real women building robots. It's also time to retire the word 'unmanned'. Women in Robotics is planning to request that any university still referencing 'Unmanned' Vehicles should substitute with driverless, uncrewed or a better term.
The lack of in person conferences is severely impacting the benefits of in person networking at a senior level for women in robotics, and so we'd like to finally launch our Advisory Board through an online networking event(s) for senior women in robotics, both in academia and industry..
We piloted our first mentoring program over 12 weeks with 16 women and it was a very successful experience for almost every participant. We know that there is a lot of demand to run the program again but we'll need more volunteers to help organize the events and match mentors/mentees. This is one area in which sponsorship for Women in Robotics could be useful, but sponsorship comes with a significant administrative cost, so we will only seek sustainable major sponsorships in 2022.
My gratitude goes to CITRIS & the Banatao Institute, through the People and Robots Lab, for providing me with some funding for the last two years that has allowed me to spend some of my time on Women in Robotics, Black in Robotics and the Society, Robots and Us Seminars. 
My call to action is for you to make your volunteer labor impactful by investing your time in a call to action with a big outcome. I hope it's one of our Women in Robotics actions, but in everything you do you represent women in robotics and allies. Best wishes to you all for 2022. And thank you to the 2021 Women in Robotics Board of Directors! Our full Annual Report is here.
Counting for Nothing (originally If Women Counted)

https://en.wikipedia.org/wiki/If_Women_Counted

by Marilyn Waring

https://en.wikipedia.org/wiki/Marilyn_Waring

https://www.theguardian.com/commentisfree/2021/nov/19/great-resignation-mothers-forced-to-leave-jobs
https://www.techrepublic.com/article/women-and-middle-managers-will-lead-the-great-resignation-into-2022/
https://en.unesco.org/news/unesco-research-shows-women-career-scientists-still-face-gender-bias
Reflections from the Women in Robotics Board of Directors:
We are very grateful for the work of our Board Members over the last year and we thank Kerri Fetzer-Borelli, Hallie Siegel and Ariel Anders for their vision and experience on the 2020 and 2021 Board. We are delighted to have them join our Advisory Board in 2022.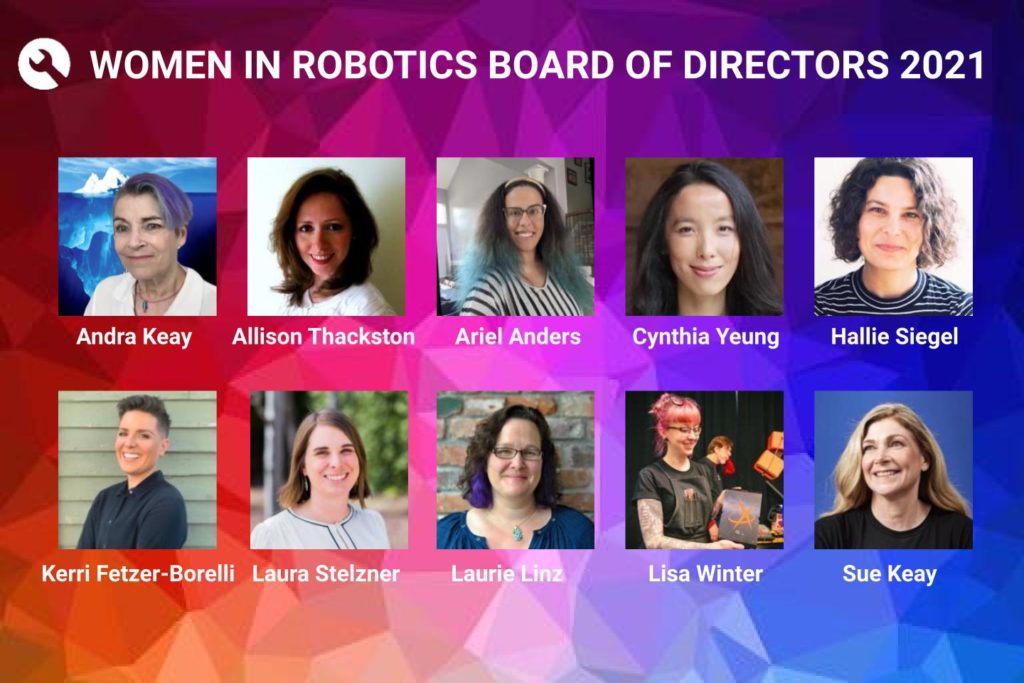 Allison Thackston:
Women in Robotics community and support in 2021 was different from previous years when we relied a lot on local chapters, meetups, and networking.  With many offices locked down and people more hesitant to do events in person, we've struggled a bit.  On the bright side, we've been bringing up our online presence, improving our website, and increasing our social media outreach.  In the year ahead, I hope we continue this growth.
Cynthia Yeung:
Launching the Project Advance mentorship program was a highlight of my service on the WiR board in 2021. We have received lots of great feedback from the inaugural cohort which we can use to improve the programming for the second cohort in 2022. One of the key success metrics was the percentage of returning mentors (demand is unlimited in two-sided marketplaces; supply is the constraint) and we are pleased to report that all mentors are interested in returning for the second cohort. It is personally gratifying to be in a position to implement the kind of program that I wanted to have access to earlier in my career. On a macro level, I believe that strong focus and measurable progress on a small number of initiatives will bode well for WiR's impact roadmap.
Lisa Winter:
2021 was a year of self-reflection and a test of patience. I think 2022 will be the year when a lot of us take bigger risks as we try to figure out a better work/life balance. I would like to see more communication on the WiR Slack, specifically giving job advice and engineering advice. What I enjoy about other sites that I think we could incorporate is more sharing of personal projects; connecting over them and also learning.
Laura Stelzner:
WiR provides community and  support in a field where it can be lonely being one of the few women at your company/department.  As the field of robotics grows we would like to show women and non-binary people all the amazing career opportunities that exist, by providing them with mentorship,  networking, leadership and career advancement opportunities.
Laurie Linz:
2021 was a quiet year for Boulder/Denver, we didn't hold any local (in person)  meetings. I do have good news and that is I am in process with setting up some in person events again. We'll approach with caution given the covid situation, but happy to be starting again. 
WiR helps women level up or launch their career in robotics. We welcome those not ready to launch with networking and educational support. Learn, launch, level up.
Sue Keay:
One of the concerns that keeps me awake at night is wondering what important challenges we might have solved already and what technologies are missing because of the lack of diversity in robotics. That's why Women in Robotics exists, to help to support the small number of women who are contributing to developing robotic technologies and to encourage more to join our ranks. The global list of women in robotics has been an important way to signal the important contributions that women are making in this space and to raise the profile of robotics as a valid career choice for women. Joining WiR is acknowledging that we can be doing better with diversity in robotics and may provide much needed support to a woman in robotics who may be questioning their reason for remaining in such a male-dominated field. My own experience has been that women have always been my greatest supporters and I feel less alone by being part of WiR.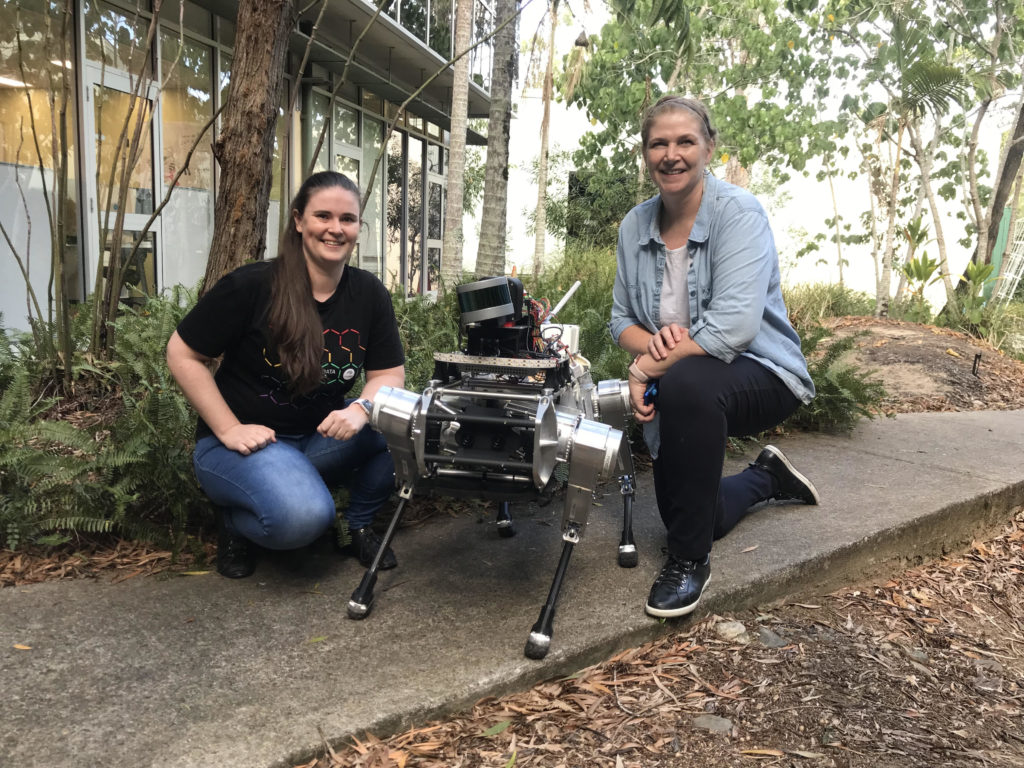 Sue Keay (Robotics Australia) with Erin McColl (Toyota Research Institute) with a Ghost Robotics platform.