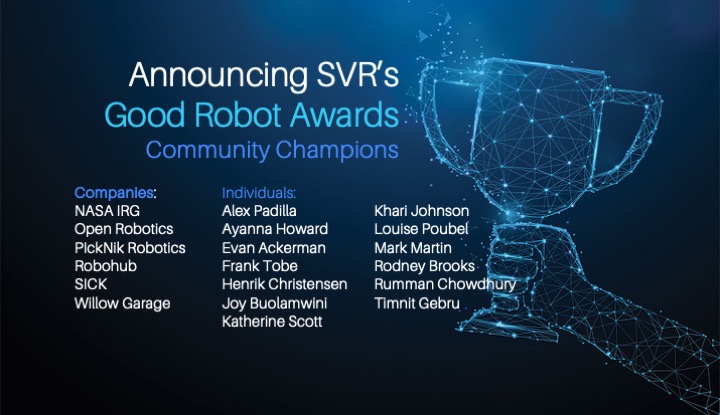 Meet the robotics community champions in the SVR Good Robot Industry Awards
If robotics is the technology of the 21st century, rather than biotech, then we have some serious work to do. This week marks the 'beginning of the end' of the coronavirus pandemic as a vaccine is deployed in the US. The Wall St Journal recently profiled the incredible effort of Pfizer and BioNTech who pioneered a novel Messenger RNA (mRNA) approach, and got it in production in a tenth to a quarter of the normal vaccine development time. It undoubtedly takes a team, but the WSJ article "How Pfizer delivered a COVID vaccine in record time" highlights the efforts of two men, CEO Albert Bourla and manufacturing chief Mike McDermott, and one woman, head of Pfizer's vaccine research Dr Kathrin Jansen, in this achievement. And the WSJ feature makes more fuss about CEO Albert Bourla's Greek heritage than about Dr Kathrin Jansen's femaleness. Now the WSJ isn't exactly a leftwing propaganda machine, so this reflects the strides that the biological sciences have taken in diversity in the last fifty years. Given the growing shortage of professionals in computer science, robotics and AI occupations, including basic manufacturing, and given the basic human right of empowering everyone with access to equal opportunities, then it is clear that systemic inequity is still at work in some new technologies like robotics. Biotech shows that hardware and innovation is doable. Sadly, Silicon Valley shows that equity is harder than hardware.
Silicon Valley Robotics announces its inaugural 'Good Robot' Industry Awards this week, celebrating Innovation in products, Vision in action, and the Commercialization of new technologies that offer us the chance to address global challenges. The computer age did not usher in the increases in productivity that were anticipated. Unlike the advent of tractors or electricity, productivity due to technology has largely stagnated since shortly after the second world war. This is in spite of large amounts of public research and development funding in advanced computing technologies like robotics and AI. In the meantime, the negative impacts of many technology advances (like plastics) continue to wage war on the planet. But there is no point in promoting a Luddite view of a technology free era (of high infant mortality, short average lifespan and child labor), instead we can use technology wisely to address areas where the gain to society will be great.
We want to also recognize the work of robotics community champions who do all sorts of (often unsung) work that advances the science and technology of robotics, from research, to production and employment. These awardees serve as great examples of how providing support for robotics supports all of us.
Community Champion Award:
Companies:
NASA Intelligent Robotics Group
Open Robotics
PickNik Robotics
Robohub
SICK
Willow Garage (best to see the Red Hat series How to Start a Robot Revolution)
Individuals:
Alex Padilla
Ayanna Howard
Evan Ackerman
Frank Tobe
Henrik Christensen
Joy Buolamwini
Katherine Scott
Khari Johnson
Louise Poubel
Mark Martin
Rodney Brooks
Rumman Chowdhury
Timnit Gebru
Silicon Valley Robotics appreciates the contributions made by all of our inaugural Community Champions! And we look forward to next year, because there are many of you out there who are making not just good robots, but a better robotics industry. One of the things I love most about robotics is being around so many people who are are passionate about using technology to improve the world. It can be frustrating that the world is so resistant to change sometimes but in ten short years, the robotics industry has gone from insignificant (in Silicon Valley terms) to unicorns. We all have an opportunity to be part of changing the world for the better, like our Community Champions.
Make no mistake, this is not an issue for women or black & brown people to solve. Without an accurate reflection of the society in which our technologies will be used we will not produce the best technologies and we will not be attractive or competitive as an industry that is fighting for the best talent. Diversity and equity in robotics should be worrying everybody in robotics. We need robots to solve our greatest global challenges. And we need global talent to do this.
I dream of seeing a Silicon Valley Robotics industry cluster and robotics education program in every country, hand in hand with non-profit programs like Women in Robotics and Black in Robotics to support workers entering what is still not an equitable work environment.
*The Silicon Valley Robotics Board is incredibly supportive, however this commentary is all my own opinion piece and I  put my Ruth Bader Ginsburg socks on today. I highly recommend them.
About Silicon Valley Robotics
Silicon Valley Robotics (SVR) supports the innovation and commercialization of robotics technologies, as a non-profit industry association. Our first strategic plan focused on connecting startups with investment, and since our founding in 2010, our membership has grown tenfold, reflecting our success in increasing investment into robotics. We believe that with robotics, we can improve productivity, meet labor shortages, get rid of jobs that treat humans like robots and finally create precision, personalized food, mobility, housing and health technologies. For more information, please visit https://svrobo.org
SOURCE: Silicon Valley Robotics (SVR)
PRESS CONTACT: Andra Keay andra@svrobo.org