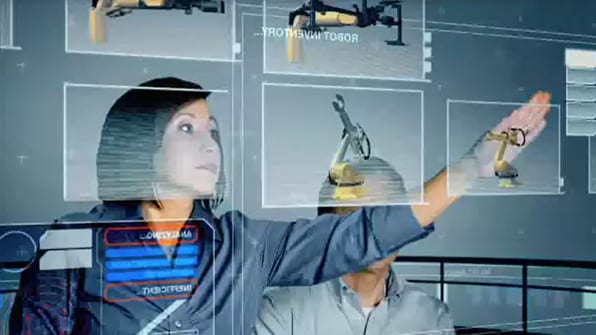 ARM Institute West Coast Meeting Review
Robotics manufacturing in the US will be getting federal support to match business or startup investments via the new Advanced Robotics Manufacturing (ARM) Institute. Perhaps more importantly, the ARM Institute can act as a conduit to connect and amplify robotics innovations between regions of the USA. As the global robotics ecosystem becomes flooded with interest, and investors, any technological lead the USA currently has is rapidly disappearing.
The ARM Institute is now one of 14 Manufacturing USA institutes and the 8th funded by the DOD. Each Manufacturing USA institute focuses on a technology area critical to future competitiveness – such as additive manufacturing, integrated photonics, or smart sensors.  The federal government has committed over $1 billion, matched by over $2 billion in non-federal investment, across the Manufacturing USA network.
At time of the launch the ARM Institute had attracted 267 industry and academic partners, with a commitment of $173 million to be added to the $80 million DOD investment. Of course this level of funding is not very much when compared to European and Asian investments into advanced manufacturing.
The European SPARC program is the largest research and innovation initiative in civilian robotics in the world. It was launched in 2014 by the joint public-private partnership between the European Commission and the robotics industry and academia. Investments under this joint initiative are expected to reach 2.8 billion euro with 700 million euro in financial investments coming from the European Commission under Horizon 2020 over 7 years.
In 2015, Japanese Prime Minister Shinzo Abe called for a "robotics revolution", a five-year plan to increase the use of intelligent machines and boost sales. Abe urged companies to "spread the use of robotics from large-scale factories to every corner of our economy and society", increasing the use of intelligent machines in manufacturing, supply chains, construction, and health care, while expanding robotics sales from 600 billion yen ($6.4 billion) annually to 2.4 trillion yen by 2020. The 2020 Olympics being hosted in Tokyo is also pushing innovation forward rapidly, with plans for Tokyo to have self-driving vehicles, and robots in as many places as possible.
The Korean government is also planning to invest 500 billion won into robotics manufacturing, between 2016 and 2020, in over 80 pilot projects and corporate research centers for robotics manufacturing. After growing at a compound rate of 17 per cent a year, the robot market will be worth $135bn by 2019, according to IDC, a tech research firm, with Asia now accounting for the majority of all robot spending. In 2014, President Xi Jinping of China called for a "robot revolution" that would transform first China, and then the world. "Our country will be the biggest market for robots," he said in a speech to the Chinese Academy of Sciences, "but can our technology and manufacturing capacity cope with the competition? Not only do we need to upgrade our robots, we also need to capture markets in many places."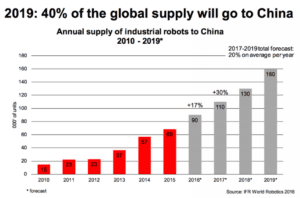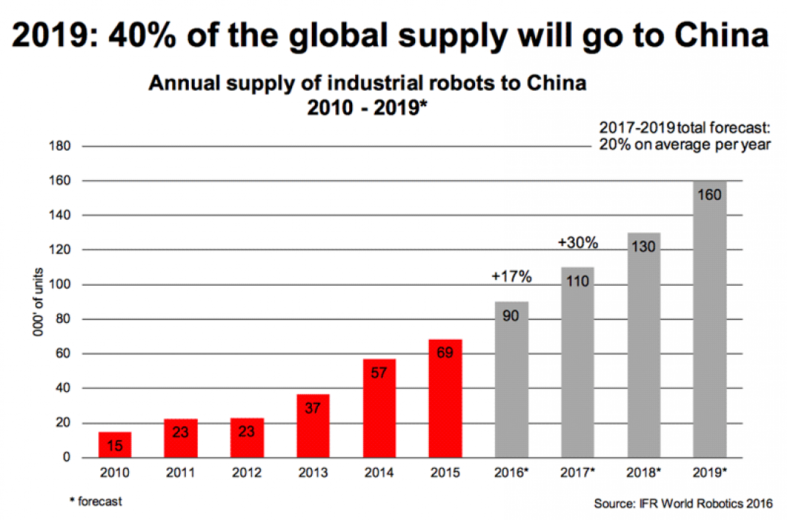 China is now the world's largest purchaser of industrial robots from overseas, but is now creating Chinese robot manufacturing companies. China is also now the leader in global robotics patent filing. The ARM Institute in the USA will need to use their comparatively small amount of federal grant money with very clear focus in order to maintain competitiveness in the global environment.
"Robotics are increasingly necessary to achieve the level of precision required for defense and other industrial manufacturing needs, "according to the Department of Defense (DOD), "but the capital cost and complexity of use often limits small to mid-size manufacturers from utilizing the technology. The ARM Institute's mission therefore is to create and then deploy robotic technology by integrating the diverse collection of industry practices and institutional knowledge across many disciplines – sensor technologies, end-effector development, software and artificial intelligence, materials science, human and machine behavior modeling, and quality assurance – to realize the promises of a robust manufacturing innovation ecosystem."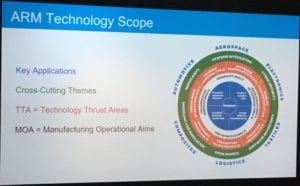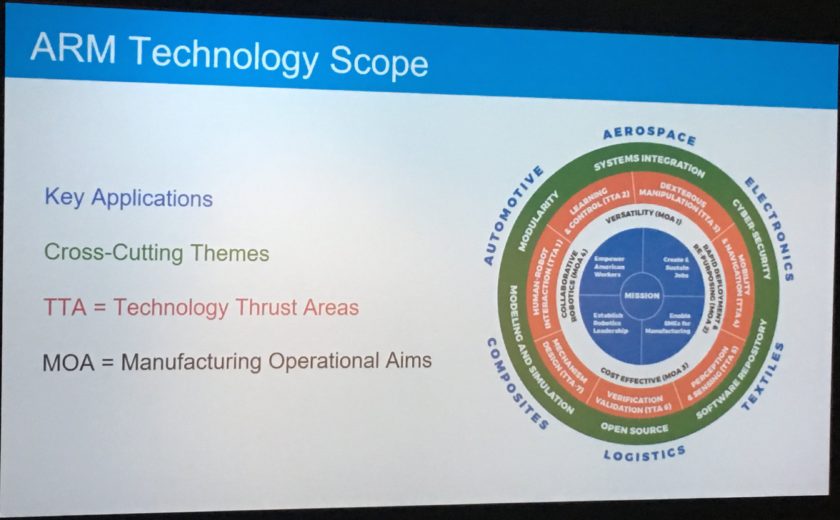 On June 15, the ARM Institute held an Informational and Technology Review Meeting in Los Angeles for ecosystem partners from all over the US. As one of the industry partners, Silicon Valley Robotics was represented and I'm providing a summary of my notes on the event and presentations. Speakers were; SK Gupta, USC; Howie Choset, ARM Institute; Lisa Masciantonio, ARM Institute; Suzy Teele, ARM Institute; Elena Messina, NIST; Valerie Patrick, Boston Consulting Group; followed by break out sessions for specific technological areas.
The meeting really had two purposes. The first was to let us know how rapidly the ARM Institute was taking shape in terms of organization, staff and membership structure. While staying faithful to the original mission documents in the proposal of 2016, the ARM Institute is now able to start taking formal memberships not just letters of intent. They are still seeking staff for the position of CEO and other vacancies, although some interim positions are simply in the more stringent process of vetting.
And to inform members and potential members of the ARM Institute of the membership process and project application process. It should be noted that the DOD has said that there will also be money assigned to projects outside of the ARM Institute funding, where the company or startup might receive an extension of ARM funding or a completely separate commission.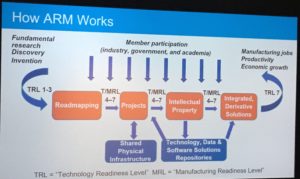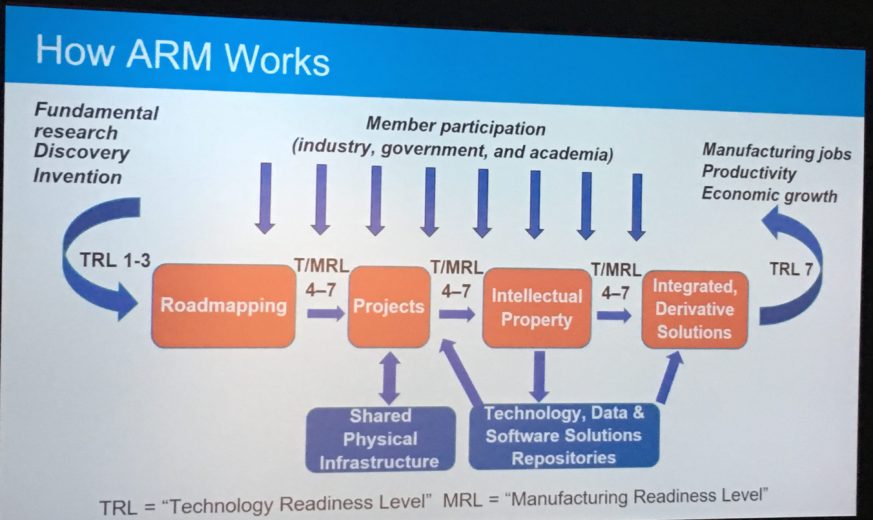 The other was to align the ARM Institute with the most up-to-date industry challenges. The intention is to develop regional councils and hold regular meetings in order to remain at the forefront of the rapid change in robotics manufacturing innovation and to deliver meaningful assistance. Silicon Valley Robotics members can contact me for a full copy of my notes.