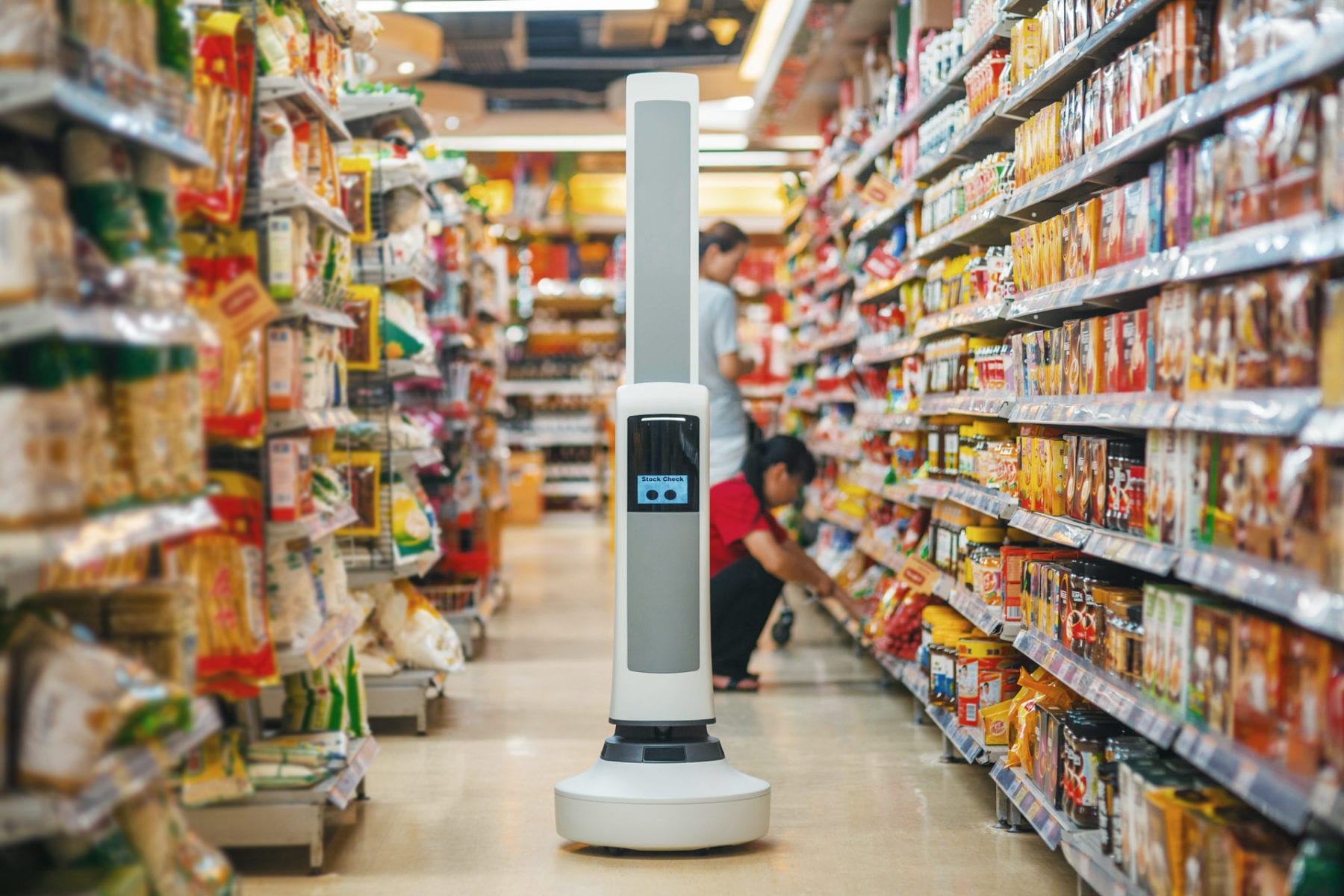 Simbe Robotics disrupting the retail sector
Robots in the retail sector are starting to get industry recognition. The National Retail Federation named Simbe CEO Brad Bogolea a "Disruptor" on The List of People Shaping Retail's Future for 2017. Founded in 2014 by Mirza Shah, Brad Bogolea and Jeff Gee, Simbe Robotics is an alumni of the Hax program. Simbe's first product, Tally, is designed to perform the repetitive and laborious task of auditing shelves for out-of-stock items, low stock items, misplaced items, and pricing errors.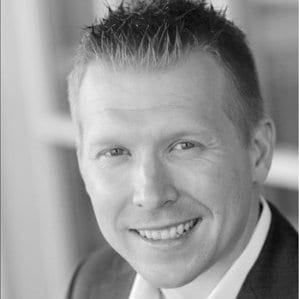 Interview with Brad Bogolea, Co-Founder & CEO of Simbe Robotics (edited for clarity)
Tally is the world's first fully autonomous shelf- auditing and analytics robot for fast-moving consumer retail goods. It goes up and down store aisles and analyzes what's on the shelf. Tally is designed to perform the repetitive and laborious task of auditing shelves for out-of-stock items, low stock items, misplaced items, and pricing errors.
It has a differential drive base that is about 18 inches wide at the bottom. The core robot is 36 inches tall, and it has an sensor mast that contains a number of sensors for scanning shelves. Tally is designed to capture products from the floor to a height of about 96 inches, but the sensor mast is adjustable, and can be adapted to the customer's environment. Tally's sensor suite is also used for localization and navigation — to avoid people, for example.
Tally also has a small screen that has a set of eyes, and that describes what Tally is doing at any given moment, for example, checking stock on a shelf. The rationale behind this is to make Tally more approachable.
What are Tally's capabilities?
Tally is designed to provide brick and mortar retail stores with greater insight into their in-store operations, in particular the state of the merchandise on their shelves: is a product present or not, which products are out of stock, and which have been misplaced. Most retailers know what products come off the truck, and they know what products go out in customers' baskets, but they don't necessarily have good intelligence on what's on their shelves right now. And that's where, as consumers, you and I make our purchasing decisions.
Analyzing the state of merchandise on the shelf is Tally's core purpose, but there are a number of other capabilities we can provide on top of that, such as pricing or promotional execution. Most retail stores still put on price tags manually, and update them every week, or every month. When you're a store with tens of thousands of products, it's important to know your stock is being properly priced.
From a macro perspective it's less about the robot and really about the data we collect. It's about empowering stakeholders by providing them knowledge on the state of the store environment.
These stakeholders might be store managers, district managers, or category managers from corporate office who might be responsible for soda or laundry detergent and who is looking to see how these products are represented across the store. Downstream, there is also an immense amount of value in the data we are collecting for consumer packaged goods companies, like Procter & Gamble and Unilever, who pay a premium for shelf space and have a vested interest in how their products are being placed and represented in a store. If their product is not being properly placed or stocked, that's a missed opportunity for them as well. Tally solves the 'empty shelf problem'.
Which of these stakeholders, or users, is your actual customer then?
Our customers are large retailers, and we sell directly to the corporate retail entity. Our clientele tend to be executive-level decision makers: VP of store operations, VP of process improvement, VP of technology. Their goals are to provide increased visibility across their store and manage their footprints with greater efficiency, so they see Tally as a great mechanism for closing the feedback loop.
What is your business model? Are you looking at capital or service?
We offer Tally as a service, on a per month basis, and are targeting 2- or 3-year contracts based on how many stores Tally will be in, the size of the stores, the number of products, and the frequency of the stands — these are the factors that define our storage and computational costs.
How often will Tally be scanning the store?
The goal is for Tally to scan the store environment at least once a day, but we are making the case for Tally to do continual surveillance.
Tally's original value proposition was around shelf product availability — what retailers call planogram integrity. But given that Tally does that job so efficiently, we started thinking about what else Tally could do for the store. For example, it could be used to help ensure food safety by monitoring the temperature of products in the store; or in stores that offer public Wi-Fi, for monitoring the reliability of the Wi-FI connection. It could also be used for spill detection. Essentially, for monitoring changes in the store environment.
Why did you decide on supermarkets, and what other forms of retail or other business would you look at?
To date we have been targeting what is referred to as the 'fast moving consumer goods retail segment'. This includes grocers as well as other mass-merchants such as Target or Walmart, who carry groceries as well as a lot of other products. We are also targeting some of the smaller- format value stores and drug stores, such as CVS, Walgreens, and Dollar General.
Broadly speaking, our customers are retailers selling packaged goods with stores that are larger than 5000 square feet, or which carry more than 5000 products — though the advanced capabilities I mentioned earlier may allow us to open up other markets, or to provide enhanced value to the retail segments we are already working with today.
Does Tally run when there are only associates in-store, or does it run at any time of day?
Tally is designed to run at any time of the day. The bulk of our deployments have been operating during normal store hours, because this is what allows Tally to become a function of the retailer's internal processes. Of course retailers don't want Tally to run during the store's most congested times — not because the robots can't operate reliably during that time, but because it's not the most optimal time to perform the job.
How do people react to Tally?
Consumer reactions have been positive. Customers are somewhat initially surprised to see a robot in the store environment, but they are very accepting. And they are also curious to know what the robot is actually doing — though from comments like "Is this Google street view for the store?" or "Is the robot checking the product on the shelves?" it seems people have an intuition for what the robot is doing. Kids seem to love it; we often see children asking to have their pictures taken with the robot, and fortunately this hasn't been a distraction.
How much of Tally did you design before it was deployed, and how much did you discover after the robot was actually out in the stores?
When we first started, our goal was simply to prove the value of having an autonomous solution, and our first product was really just a camera on a stick. We then very quickly went heads down on building a design-focused product that would to take into account both consumers' and employees' perceptions. We wanted Tally to be intuitive, approachable, and something that fit naturally into the environment, and so our focus was on industrial design and user research.
Now, when the robot is brought out to the store, unboxed and turned on, it learns the retail environment (how many aisles, how big is it) and we take key meta data from the retailer (namely their planogram and their floor plan information) so that the robot has what it needs to understand where all the products are placed. Once we have that information, Tally is pretty easy to get up and running — it just needs Wi-Fi connectivity [so that it can share the data it collects], and a place in the store where its docking station can live so that
it can autonomously recharge after it finishes its job.
How different is each location, or have you hit on something that is 90% the same at every location?
Most retail sites are fairly similar. It's mostly a question of how big is the store and how many product SKUs there are. Also, from a robot's perspective, one of the beautiful things about retail environments is that they tend to be compliant with the American Disabilities Act (ADA compliant), which makes it really easy for a differential drive mobile base to navigate easily.
What are some of the difficulties you've solved?
We have made shelf analytics pretty efficient. Tally knows precisely where it is in a retail store, to within ± 2 centimeters, and having that localization information can help in a number of ways. For example, instead of capturing image or sensor data from a shelf and matching it against 200,000 products, by knowing precisely where Tally was in the store when it took that picture, it can help bound the computer vision problem.
Also, we've had to work on recognizing products in all kinds of different environments — on different shelving and in different lighting conditions — and honing our algorithms to improve the performance of the system.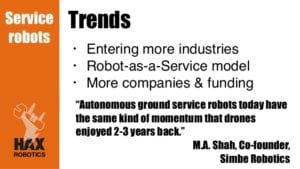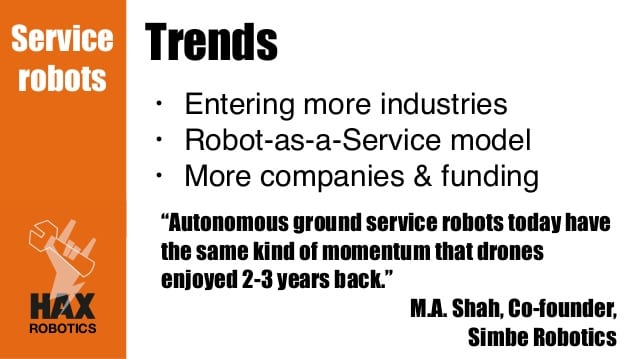 What is possible today in robotics that wasn't possible a few years ago?
From a macro perspective, one important factor is that ROS and the ROS ecosystem has matured to become the de facto standard for building enterprise robotics. Our team makes great use of ROS.
Another piece of the puzzle is the effect mobile computing has had on robotics. The sensors we can buy today are much better and much cheaper than what we were buying three or four years ago. And with all the investment going into technology such as autonomous cars, we're going to continue to see great economies of scale there as well.
To summarize that point, a lot of it is around the cost of building a solution such as ours. If you think about the advancements in ROS and the overall the cost of hardware going down, it has allowed us to build an incredibly cost effective solution for this problem, and that's not something you would have been able to do two or three years back.
What have you learned from your current deployments?
Manually auditing shelves using human labor is a time consuming and costly exercise that traditionally has only about a 60% accuracy. To give some perspective on that, a small store like CVS, Walgreens, or Dollar General may spend somewhere between 20 and 40 human hours per week auditing their shelves. Tally, on the other hand, can do that auditing job in 30-60 minutes. By reducing labor costs, retailers can free up those human resources to focus on what really matters — customer service.
Another thing we have learned is just how out-of- tune the supply chain can get due to shrinkage — goods that are lost, damaged, stolen, or misplaced in a store. Our in-store tests showed that a surprisingly large portion — 4%, 6%, even 10% — of a retailer's product was not on the shelf at any given moment. That's not only a missed opportunity for the retailer and the consumer packaged goods company, but also for the consumer who is actually looking for the product. This is where Tally becomes a real function of the retailers' business process, because it essentially closes that gap.
What are your plans for the future?
Our plans for Simbe Robotics is to use our expertise in robotics and enterprise hardware and software, to automate key aspects of retail. Our goal is to make the retail experience much better — to empower employees and staff, and improve the overall customer experience — and we think Tally can be used as a platform to achieve that in a number of ways. We're very excited about the future of retail, and the effects that Tally can have.


SIMBE ROBOTICS
Simbe Robotics builds automation solutions for the retail industry. Simbe's first product, Tally, is the world's first fully autonomous shelf auditing and analytics solution; one that provides retailers unprecedented visibility and insight into the state of their stores. Tally helps retailers drastically improve inventory and operational issues by analyzing the state of the shelves and increase revenue by ensuring products are always properly stocked and in the right place. The company is headquartered in San Francisco, CA. For more information, please visit www.simberobotics.com or follow the company at @simberobotics.


SILICON VALLEY ROBOTICS
Silicon Valley Robotics is the industry group for robotics and AI companies in the Greater San Francisco Bay Area, and is a not- for-profit (501c6) that supports innovation and commercialization of robotics technologies. We host the Silicon Valley Robot Block Party, networking events, investor forums, a directory, and a jobs board, and we provide additional services and information for members, such as these reports.
WE'LL BE RELEASING ADDITIONAL ESSAYS FROM THE REPORTS EVERY WEEK OR SO. OR READ FULL REPORTS AT https://svrobo.org/reports