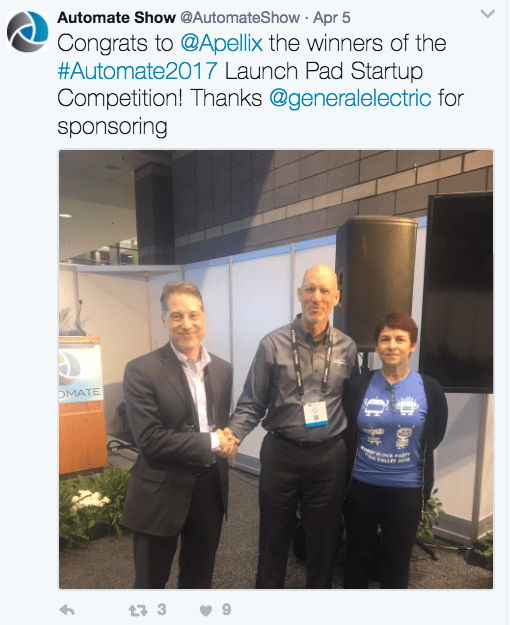 Congratulations to winner of 2017 Automate Launch Pad – Apellix
Congratulations to Apellix, the winner of Automate 2017 Startup Launch Pad competition. Also honorable mention goes to Kinema Systems and Sake Robotics. The Apellix received a $10,000 check sponsored by GE Ventures. The judging panel consisted of Steve Taub, GE Ventures, Oliver Mitchell, Autonomy Ventures, Chris Moehle, Robotics Hub and Melonee Wise, Fetch Robotics.
The field of startups was very strong this year and the 8 finalists represented a broad range of new applications with relevance to industrial robotics, but not exclusively industrial. Silicon Valley Robotics was proud to organize this biannual event with A3 and the Robotics Industry Association.
Oliver Mitchell from Autonomy Ventures has posted a great rundown of the competition and all the finalists at his blog – The Robot Rabbi.
Here's a short summary of the finalists:
Automate Launch Pad Competition Finalists