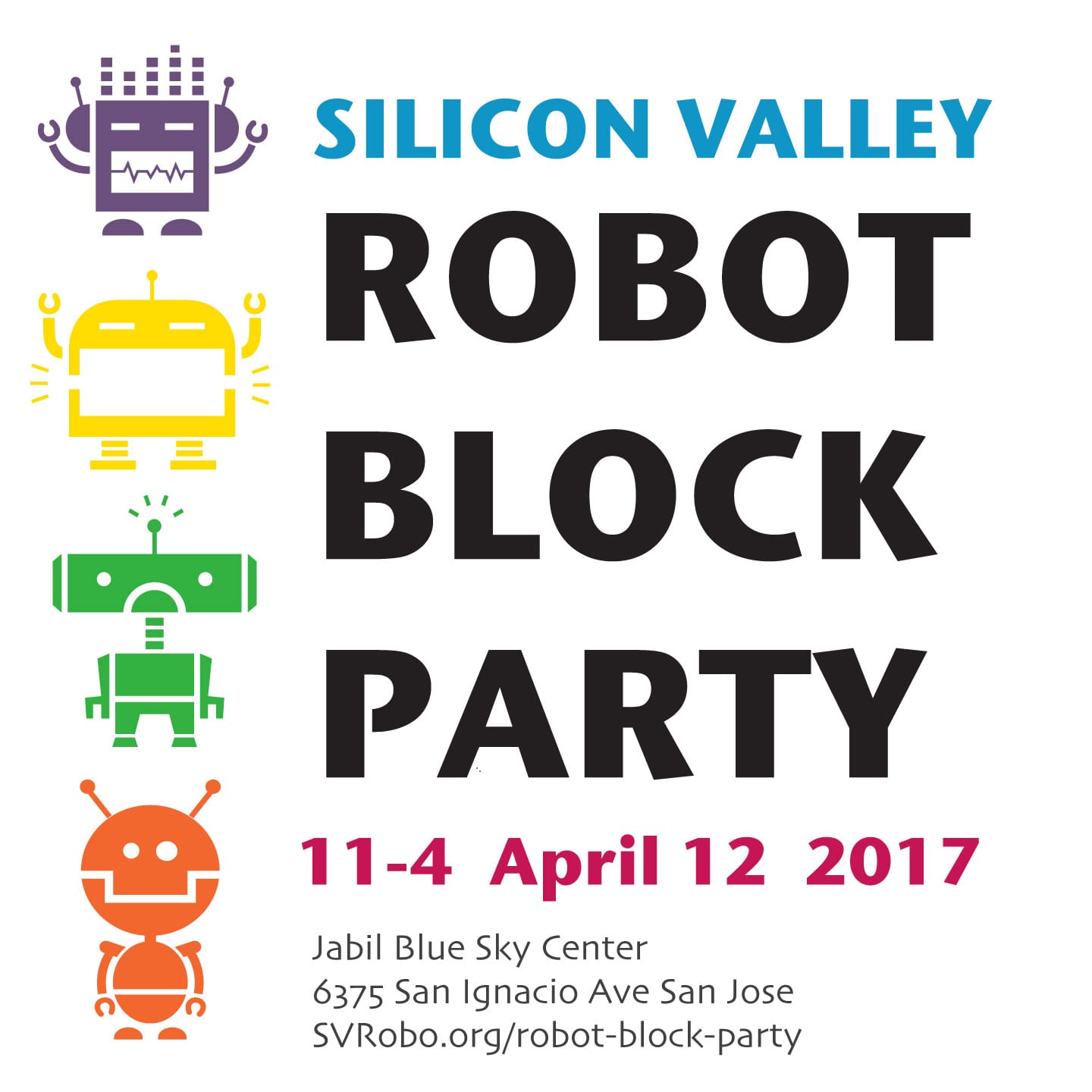 It's time for a Robot Block Party!
SILICON VALLEY ROBOTICS ROBOT BLOCK PARTY MEDIA ADVISORY 04.04.17


The robots are having a block party to celebrate the 8th annual National Robotics Week. The festival is organized by Silicon Valley Robotics, in conjunction with Jabil and Radius Innovation & Development. The Robot Block Party will run from 12 to 4 p.m. Wednesday April 12 at the Jabil Blue Sky Innovation Center in South San Jose.
For the 8th year running, more than 1500 people and 40 exhibitors are expected to take part in this celebration, making the Silicon Valley Robot Block Party the longest running and largest event in National Robotics Week. National Robotics Week is a federal initiative to recognize the US as a leader in the development of robotics technology and to educate the public about robots and AI. Since its beginning in 2010, National Robotics Week has grown in size, with all 50 states now hosting events.
"Robotics has emerged as one of the most important technologies in the 21st century impacting on almost every part of society from self driving cars, to improved outcomes in medicine, to taking care of our aging parents to teaching our next generation of engineers and scientists," says John Dulchinos, VP Strategic Capabilities, Jabil. Silicon Valley has become one of the leading areas for the advancement and commercialization of robotics technologies."
Jabil and ABB Robotics will showcase collaborative robots for manufacturing. There will also be startups showcasing new robotics grippers, software and sensors. SRI International and Toyota Research Institute will showcase the latest in autonomous vehicles, space robotics, manufacturing and medical robotics. Fetch Robotics and Savioke will have rolling robots for warehouse logistics and the hospitality industry and Catalia Health has a social robot to help with healthy living.
And there'll be plenty of fun robots, ranging from educational robotics companies such as RoboTerra, Dash Robotics, Let's Robot, TechyKids, and Central Park STEAM, to grown up education like Silicon Segway, SF Drone School, and Udacity.  Zume Pizza offer robot prepared pizza and Intel will showcase the latest Joule technology and how it can help make faster, smarter, better robots.
The keynote speaker is Chris Anderson, 3D Robotics, followed by Andrew Dresner of Interbotix and expert panels on the latest advances and issues in robotics. There will also be VC office hours and a startup competition in the afternoon.
Media tours and interviews available. Please contact: Andra Keay ~ 650 ROBOT 56 ~ andra@svrobo.org            
About Silicon Valley Robotics: 


Silicon Valley Robotics is the non-profit 501(c)(6) industry group supporting innovation and commercialization of robotics technologies. The Silicon Valley area is the largest cluster of world-class robotics research, emerging companies and investment in robotics and AI technologies. To learn more, please visit: www.svrobo.org
About Jabil and Radius:


Jabil is a product solutions company providing comprehensive electronics design, production and product management services to global electronics and technology companies. Offering complete product supply chain management from facilities in 28 countries, Jabil provides comprehensive, individualized-focused solutions to customers in a broad range of industries. Jabil common stock is traded on the New York Stock Exchange under the symbol, "JBL". Further information is available on Jabil's website: jabil.com.


Radius Innovation & Development, a Jabil company, is an innovation and development firm organized to help you define a strategic path to success and then realize it through superior, user-inspired design and execution. With integrated manufacturing experience and capabilities, our model has been purposely designed to accelerate ideas to market while reducing risk and maximizing return on investment.