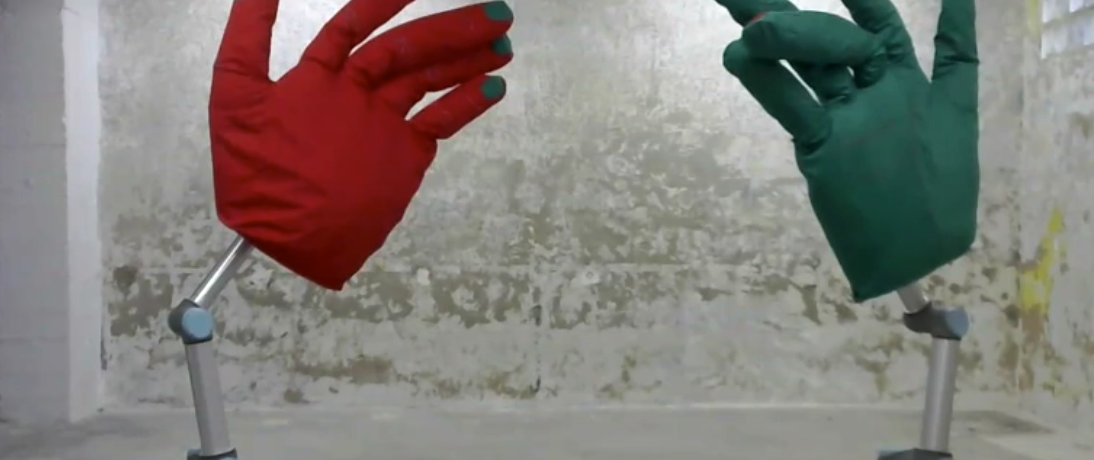 Handshake: an exploration of robot interaction
In times of physical distancing, when touching becomes unreachable; "Handshake" is a platform on which strangers can interact with each other, virtually but also physically. The robotic installation by artistic duo AATB will run from May 28 to June 30 alongside a series of online conversations with robotics experts that discuss some of the questions raised.
On June 11 2020, the conversation focused on Robotics and the Human Touch with moderator Steven Rader, Deputy Manager at the NASA's Center of Excellence for Collaborative Innovation (CoECI), along with:
Roland Siegwart, Founding Co-​Director from the Wyss Institute Zurich, Switzerland.
Andra Keay, Managing Director of Silicon Valley Robotics in California, USA.
Jamie Paik, Associate Professor at the Reconfigurable Robotics Lab at EPFL in Lausanne, Switzerland.
and AATB, as Andrea Anner and Thibault Brevet
The topic of conversation will focus on their interpretation of the robotic installation Handshake, created by AATB, and then feed into an exchange on the future of robotics and human-robot-interaction in light of the COVID-crisis. Some of the highlights from the discussion:
"The robotics industry are not the only ones who are allowed to say how robots enter society."

Thibault Brevet
"We don't have enough people who understand robotics, and the fact that people can self teach now is fantastic… we need them!"

Andra Keay
"Technology will help us do things that are still very emotional."

Roland Siegwart
"The future is tangible reality, you want to feel what you see."

Jamie Paik
The Swiss design collective AATB are nominated for the Swiss Design Awards 2020. The installation Handshake was initiated by swissnex Boston and produced in collaboration with the Consulate General of Switzerland in New York, the Swiss Federal Office of Culture, and swissnex San Francisco.