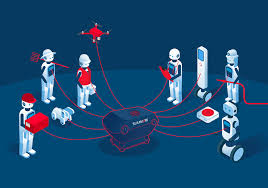 SLAMcore raises $5 million to meet growing demand for robotics
London, 17 JUNE 2020: SLAMcore,a UK company developing spatial AI algorithms for robots and drones,has secured$5million in a funding round led by Octopus Ventures and MMC Ventures, with participation from Amadeus Capital Partners and Toyota AI Ventures. The funding will allow SLAMcore to meet the increasing demand of the robotics market, which has seen demand skyrocket due to COVID-19. This has occurred particularly in drone, robots and AR/VR usage, as effective robotics solutions that can support the 'new normal' of a post-COVID-19 crisis world are accelerating.
SLAMcore has seen a spike in demand from companies looking to apply robotics with enquiries for early access to SLAMcore's Spatial AI SDK up 50%. The pandemic has increased interest in robots, drones, and artificial intelligence, as these technologies can help deal with staff shortages and social distancing rules in healthcare, manufacturing and supply chains. Ground robots are already being used throughout China to spray disinfectant in hospitals and trains, and to allow doctors to test patients for COVID without any physical contact. Large-scale roll-out of robots is still limited despite demand as companies struggle to overcome the number one cause of robotic failure; lack of spatial understanding.
To reach their full potential, robots and drones require spatial intelligence, including the ability to accurately calculate their position, understand unfamiliar surroundings, and navigate with consistent reliability. SLAMcore offers Spatial AI solutions designed to easily integrate into existing platforms, allowing robotics companies to concentrate on delivering value to the end customer.
Owen Nicholson, CEO at SLAMcore, commented: "Even before the crisis, SLAMcore was engaged in many conversations with companies – big and small – who needed a better way to solve spatial intelligence issues in robotics. Especially across sectors such as drones, robots, and AR/VR, the coronavirus pandemic has lit the touch-paper and we are primed to meet exploding demand. In the past few weeks alone, we have seen a huge spike in enquiries as robotics companies want fast solutions to get their robots to market sooner."
Mina Samaan, Principal at MMC Ventures, commented: "We are very excited by the advancements in next generation software platforms used to drive the future of robotics. The ability to locate and map in real-time is still unsolved in the vast majority of autonomous designs. Therefore, affordable SLAM delivered as-a-service at scale is fundamental to unlocking the adoption of self-driving robots across all indoor and outdoor applications including agriculture, warehousing and last-mile delivery."
Zoe Chambers, Principal at Octopus Ventures, commented: "In a post pandemic world, where contactless and hygienic interactions are vital, demand for robotic solutions will only increase. Whether they're moving around warehouses, delivering food, disinfecting hospitals or operating as security guards, robots will be interacting with multiple dynamic environments and even with humans. This means that their ability to move autonomously is absolutely fundamental. SLAMcore's solution lies at the heart of this by giving robots spatial intelligence and we are excited to continue to back the business as the market accelerates."
The funding will speed up the availability of SLAMcore's solutions, including its recently announced SDK product, a toolkit that gives developers everything they need to build, test and deploy solutions using SLAMcore algorithms and low-cost, easily available off-the-shelf sensors.
ENDS
About SLAMcore
SLAMcore originally span out from Imperial College London with world-leading academics amongst our founders and a 25 strong team including computer vision and robotics PhDs. Our mission is to turbo-charge the robotics industry by providing the tools developers need to give their robots state-of-the-art spatial intelligence at a fraction of the cost. Affordable robots should not be the preserve of the tech-giants so by democratising this technology we will accelerate the path to a world where robots have a profound and positive impact on the way we all live our lives.
About MMC Ventures
MMC invests in and helps to scale technology companies that are transforming today's markets from the inside-out.
MMC commits to a deep understanding of each company's underlying technology and business model to help make better decisions and be more effective partners.
Transformative technology companies MMC has backed to date include Gousto, Interactive Investor, NewVoiceMedia, Signal AI, Bloom & Wild and Peak.
Explore MMC's research and other actionable insights atmmcventures.com.
About Octopus Ventures
Octopus Ventures helps pioneers change the world. The pioneers we back dare to reimagine the future of health, money and deep tech. With £1.3 billion under management, Octopus Ventures is one of the largest VCs in Europe. Our typical investment is from £1 million for Seed to £10 million for Series B and we can follow our investment from a few hundred thousand right up to £25 million.
Our team is based in London and New York with Venture Partners in San Francisco, Singapore and China. The companies we back become a part of this network, with access to a formidable resource of experience and expertise.
Octopus Ventures has backed the founding teams of nearly 100 companies including Zoopla, Secret Escapes, Elvie, Depop, Sofar Sounds and Cazoo. Some of our portfolio companies have gone on to join forces with the world's largest businesses including Google, Amazon, Microsoft and Twitter.
Our investment team is focused on the three areas we believe have the most potential to change the world for the better:
Future of Health – Backing pioneers who are transforming the health industry from digital therapeutics through to biotechnology
Future of Money – Backing pioneers who seek to vastly improve society's ability to exchange and allocate financial resources and risk
Deep Tech – Focusing on the tools and technologies that will power the next industrial revolution. These include quantum computing, robotics and drones, sensory human augmentation and 3D printing