NASA needs software for Space Robotics Challenge Phase 2
NASA is asking for your help to create the autonomous robots which could one day explore the moon, Mars, and beyond. It has launched the second phase of its Space Robotics Challenge, searching for bright ideas from the public to develop robots to assist future astronauts on long-duration missions.
The challenge invites independent teams, research organizations, private companies, and tech enthusiasts to submit their ideas for autonomous robots which could operate on other planets or moons. The first phase of the competition was to develop software which improved the autonomous capabilities of NASA's Valkyrie humanoid robot, which was won by the Coordinated Robotics team from California in 2017. The second phase of the competition, which has just opened, challenges participants to develop software for decision-making and navigation for a team of virtual robots. Top scoring teams in the challenge will be awarded prizes from a total $375,000 purse.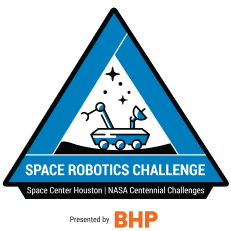 The Space Robotics Challenge Phase 2
As NASA moves forward with plans to support human exploration of the solar system, a critical need arises to supply basic materials such as oxygen (O2) and water (H2O), food, propellants, and other materials (radiation shielding, clothing, etc.). As mankind ventures farther from Earth and for greater periods of time, it becomes imperative to develop technologies and mission architectures that utilize local resources, such as those found in lunar regolith, to provide supplies needed for human exploration.
The objective of SRC Phase 2 is to find solutions to allow a heterogeneous, multi-robot team to autonomously complete tasks envisioned for a lunar in-situ resource utilization (ISRU) mission. This challenge will require competitors to develop software that allows a virtual team of robotic systems (i.e. virtual robotic team) to operate autonomously to successfully achieve these tasks.
ARE YOU UP FOR THE CHALLENGE?
STEP 1: Download the Registration Packet and the Official Rules. 
STEP 2: Visit the Registration tab to access the online registration form and submit the required documents. The deadline to submit registration forms is Friday December 20, 2019 by 5pm Central US time.
STEP 3: Challenge administrators will inform you when your registration has been processed and officially accepted. Until you receive notification, you are not officially registered.