Robo-Exoticism is the theme for 2019/20 Art, Technology and Culture Colloquiums
Madeline Gannon's "Robots Are Creatures, Not Things" will be the first work of the Fall 2019-Spring 2020 season of the Colloquiums at UC Berkeley's Center for New Media at 6pm on Sept 9th.
Dr. Madeline Gannon is a multidisciplinary designer inventing better ways to communicate with machines. In her work, Gannon seeks to blend knowledge from design, robotics, and human-computer interaction to innovate at the intersection of art and technology. Gannon designs her research to engage with wide audiences across scientific and cultural communities: her work has been exhibited at international cultural institutions, published at ACM conferences, and covered by diverse global media outlets. Her 2016 interactive installation, Mimus, even earned her the nickname, "The Robot Whisperer."
She is three-time World Economic Forum Cultural Leader, and serves as a council member on the World Economic Forum Global Council for IoT, Robotics, & Smart Cities. Gannon holds a Ph.D. in computational design from Carnegie Mellon University, a master's in architecture from Florida International University, and is a Research Fellow at the Frank-Ratchye STUDIO for Creative Inquiry at Carnegie Mellon University.
Her work "Robots Are Creatures, Not Things" questions how we should coexist with intelligent, autonomous machines. After 50 years of promises and potential, robots are beginning to leave the lab to live in the wild with us. In this lecture, Dr. Madeline Gannon discusses how art and technology are merging to forge new futures for human-robot relations. She shares her work in convincing robots to do things they were never intended to do: from transforming a giant industrial robot into living, breathing mechanical creature, to taming a horde autonomous robots to behave more like a pack of animals. By pushing the boundaries of human-robot interaction, her work shows that robots can not only be useful, but meaningful additions to our everyday lives.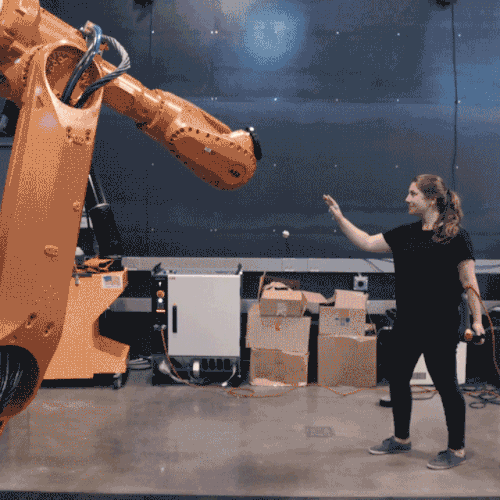 Founded in 1997, the ATC series is an internationally respected forum for creative ideas. The ATC series, free of charge and open to the public, is coordinated by the Berkeley Center for New Media and has presented over 170 leading artists, writers, and critical thinkers who question assumptions and push boundaries at the forefront of art, technology, and culture including: Vito Acconci, Laurie Anderson, Sophie Calle, Bruno Latour, Maya Lin, Doug Aitken, Pierre Huyghe, Miranda July, Billy Kluver, David Byrne, Gary Hill, and Charles Ray.
Current ATC Director is robotics professor Ken Goldberg, who is behind this season's "Robo-Exotica" theme as well as being the Director of the CITRIS People and Robots Initiative and head of the AutoLab at UC Berkeley.
In 1920, Karl Capek coined the term "robot" in a play about mechanical workers organizing a rebellion to defeat their human overlords. A century later, increasing popularism, inequality, and xenophobia require us to reconsider our assumptions about labor, trade, political stability, and community. At the same time, advances in artificial intelligence and robotics, fueled by corporations and venture capital, challenge our assumptions about the distinctions between humans and machines. To explore potential linkages between these trends, "Robo-Exoticism" characterizes a range of human responses to AI and robots that exaggerate both their negative and positive attributes and reinforce fears, fantasies, and stereotypes.
A Century of Art and Technology in the Bay Area" (essay)
Location:
Monday Evenings, 6:30-8:00pm
Osher Auditorium
BAMPFA, Berkeley, CA
More information
Lectures are free and open to the public. Sign up for the ATC Mailing List!