Open Problems in Health Robotics Symposium
SRI International, the UC Center for Information Technology in the Interest of the Public (CITRIS) People and Robots Initiative, and Silicon Valley Robotics present a one-day symposium: Open Problems in Health Robotics on May 19 from 9am to 4pm at SRI International in Menlo Park.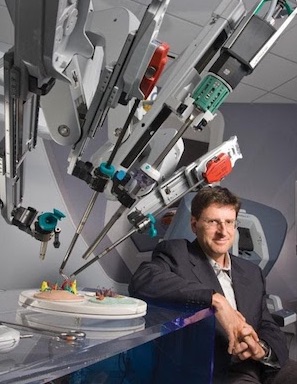 We are delighted to announce that Gary Guthart, President of Intuitive Surgical, will be delivering the morning keynote. From pioneering the field of medical robotics, Intuitive Surgical now has $60 Billion USD market capitalization, and is now leading the way in providing technology and clinical grants for surgical robotics, supporting the next generation of research in the field.
Other keynotes and speakers include Allison Okamura, Director CHARM Lab, Jaydev Desai, Director Georgia Center for Medical Robotics, David Noonan, VP of Research Auris Surgical. and Dr Bahareh Nejad, Director of Robotics Surgery at UC Davis.
The keynotes, panels, posters and demos will address recent advances in all aspects of healthcare robotics including surgical robots, and will focus on topics which need more research and development. We expect a lively dialogue among faculty, students, professionals, and entrepreneurs.

Stay posted for more information about the program and tickets. You can sign up to be notified when tickets are available here: