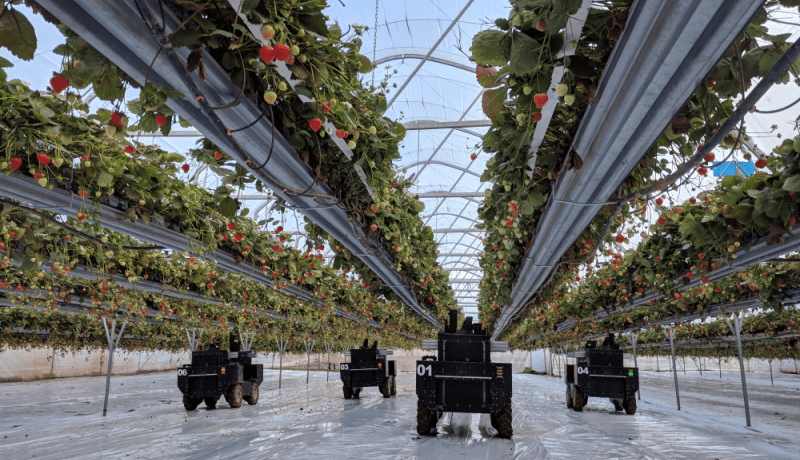 Tesla co-founder joins ag robotics startup Tortuga
January 22 2020 Lauren Stine
Article reposted from AgFunderNews
"One thing I learned in the car business is how tough the environment is on the road and it's a very similar problem in farming. A lot of the technology is just too delicate and fiddly; durability is a big one in the farm environment."
Marc Tarpenning, cofounder of the renowned electric vehicle manufacturer Tesla, is talking to AFN about his new board position at Tortuga Agtech, a farm robotics startup that's just coming out of stealth.
Tarpenning joined the board of strawberry harvesting robotics startup Tortuga through his new role at Spero Ventures as a venture partner. eBay founder Pierre Omidyar is the sole limited partner and backer of the firm. Spero led a $5 million investment in Tortuga in May 2019 with participation from Root Ventures, Susa Ventures, AME Cloud, Morado, Haystack, and Grit Labs. That followed a $2.4 million seed, which we covered on AFN at the time, but Tortuga has remained mum, until now.
Although the idea of a strawberry harvesting robot seems wildly futuristic for many consumers and farmers alike, robotics and automation have been revolutionizing the way we farm for decades from a draft-powered plow to diesel engines to drones scouting crops. Farmers are used to working with machines and learning new devices but as long as there's no friction to farmers adoption and they're solving a real problem, says Tarpenning.
"No one has problems using a dishwasher. That's a robot. But for farmers ultimately I think it has to be a pretty plug-and-play proposition."
If the farmer has to complete several additional steps to complete a task using a robot, adoption will likely be lower. But as he also points out, robots have gotten better as they advance.
Ensuring technology is solving real farmer problems has become a major component of Spero's investment thesis.
"It's quite easy for tech people to say I can build a robot that drives around and analyzes soil but if that is not actually a problem that a farmer is experiencing, it doesn't really help," Tarpenning says. "The tech industry has not had much to offer farmers, frankly. Farmers are really good at what they are doing and it's only recently that tech has gotten to the point that we can do very fancy machine vision stuff to help, whether it's identifying disease via drones or finding perfectly ripe strawberries and picking them."
As a mission-driven VC, Spero was immediately impressed with the way that Tortuga focused on collaborating with farmers and integrating their feedback. As Tarpenning said, Tortuga starts with the farmer.
Co-founders Eric Adamson and Tim Brackbill actually started out their Tortuga journey with the idea that they would be farmers and produce specialty crops for direct marketing. Eventually, the duo decided that the better route was helping farmers, particularly when it came to addressing labor challenges. This involved spending ample time with 14 growers over a three year period on 24 different sites.
"There's a lot of hype around agtech and we have spoken to a lot of growers that have fatigue around it. We decided it's the best way to show the grower that the tech works is for it to actually work. So, we decided it doesn't behoove us to speak about what we are doing instead of actually getting work done," Adamson told AFN.
Conducting R&D in stealth mode with farmers was critical for Tortuga to ensure that the product was not only addressing a market need but addressing it well. The recent $5 million raise was used to accelerate these R&D efforts and to prepare for commercial deployment. Tortuga's technology has been designed in a way that will allow it to pivot to other crops down the line. Strawberries are an appealing start for many ag robots because of their delicate nature and high value.
Synchronizing the robot and the farmer is also important to Adamson, who views it less as robots replacing labor and more as a relationship. If robots can automate and address some of the unenjoyable tasks or things that do not add as much value, it can free the farmer up to focus on higher value adds and more complex tasks.
This Spring, Tortuga is preparing to launch its first under-contract fleets of strawberry harvesting robots including a UK deployment in April and a California deployment in March. Tortuga will offer farmers a fleet of strawberry harvesting robots through a service model. The rest of the details around deployment are still in stealth mode, Adamson says.
"We characterize it as a dusty boot service instead of a white glove service. We integrate very closely with the grower partner. We are in the morning meetings, planning ahead with the grower, and alongside them and their human crews. It is truly an operational relationship with the grower."
Overtime, Tortuga hopes to have the farmers engaging with the robots while an associate is there to provide support. This will potentially reduce the cost of the service and allow the grower to maintain control over the operation while workers can upskill in lieu of working on rote seasonal tasks, he adds.
As for the future of robotics in ag, Tarpenning is optimistic.
"I think it will only get bigger and eventually it will be really dominant. It used to be that 70% of the population were farmers and it was believed that you couldn't get below 50% because there wouldn't be enough food to support anybody else. Today it's 1% and we have crazy machines that help farmers. We have enormous productivity. Ultimately, that process just continues."Share on emailShare on twitterShare on facebookShare on linkedinShare on redditShare on whatsappShare on skype
See more articles from AgFunderNews…