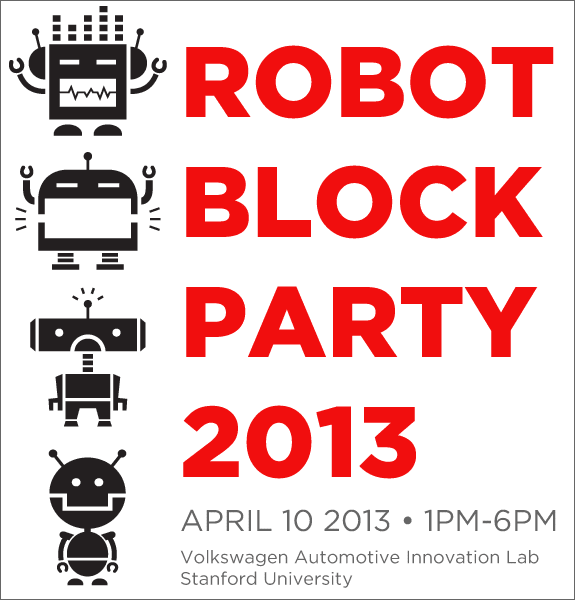 Robot Block Party, Job Fair & Afterparty
Join more than 30 robot companies, startups and groups in celebrating National Robotics Week. Robots from a range of companies large to small will be on display or roaming around. The Robot Block Party is free and open to the public. The Robot Block Party is organized by Silicon Valley Robotics, hosted by Center for Automotive Research at Stanford, Center for Internet & Society and Stanford Robotics Club.
The Afterparty (RSVP)
Straight after the Robot Block Party from 6:00 PM to 7:00 PM
Private afterparty for Silicon Valley Robotics members and our guests – sponsored by Bot & Dolly. Come to the Robot Block Party then linger and mingle with the robots and roboticists with special brews.Becoming an individual member of Silicon Valley Robotics also gives you early access or discounts to other Silicon Valley Robotics events. And if you'd just like to know about upcoming Silicon Valley Robotics events, you can just join our mail list.
The Job Fair
At the beginning of the Robot Block Party between 12:00 PM and 1:00 PM
We're having a job fair, where students interested in a job in robotics can 'speed date' companies, browse our 'positions open' board and lodge their resumes. You can also post your positions and resumes to Stanford Career Center and to our new online Job Fair at any time!
* VAIL is on cnr of Stock Farm and Oak Rd – just off Sandhill Rd. Parking before 4pm is visitor spaces or special event permit only – use Lot 5 or 17.
Cool Product Expo
But wait – more robots! at the Arrillaga Alumni Center from 12:00 PM – 6:00 PM
Take the free shuttle over to visit the Cool Product Expo, put on by Stanford Graduate School of Business and the Product Design & Manufacturing Club. See more than 30 of the latest cool products including several great robotics and electronics startups.
Xconomy's Robots Remake the Workplace
And more robots! on Thursday April 11 from 1:00 PM – 5:30 PM
Hear some great speakers at Xconomy's Robots Remake the Workplace including Chris Anderson, Rich Mahoney, Rodney Brooks, Curt Carlson, Aaron Edsinger, Steve Jurvetson, Vivek Whadwa and more. Special student and startup prices.
VAIL

473 Oak Rd

Stanford, CA