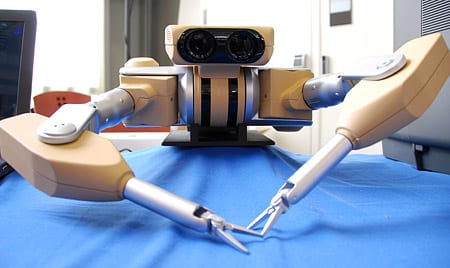 SRI International Behind New Robotic Technology for Verb Surgical
SRI Robotics has long been known for advancing robotics and delivering new technology platforms to the market. As robotics moves beyond industrial applications to other sectors, such as wearables and medical devices, SRI continues to be a leader in the field.
Today, SRI introduced another transformational robotic technology being brought to market by a new company called Verb Surgical Inc., formed in connection with the strategic collaboration between Ethicon, a Johnson & Johnson medical device company, and Verily (formerly Google Life Sciences). Verb Surgical is developing a new robotic surgery platform that will integrate technologies such as advanced imaging, data analysis, and machine learning to enable greater efficiency and improved outcomes across a wide range of surgical procedures. SRI is licensing next-generation robotics technology to Verb Surgical that we believe will impact both the open and minimally invasive surgery markets and ultimately make the benefits of robotic surgery accessible to more patients around the world.
Several SRI ventures have transitioned robotics technology from laboratory to marketplace:
There's no doubt that the robotics revolution is leading to new opportunities and innovations. You can expect more exciting developments soon from SRI Robotics, as our multidisciplinary team continues to push the boundaries of what's possible.
– See more at: https://www.sri.com/blog/sri-international-engineers-new-robotic-technology-verb-surgical#sthash.wN5iBKuR.dpuf