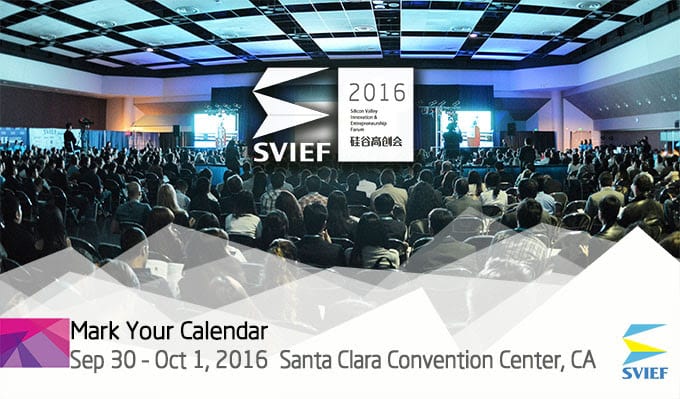 SVIEF early bird tickets and call for speakers
I'm writing to share a good news that, SVIEF 2016 will take place on Sep 30th – Oct 1st at Santa Clara Convention Center, California. Expected number of attendees is 10,000+.
Registration for the 2016 SVIEF opens now at svief2016.eventbrite.com. Special early bird price tickets are available at limited time.
Also, to get further involved with SVIEF 2016, please click here for speaker, sponsor and exhibitor application.
Let me know if you have any questions. I look forward to seeing you at SVIEF 2016.
Sincerely, Alice Lin
Director of Business Development
Silicon Valley Technology Innovation & Entrepreneurship Forum
The 6th Silicon Valley Innovation & Entrepreneurship Forum (SVIEF)
SVIEF (www.svief.org) is an international conference designed to foster innovation and promote business partnerships between U.S. and Asian-Pacific. It is a leading venue in high-tech industry field gathering multi-tech and business professionals, while providing a platform for talent, technology and resources exchange. The past five SVIEF were held in Silicon Valley annually with more than 7,000 attendees each year.
The 2016 SVIEF will be held on Sep 30th&Oct 1st, 2016 at Santa Clara Convention Center. It is designed to be intense and informative with theme on "The Era of Innovation: The Internet of Everything". This is going to be an educational, captivating, and interactive event featuring 100+ high-profile speakers and 100+ tech exhibitors for the 10,000+ attendees to experience.
Call for Speaker/Sponsor/Exhibitor

What to expect in 2016 SVIEF
From the Internet of Things to the Internet of Everything, the world is more connected than ever. Smart devices, wearables, VR/AR, 3D printing, robotics and other innovations have made impossible to possible in a variety of ways.
In 2016, we are expecting these technologies to bring more substantial changes to the everyday life of today's connected consumers. We welcome you to join us and witness the shift from the Era of Research and Development to the Era of Application of high-tech innovation in the Internet Age.
Hightlight topics of 2016 SVIEF
VR/AR:2016, the learning year of VR; polarization in VR products
Sports wearable: It's all about fitness
Robots/Drones: Smart Learning and hit of drone
Crowdfunding: New Regulation and better crowdfunding
Smart Home: Regroup of Smart Home
Connect2Vehicle: Cross-Industry Collaboration to make it happen
Cyber Security: New Safety concerns in a connect future
Digital media transformation: Distribution is the King
Agriculture technology: How to adapt the fast developing technologies
Big data and Cloud: The growing of Quantum Computing
SVIEF 2015 Keynote Speakers(Partial List)