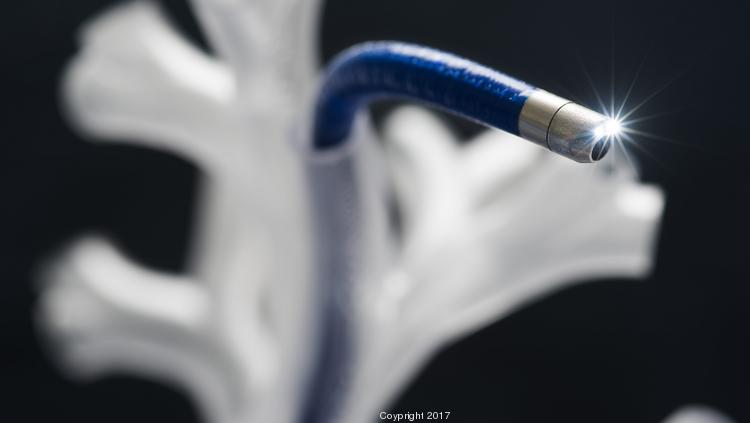 Under the hood at Auris Health (pre acquisition)
UPDATE: As of 2/13/19 Auris Health is being acquired by Johnson & Johnson for $3.4 Billion with an additional $2.35 Billion reserved for milestones achieved along the way. Dr Fred Moll remains with Auris.
The next Women in Robotics Meetup will be looking under the hood at Auris Health and their diverse workplace. There are only one or two things that every diverse workplace I've ever seen have in common. Firstly, they start with a commitment to diversity. Usually the founding team is diverse. Secondly, they bake that passion for social justice into everything. What is social justice? Simply doing the right thing for as many people as possible. In engineering terms, you could call that good design. In social terms, good principles, In investor terms, good value proposition.
What does that diverse workplace look like? You will find women-built battlebots in the same place that the VP of engineering is knitting. Diversity is accepted and not forced into a self-conscious STEM poster. There is a "work/life balance" between passion for the job and relaxation for the personal. We celebrate that diversity with Women in Robotics meetings and the Dec 4 meetup at Auris Health (you are all welcome!) is a prime example.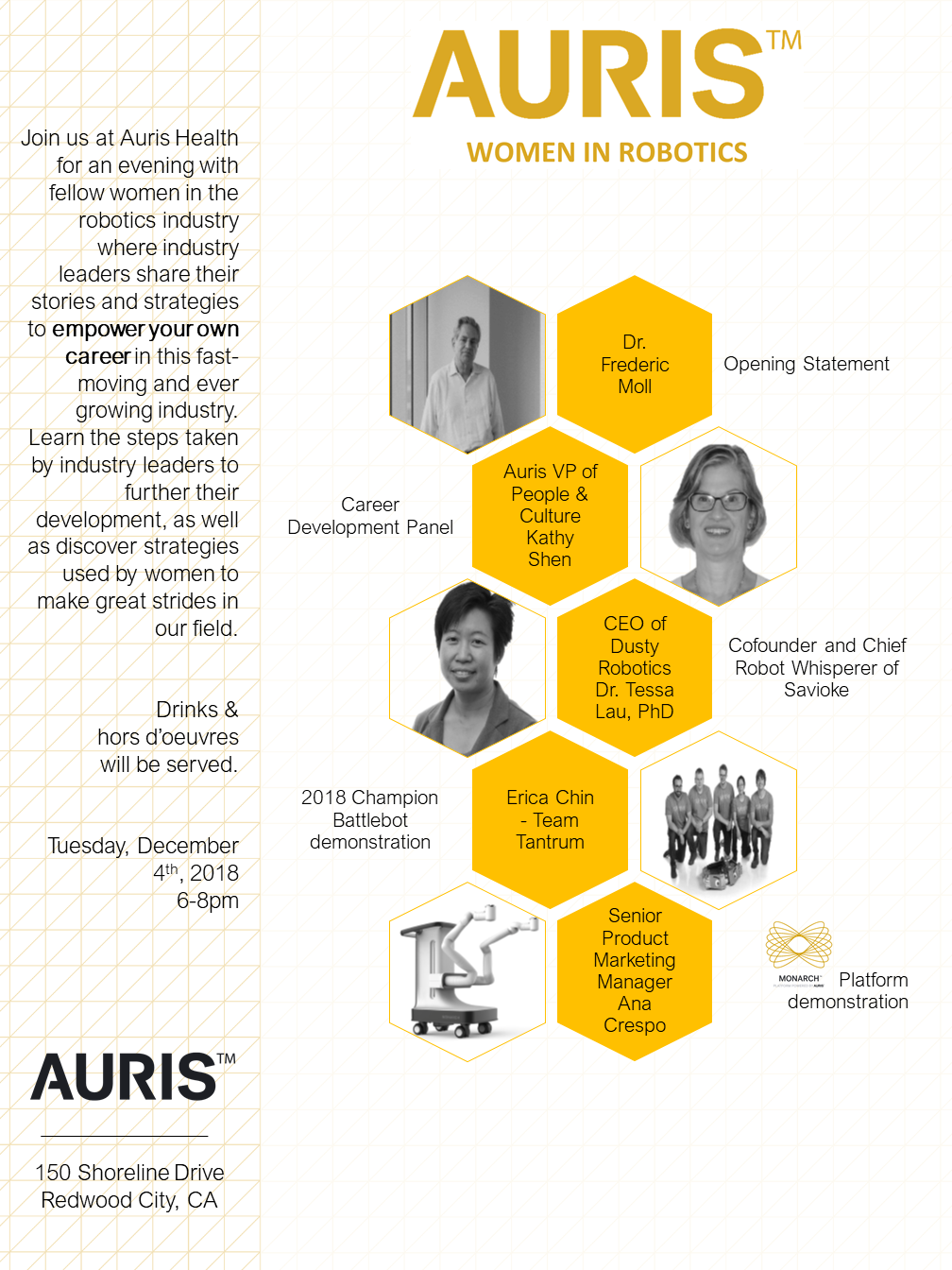 Dr. Fred Moll is giving the opening statement (Dr. Fred Moll is like the Elon Musk of robotics – only with more lifesaving). His invention of the safety trocar helped make general laparoscopic surgery possible. He then co-founded Intuitive Surgical, maker of the robot DaVinci Surgical System, which went public in 2000 and now has a market cap of over $58 Billion. He also founded Hansen Medical and was a board member of Mako Surgical until its sale in 2013. Dr. Moll is currently the founder, Chairman and CEO of Auris Health which is still in stealth about most projects.
Guest speaker Dr. Tessa Lau is the CEO of Dusty Robotics, a new construction robotics startup, and was previously CTO and cofounder of Savioke makers of the cute (and successful) Relay delivery robot. And before that she was at Willow Garage and IBM. She is often known by her title "Chief Robot Whisperer" and a love of knitting.
VP of People and Culture at Auris Kathy Shen will be leading a session on career development and empowerment. Other guests include 2018 Champion Battlebot team "Team Tantrum" with a demo from Erica Chin, and Auris Senior Product Marketing Manager Ana Crespo showing off the Monarch platform.
The Monarch Platform is FDA approved and the first disease in sight for the company is the treatment of lung cancer via minimally invasive diagnostic and therapeutic bronchoscopic procedures.
With the Monarch Platform, Auris seeks to leverage the power of flexible robotics to enable new possibilities in endoscopy, which uses small cameras and tools to enter the body through its natural openings. This will improve patient outcomes, reduce cost and maximize treatment options for a range of major illnesses starting with lung cancer.
But this meetup is just one of a series of meetups for Women In Robotics, where we explore diverse workplaces with a range of world changing purposes, from agriculture to zooology (did you know that the first surgical robot was used by veterinarians here in California for hip replacements in labradors? – True fact!). And along the way, I'm looking for answers to what makes a workplace diverse, and how do we get more of them!