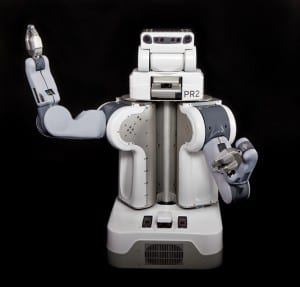 Xconomy: Future Of Robotics
Wade Roush Xconomy 4/12/12
Faster than anyone expected, it's going to be May 3—the day we're gathering an amazing group of roboticists and entrepreneurs for our first forum on The Future of Robotics in Silicon Valley and Beyond.
The event takes place from 1:00 to 5:30 pm at SRI International in Menlo Park, CA, and features representatives from 10 robotics labs and companies inside and outside Silicon Valley. Of course, there will also be plenty of time for networking and meeting the presenters. I'm excited to share the full agenda for the forum, which is now online here.
Our goal for the forum is twofold. We think robotics is going to be one of the foundational technologies spurring economic growth in this century, and that U.S. companies can lead the charge. So first we want to to highlight the amazing work going on at some of the Bay Area's most interesting robotics companies. But just as important, we want to look at how the innovation process is working on a regional level. Specifically, we're going to ask why Silicon Valley lags behind other areas, such as Boston and Pittsburgh, when it comes to the number and density of robotics companies, and what can be done to change the balance.
To find out what ingredients go into building a successful regional robotics industry, we've invited two very special guests from the Boston area. One is Helen Greiner, the CEO of CyPhy Works and the co-founder of iRobot, the famous maker of military robots such as the Packbot and consumer robots such as the Roomba. In addition to being the guiding spirit behind an informal "robotics cluster" in Massachusetts, Greiner is a key member of the National Robotics Roundtable, which is working with the Obama Administration to bolster U.S. leadership in robotics.
We'll also hear from Mick Mountz, the founder and CEO of Kiva Systems, which made news recently by becoming Amazon's latest big acquisition. Mountz will talk about the robots and software Kiva has developed to revolutionize the way warehouses work. (For a fun preview, watch this video of Kiva's robots doing the "Dance of the Sugar Plum Fairy" from Tchaikovsky's Nutcracker Suite.) The event will be a bit of a homecoming for Mountz, who was an executive at grocery delivery company Webvan and, before that, a product manager at Apple.
Other highlights to mention:
—James Gosling, the creator of the Java programming language, will talk about his latest gig as chief software architect at Liquid Robotics. The company's unmanned Wave Glider robots are breaking distance records for ocean exploration and giving researchers new ways to get at problems ranging from fisheries management and climate change to tsunami warnings and harbor security.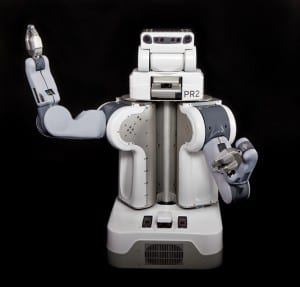 PR2 from Willow Garage
—Two top executives from Willow Garage, CEO Steve Cousins and director of open source development Brian Gerkey, will be on hand to tell us about the company's unique strategy for boosting robotics innovation across academia and industry. Willow Garage, with backing from ex-Googler Scott Hassan, has built a modular humanoid robot called PR2 that makes it easier for researchers to test the performance of advanced hardware and software for tasks like grasping objects and navigating real-world environments. At the same time, it's leading the development of the Robot Operating System, or ROS—a kind of Linux for robotics designed to serve as a foundation for faster innovation in the field.
—Rich Mahoney, director of robotics for event host and sponsor SRI International, will talk about SRI's research and develoment in areas like medical telepresence robots and biomimetics, and about his own efforts to spur collaboration in the region's emerging robotics industry through Silicon Valley Robotics. And serial entrepreneur Charlie Duncheon will tell us about one of SRI's most recent spinoff companies, Grabit.
—The next Earthling to set foot on the Moon will probably be a robot. Tiffany Montague, a former Air Force officer who manages space initiatives at Google, will be at the event to update us on the Google Lunar X Prize, a competition designed to spur commercial innovation in robotics by offering $20 million to the first privately funded team that can land a rover on the lunar surface, drive it 500 meters, and bring back high-definition video and imagery before the end of 2015.
—We're lucky to be joined by John Dulchinos, CEO of Pleasanton, CA-based factory automation company Adept Technology, and Aaron Edsinger, co-founder of Meka Robotics, a San Francisco-based builder of parts for humanoid robots.
—Finally, Seattle transplant Yoky Matsuoka, a MacArthur Fellowship winner and former University of Washington roboticist who recently joined "learning thermostat" maker Nest, will share views from her pioneering academic work on neurorobotics—systems that could enable humans to control robot parts through neural input.
I hope to see you at SRI on May 3. Act today to get a ticket for the event at the saver rate of $110. Starting Friday you'll have to pay $145—unless you're a student, in which case you can can get in for $20, or an employee of a company under three years old with 20 or fewer employees, which means you're eligible to register at our startup rate of $50.
Wade Roush is Xconomy's chief correspondent and editor of Xconomy San Francisco. You can e-mail him at wroush@xconomy.com or follow him on Twitter at twitter.com/wroush.