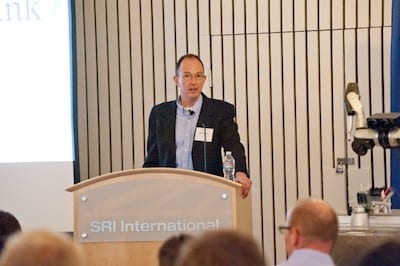 Silicon Valley Robotics emerging at Xconomy
In 2011, shortly after the Silicon Valley Robotics forum started, the future for the emergent cluster looked good, as described  by Rich Mahoney in IEEE Automaton:
http://spectrum.ieee.org/automaton/robotics/industrial-robots/next-big-thing-in-silicon-valley-robotics
Post the recent Xconomy forum on 'The Future of Robotics in Silicon Valley', it's clear that Silicon Valley robotics has a long way to go before celebrating its status as one of the largest robotics clusters in the USA, as described by Chris O'Brien of the Mercury News:
http://www.mercurynews.com/chris-obrien/ci_20544208/chris-obrien-robot-robotics-silicon-valley-industry-follower-leader
However, even during the event, our grades on Helen Greiner's report card were being adjusted upwards. The raw materials are there. The processes are coming into place. And the finished products are being displayed.
If you missed our May 3 forum on "The Future of Robotics in Silicon Valley," fear not.
Xconomy's Wade Roush brings you more photos and information from the gathering at SRI International, which hosted the half-day event.
And for a closer look at some of the robots made by the companies represented at the forum, check out last week's pre-event photo and video gallery.
NEXT IMAGE>;>;
Kick-off — Xconomy San Francisco editor Wade Roush opens the proceedings.
Photo by Scott Bramwell, SRI International