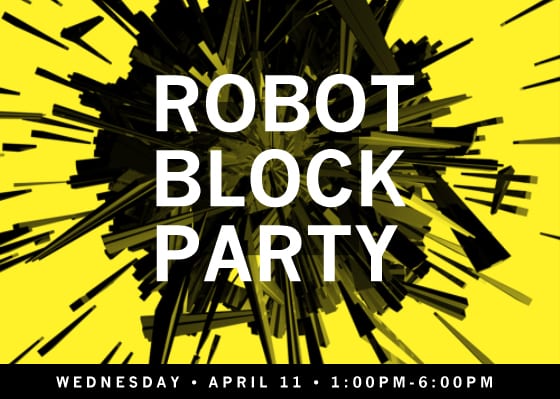 Robot Block Party – more information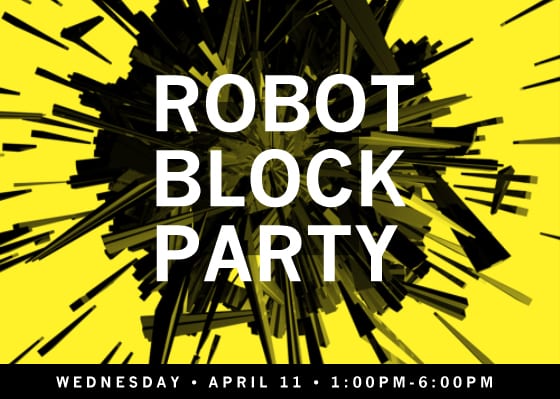 MEDIA RELEASE 03.25.12
Watch out for robots wandering around Stanford! In celebration of National Robotics Week, Silicon Valley's Robot Block Party returns to the Volkswagen Automotive Innovation Lab at Stanford Wednesday, April 11 2012, from 1 to 6pm.
There'll be wonderful robots on display ranging from Mars Rovers from The Tech Museum, to middle school robot projects. Cutting edge robotics companies represented at the Block Party include industry leaders like Adept, Bosch, Willow Garage and researchers from SRI International and the Center for Automotive Research. Smaller startups are also on display, like MLB drones, the Robot App Store and Beatbots, who created the lovable dancing robot toy 'Keepon'.
The Robot Block Party is hosted by the Law School's Center for Internet and Society, pioneers in the field of robot ethics and the law, and organized by SVRobotics, the forum for California's dynamic robotics cluster. As a part of National Robotics Week, from April 7 – 15, 2012, the Robot Block Party celebrates the contributions of Silicon Valley to the development of robotics and aims to spark general interest in science, technology and mathematics. This year, the Block Party opens with a Job Fair from 1 to 2 pm, where university students and graduates who are considering a career in robotics can talk to the leading Bay Area robotics companies. Robotics spans many disciplines, including design, psychology, biological sciences, mechanical, industrial and electrical engineering, AI and computer science.
Finally, the Robot Block Party showcases DIY robotics and fabulous robot art, featuring robots from the Homebrew Robotics Club, various artists/makers/roboticists and school robot projects from FIRST Robot Competitions. For more information, contact Andra Keay andrakeay@gmail.com 925 344 5925
Other companies or organizations at the Robot Block Party include:
NASA
Ologic
Beatbots
MLB Drones
The Robot App Store
Precise Automation
RoboGames
FIRST Robotics
FIRST Lego League
Robot LaunchPad
Homebrew Robotics Club
California Academy of Sciences
and tentatively many more… if you are not yet involved and wish to be, please contact Andra Keay 
andrakeay@gmail.com
 925 344 5925