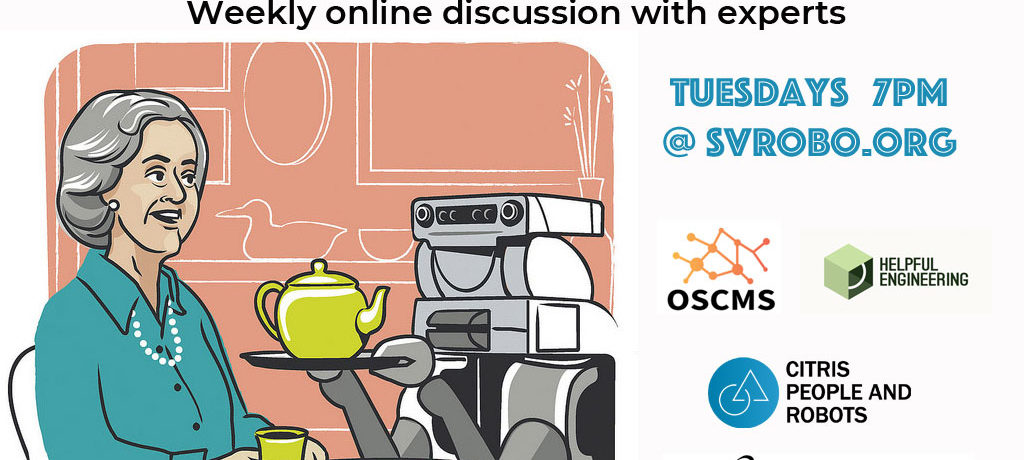 COVID-19, robots and us March 31 special guests
Join us on Tuesday at 7pm Pacific for our next weekly discussion on COVID-19, robots and us. This week we're focusing on disaster robotics, social robotics, telemedicine and human-robot interaction with special guests:
And the crew:
Andra Keay, director of Silicon Valley Robotics and founder of Women in Robotics
Erin Pan, associate at Silicon Valley Robotics, looking for autonomous vehicle opportunities
Beau Ambur, Outreach, Design & Technology Lead for Kickstarter
Did you know that this week is also the start of the 15th annual International Conference on Human Robot Interaction on April 1st? Stay posted for more news about the program here and at HRI2020, also on Robohub.org
Plus you can now see last week's discussion on the Silicon Valley Robotics youtube channel.
Our March 24 weekly discussion featured special guests: Gui Cavalcanti (Breeze Automation & Open Source Covid-19 Medical Supplies), Tra Vu (COO Ohmnilabs & Kambria), Alder Riley (ideastostuff & Helpful Engineering), Mark Martin (Director Industry/Workforce Development CCC), Prof Ken Goldberg (CITRIS People & Robots Lab). Moderated by Andra Keay (Silicon Valley Robotics) with help from Erin Pan (Silicon Valley Robotics) and Beau Ambur (Kickstarter).
Join us each week at "COVID-19, robots and us" on Tuesday at 7pm Pacific Time for more!