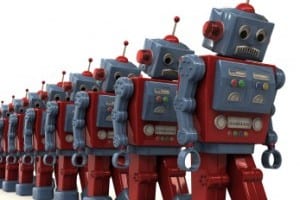 "Robots remake the economy?" forum in National Robotics Week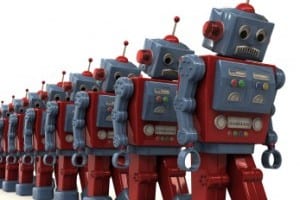 Xconomy have just announced the "Robots remake the economy" forum at SRI International, Menlo Park, during National Robotics Week. The forum already features a hefty list of robotics experts ready to discuss the nuances of the changing face of manufacturing and employment in the US. I wouldn't really call it a debate as the forum seems to be all pro-robot speakers, however, it's a live event and this time the robot experts won't be as 'edited out' as in the controversial 60 minutes story "March of the Machines" from January 13.
Speakers confirmed so far include; Rodney Brooks, founder of iRobot and Rethink Robotics; Colin Angle, also founder of iRobot; Yulun Wang, CEO of InTouch Health; Chris Anderson, former editor-in-chief of Wired and founder of 3D Robotics; Steve Jurvetson of Draper Fisher Jurvetson; and Ajay Agarwal of Bain Capital Ventures. More speakers and founders will be announced in the coming weeks.
"In short, we're bringing you a stellar lineup of engineers and entrepreneurs, representing some of the most interesting robotics companies around the country. If their stories aren't enough to convince you that robots are about to improve the productivity of our factories, offices, hospitals, farms, and energy plants, then maybe you ought to apply for a job at CBS." [Wade Roush, Xconomy "Debating robots, jobs and the changing nature of work"]
I'm hoping the forum discussion will also continue in the thread of the Xconomy article, and talk about the usefulness of the various definitions of 'robot' that are in play at the moment.