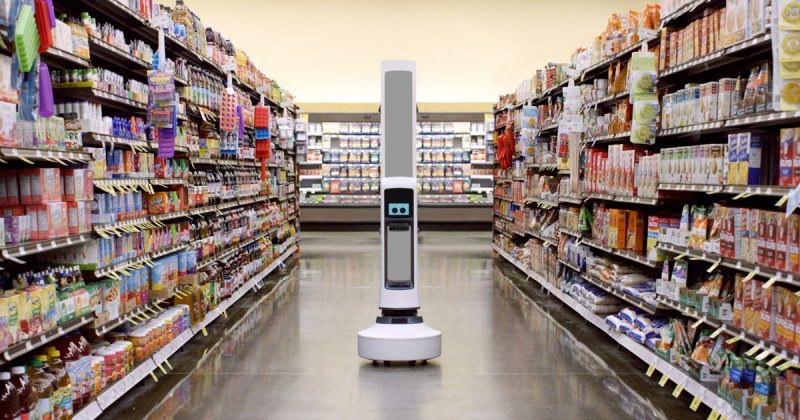 Simbe Robotics wins Commercialization Award in SVR 'Good Robots' Industry Awards
Simbe Robotics
CEO: Bradley Bogolea
Founded: 2014
HQ:  San Francisco, CA
Simbe is the company behind Tally, the fully-autonomous inventory robot that strategically roams store aisles, scanning shelves and capturing real-time data about product availability, placement and pricing. Using machine learning algorithms, Tally recognizes what products are on-shelf, decodes tags to ensure items are in the right place, and creates a 3D blueprint of a store's layout.
Automation is transforming age-old industries, and retail – with a global value of more than $27 trillion – is a key use case. By removing the menial task of store inventory, Tally frees up 30-100 hours per week for store associates to focus on restocking and customer service. Mismanaged inventory costs retailers $1.75 trillion each year, and through better insights into shelf inventory, a significant portion of this can be recovered. In an industry already operating on slim profit margins, this innovation is crucial.
Last March, as retailers faced unprecedented shortages, steep hikes in demand, and some of the most unique operational challenges ever at the onset of the pandemic, Tally's data became invaluable to grocers, helping them to effectively plan and streamline operations. Tally's accurate, real-time product location and availability data enabled store teams to restock empty shelves more quickly, reduced pick times for online grocery orders, and helped to ensure that customers left stores with the items they were looking for. Long term, the pandemic has accelerated the adoption of online grocery, and retailers must adapt their operations to address this lasting change. In order to efficiently manage new workflows that result from online order fulfillment while also providing a seamless in-store experience, retailers need strong data insights across their supply chain, including on-shelf.
Before the pandemic, Simbe accomplished two major milestones: in 2019, Tally crossed the Atlantic Ocean to track inventory in stores in France and the UAE through partnerships with Géant Casino and Carrefour; and in September 2019, Simbe closed a $26 million Series A funding round and secured an inventory financing agreement from SoftBank Robotics to build and deploy the next 1,000 Tally robots across the globe. Today, Simbe has the largest global footprint of any retail robotics company, with Tally's deployed in more than a dozen of the world's leading retailers across six countries.
Simbe designed Tally to be a versatile solution that brings value to a wide range of retailers. Tally is the only shelf-scanning robot that services fast-moving consumer goods of all types, combining both computer vision and RFID technology to capture inventory in various retail environments – from a small, compact grocery store to an expansive sporting goods store. This year, Simbe built upon this proven design with the introduction of Tally 3.0, the latest iteration of its best-in-class robot. Tally 3.0 features a new optical system, brushless motor, and the introduction of an embedded data processor, continuing to lead the pack as the most innovative, efficient retail robot available in the market.